When Travis Kissinger was interviewed for his feature in the 2022 Drag Illustrated 30 Under 30 Issue, his racing goals included adding more trophies and titles to his résumé that includes two Sportsman track championships at Virginia's Motor Mile Dragway. He didn't know at the time that five months later, he'd take on the track manager position, momentarily pausing his personal racing career.
Last month, Motor Mile Speedway & Dragway announced a new name for the balance of the 2023 season, Pulaski County Motorsports Park. As a post on the Shelor Motor Mile Facebook page noted, the track's ownership didn't change, and Mark Ebert's Speedway Management LLC still holds the lease through the end of the 2023 season. But one change that did go along with the new name was the addition of Kissinger as the Dragway Track Manager.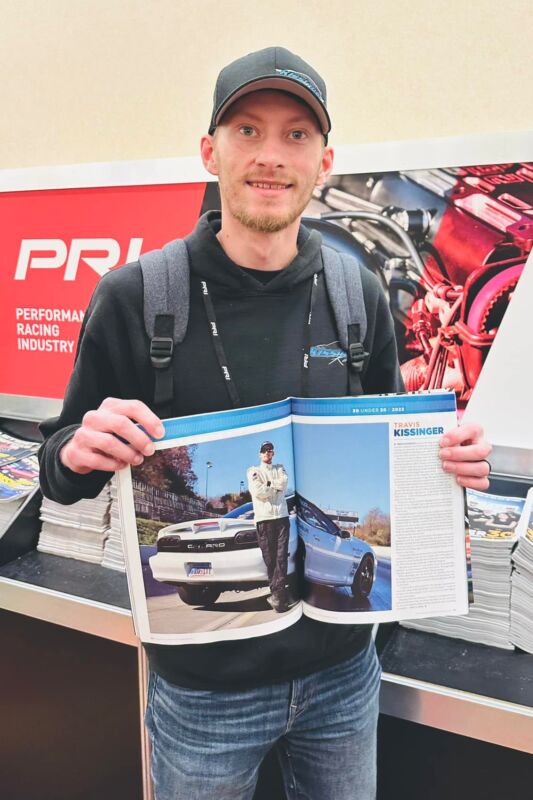 "The inspiration behind becoming the track manager for the newly named Pulaski County Motorsports Park was to give my fellow racers a safe place that they would enjoy spending their time at," Kissinger said. "The future of the track was uncertain if someone didn't take it on. This track is home to me and these racers are my family. Of course, I would love to be out there racing with them battling for a third track championship, but I had to see beyond that. I was willing to sacrifice my racing so that everyone else would be able to."
Track management is an entirely new venture for Kissinger, who's worked at Volvo Trucks North America for the last 10 years. He's currently a robotics engineer in the paint department at Volvo's Virginia assembly plant, though he's also held management-type positions there that could play into his new role.
Kissinger will also lean on his experience as a local racer to inform his decisions as the new track manager.
"My ultimate goal as the track manager is to bring the track back to the life that it originally had," Kissinger said. "Of course, it is going to be an uphill battle – there is so much work that goes into it that most people don't see. A lot of hours are put into this to make it right for everyone. At the end of the day, safety is my No. 1 priority. If I can get the racers back to their families at the end of an event, I feel as if I have succeeded.
"I also look forward to working directly with the IHRA to bring sanctioned events back to the track," Kissinger added. "Pulaski County Motorsports Park will be hosting the IHRA Division 1 Bracket Finals later this year. We look forward to having all of the local tracks come together to compete for a spot in the World Finals."
As much as Kissinger would like to be racing in the Bracket Finals himself, he's willing to sit this one out to make an impact in a different capacity.
"In this role I won't be able to race as much as I would like," Kissinger said, "but as I mentioned before, that was a sacrifice that I was willing to make for the benefit of the other racers. I may still try to make it to a few big-money Footbrake races if my schedule allows for it, though."
While he's just about a month into his new role, Kissinger has already received support from the local racing community, as well as from his family and friends.
"Thank you to the racers that have supported and believed in me taking on this role," Kissinger said. "I would also like to thank my wife, Kay, for stepping in to help me. She has put in a lot of time to keep things organized and planned as they should be. She's actually stepping in as my assistant manager for the remainder of the year. Lastly, none of this would be possible without God. He leads me in every decision I make in life; all glory goes to Him."
Pulaski County Motorsports Park has several bracket points races left on the 2023 schedule, along with an IHRA Sportsman Spectacular on July 14-16. For more info, check out the track's Facebook page.