There has been a target on David Pearson's back almost since the day he started running on 275 drag radial tires. He makes setting records look easy. Each time someone gets close to him, Pearson ups the ante all over again. The mild-mannered, likable driver takes no pride in besting his peers. He just continues to shock the world—and even himself—with each milestone achieved.
Like so many others, Pearson first dabbled in drag racing on the streets when he was a teenager. The Marion, North Carolina, resident remembers being in elementary school and a friend's father often letting him tag along with them to the drag strip on the weekends. Pearson's family was also involved in motorsports, although they preferred dirt track and circle racing. "Being different is what attracted me to drag racing. I wanted to do something on my own," he says.
Pearson got started heads up racing in Real Street in the late '90s at local tracks like South Carolina's Shadyside Dragway and Mooresville Dragway, north of Charlotte, and progressed from there. Over the years, Pearson made a name for himself with his "Little Evil" team becoming a familiar subject in the headlines as he set records and racked up wins. Through it all, Pearson never got cocky or strayed from his trademark "no-drama" attitude.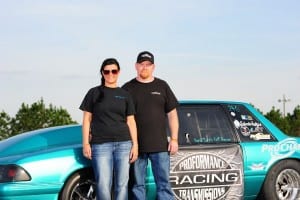 In 2014, however, Pearson had a year that could only be described as epic. In February last year at the Lights Out V event at South Georgia Motorsports Park, Pearson piloted his 1993 Ford Mustang to a then-record setting time of 4.24-seconds at 171 mph on a set of Mickey Thompson 275 ET Street drag radials. Pearson earned multiple records with that one hit, including the world's quickest 275 radial tire eighth-mile pass, the quickest ProCharged eighth-mile pass on gasoline, and the quickest stock suspension eighth-mile pass, among others.
A month later at Memphis International Raceway, Pearson bested himself and reset the 275 tire ET record during the Outlaw Street Car Reunion race. His 4.23 at 172.59-mph pass was made all the more incredible by the fact that Pearson got it done with small-block power. He was thrilled with his car's performance, and soon set his sights on the next goal of running in the 4-teens. At the time, Pearson told DRAG ILLUSTRATED he wasn't sure he'd be the first to do it, but he sure was hoping.
Midway through the year, though, Pearson made a huge change to his program that went practically unnoticed; he switched to a completely new car. Outwardly identical to the teal Fox Body he had previously been running, the new chassis was built by Teddy Houser Race Cars in Lincolnton, North Carolina. Under its hood, Pearson's previous Wiseco piston-equipped 400 CI SBF from Bullet Race Engines was bolted back in, along with his ProCharger blower, ProFormance turbo 400 transmission, and Neal Chance bolt-together BB2 torque converter.
One of Pearson's many claims to fame is that he runs his outrageous times not only with small-block power, but with a stock suspension car. True to his game, Pearson opted to keep the same setup on his new car as well. "Most people don't believe me, but the car's got all true, bolt-in, off-the-shelf suspension parts from UPR. Yeah, it has a 9-inch under it, but it doesn't have any adjustable holes on the rear end or anything like that. I'm still even running the spherical bushings whereas everyone else runs solid Heim joints. I probably should change that," he adds. "But I'm not made of money!"
Other than the new chassis, Pearson says he really didn't change much. He worked with John Meaney at BigStuff3 on the powertrain management system's settings, upgraded the fuel system "just a little," and simply freshened up the motor and transmission.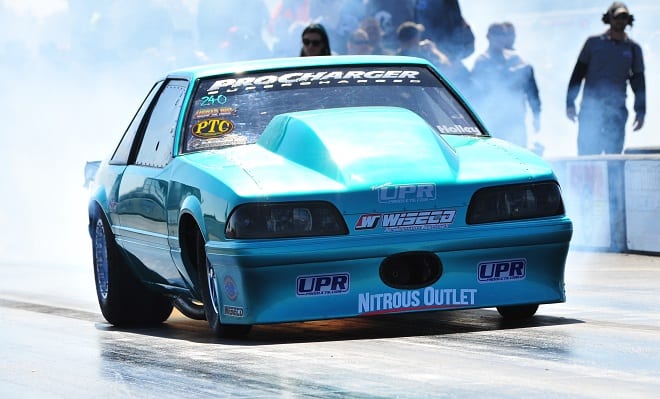 Ready to put his "Version 2.0" Mustang to the test, Pearson brought the car out to the No Mercy V race at SGMP in September 2014. It was the car's maiden race, but nobody except Pearson and the Little Evil team knew it. "We didn't tell anyone about the new car, we just showed up and raced it," he quietly laughs, typical of his style of not wanting to attract attention. Things went well for him in Radial vs. the World qualifying, but as he was still shaking down the car Pearson wound up going out in the first round of eliminations.
Less than a month later at Mooresville, Pearson's new pony car officially earned its keep and he got his wish of being the first to the teens. Pearson's 275 radial tire world record had only recently been usurped, but he took it back with an incredible 4.16-second run at over 173 mph at the Holcomb Motorsports race.
"It surprised me," he admits. "We'd got the front half from the start to the 330-foot mark figured out, but we still had some room on the back half."
That one run secured Pearson's place in the history books as being the first driver to break into the 4-teens, and his time slip showed an astounding 1.035-second sixty-foot time as well.
After a relatively short off-season, Pearson got back to work chipping away at his record-setting numbers in 2015. His first stop was Florida's Bradenton Motorsports Park for some testing with Hoosier's new radial tire. After initial success there and even more runs in the teens, Pearson put the class-legal Mickey Thompsons back on and packed up for the first big radial tire event of the year.
He returned to SGMP in February and took his spot in the staging lanes for Lights Out VI, but only qualified 20th in Radial vs. the World with a best run of 4.31 at 170.49 mph. "The weather was so different in Georgia than it was in Florida and we had a problem keeping the car on the ground. We went 4.24 in the first round of eliminations even though I had to pedal it three times and pulled a big wheelie," recounts Pearson, whose weekend ended with an uncharacteristic loss in round two.
Fully aware his fellow racers were hot on his heels, and concerned with the wheelie issue, Pearson headed back to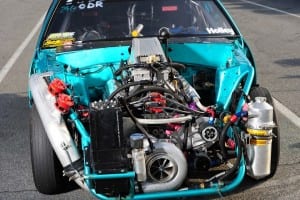 Mooresville on March 15, and blasted off a mind-blowing 4.11 at 174.28 mph pass—in testing! It took a little work and a few adjustments to get to that point, but once he did, Pearson couldn't have been more pleased. "I never dreamed this car would do what it's doing. It's a small block with a Procharger; they're not supposed to run like this," says the ever-humble Pearson, who still can't quite believe it's his name that gets listed next to the number.
Pearson is now just a breath away from being the first to run in the 4.0s on a 275 radial tire, a feat that seemed almost impossible just a short time ago. Ironically, no one else has yet to join him in the 4-teens, despite Pearson having first done the deed in October, 2014. The closest is Barry Mitchell, who has posted a best run of 4.21 seconds to date.
Next up, Pearson's got a trip to Memphis International Raceway planned for more testing and the Outlaw Street Car Reunion II race. His biggest concern isn't the race itself, but rather the idea of having to face off against friend and teammate Mustang Mike Modeste in the event's special "Quick 8" shootout. "We're trying to get on opposite sides of the ladder so we don't have to run each other right away," Pearson explains. Much of his testing, as well as Modeste's, will focus on keeping the two drivers away from each other in the short-term.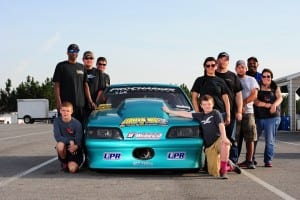 Modeste is more than just a friend to Pearson, who says, "if it weren't for him, we wouldn't be where we're at. Mike's the greatest tuner for a blower car out there that I know of and he doesn't get the credit that he deserves." Additionally, Pearson knows he couldn't have accomplished his incredible feats without the love and support of his wife Tracy, who also helps tune the car. "She puts everything into the BigStuff3 box, and we all go over it together. She's been tuning with me for almost a decade."
The biggest challenge that Pearson faces isn't the extra weight he knows he'll be saddled with as a penalty in an attempt to slow him down, or the other racers gunning for his record. Instead, it's simply the fact that his outrageous runs are drawing a lot of attention, which is something he's not very comfortable with. His quiet and shy nature makes it tough for him to get used to being in the spotlight.
"When you work for years to try and get people to help you, and then you run a good number and people ring your phone off the hook, you don't know what to think. I never thought I'd get recognition from guys like Nick Agostino or magazines like DRAG ILLUSTRATED," Pearson admits.
The hardest part for him, though, is seeing people that need help but have trouble getting it, since he knows that feeling well.
"I race with a lot of good people. I don't want to do anything to hurt us racing together, or kill the class, or the friendships. I'm just so thankful. I never dreamed of this. This is what we worked for, but I didn't expect it to happen so soon. It's so surreal."
Photographs by John Fore III.
This story originally appeared in Drag Illustrated Issue No. 98, the Outlaw Issue, in April of 2015.