When big-money bracket race promoters Peter Biondo and Kyle Seipel announced the creation of the Spring Fling Vegas Million last year, the bracket racing world was flipped on its head. They immediately posted a guaranteed $100,000 payout to the winner, with the stage set for that number to grow exponentially depending on how many drivers showed up and threw their $2,000 entry fee into the pot. Such a rich event was unheard of on the West Coast.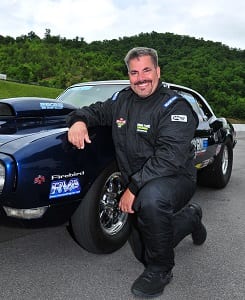 The groundbreaking announcement raised a slew of questions amongst the legions of racers that follow these high-end bracket racers – not only who would have what it takes to win the event, but also who would be willing to roll the dice, make the trek to Nevada and do battle against what would inevitably be the best-of-the-best. The Vegas oddsmakers would probably side with the professional sportsman racers, like defending NHRA Super Comp world champion Kevin Brannon, or "Cool Hand" Luke Bogacki, who literally puts on bracket racing clinics. Surely, the winner would be hanging up the big check inside his stacker trailer, and the custom trophy would ride home with him in his motorhome worth more than the average American's house. When Jeff Verdi pulled into The Strip at Las Vegas Motor Speedway in his 1999 Chevy pickup truck and '68 Firebird in tow on an open trailer, he intended to beat those odds.
Ever since Biondo and Seipel announced the creation of the race, Verdi knew he had to be a part of the action. He actually wanted to make the trek out to The Strip the year before, purely because he enjoyed the Spring Fling races at Bristol Dragway so much. So, it wasn't all of the zeroes that attracted Verdi this year, but they certainly didn't dissuade him from taking two weeks off of work to make the trip. After receiving the three-day entry to the race from his wife, Susan, for his birthday, Verdi plunked down the first half of the $2,000 Spring Fling Million entry fee in December. He was locked in.
Before Verdi could compete on bracket racing's most rewarding stage, he needed to make sure man and machine were running without flaws. Verdi started with himself, but it took a little nudging from his father, Buddy.
"I was racing at the Million down in Alabama and every time I lost it was because I had a bad light," says Verdi, laughing. "My dad said, 'Man, you need a practice tree. I'm gonna' get you one for your birthday.' I'm 44 years old turning 45 and I'm getting a practice tree for my birthday. Kinda' different for a dad to get his son a practice tree for his birthday at that age, but hey, he wanted me to get better on it."
A full practice tree set-up arrived on Jeff's front doorstep and he immediately went to work, first hooking it up to the Firebird in his garage, then spending hours honing his skill as the chilly winter wind whipped at the garage door. The practice paid off for Verdi, who admits his reaction time had slowed since he started racing in 1989.
"The practice tree gave me a lot more confidence, a lot more hand-eye focus or memory. When I went to the line in real races, I didn't have that out-of-focus worrying that I used to have. Practicing definitely helped over the winter."
With the human part of the equation sharpened up, Verdi shifted his focus to his equipment. He elected to take his trusty '68 Firebird, the one that helped him earn six of his seven track championships. The duo made thousands of runs together, so Verdi knew what it needed after winning three consecutive Richmond Dragway track championships.
"I took the engine out over the winter, put new valve springs in it, a new cam, and kinda' made sure the motor was one hundred percent," says Verdi. "I've raced a long time with the same car so I know what it needs; when it's time to put new lifters in it and different things like most racers who race a lot know what their car is needing."
The last thing Verdi had to do before pulling out of his driveway was load everything up. This process was more streamlined than his competitors, seeing as there is only so much equipment you can pack into a pickup truck and open trailer. Regardless, Verdi filled the bed with a spare motor and transmission from his GTO, his daughter's four-wheeler, a drum of fuel, and any spare Pontiac parts that he owned.
"I had that thing packed. It was unreal how much stuff I had in there. I had to take everything. My wife was like, 'You better take everything you got. Twenty-three hundred miles away, if you have to change a motor you have to change a motor. What are you going to do if you don't have it with you, turn around and come back home?' Fortunately I didn't need any of it. The one thing we did need I didn't have, which was a crankshaft sensor for the truck," Verdi said, alluding to his biggest roadblock.
Jeff Verdi's 2016 Spring Fling Las Vegas Million experience started 2,300 miles away from the debauchery of Vegas in the quaint town of Glen Allen, a suburb of Richmond, Virginia. Along with longtime friend and engine builder Jerry Loan, Verdi and his '99 Chevrolet hit the open highway with little expectations of what would stand between them and their destination.
"We left on Friday, April 8th at 9 AM and I drove until about 1 AM. We got to Oklahoma and then Jerry drove until 5 in the morning, so we basically drove for about 20 hours straight and got a lot of mileage down. The GPS showed like a thousand miles to go and we'd be in Vegas Saturday night. I was like, "Man, we left Virginia on Friday morning and we'll be in Vegas Saturday night. That's pretty good.'"
Shortly after that realization is when the progress slowed down considerably. Due to the notorious unreliability of the fuel gauges in late 90s GM trucks, Verdi was playing it safe and stopping for fuel about every 250 miles. The strategy was working well until one ill-timed pit stop sent Verdi and Loan on a wild gremlin chase across the sparse Texas plains.
"When we come by Amarillo, Texas, and I should've stopped there, but I didn't," recalls Verdi, the memory, obviously, still very fresh in his mind. "I kept going and put about 31 gallons of gas in the truck at a little mom-and-pop Phillips 66 station up on a hill. I really didn't like the looks of it. I was worried about bad gas going in the truck. About 15 minutes later is when the truck started cutting off."
Verdi brought the truck to a stop on an off ramp to diagnose the situation. The engine would start, but went silent again seconds later, one attempt after another. Loan suggested the fuel pump might be the issue, so Verdi limped the dually to a gas station where he and Loan could make their repairs.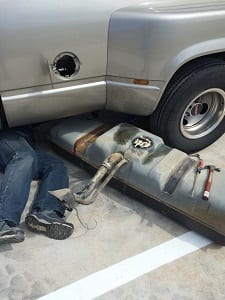 "We ended up in this little town called Vega, Texas, like 30 miles west of Amarillo," says Verdi. "Like 900 people live there. There was a little service station about a half-mile from the gas station where we stopped, so I walked down there and the guy had the fuel pump we needed. Went back to the truck and Jerry was already trying to take the tank out. One of the bolts spun off in it so we couldn't drop the tank down. I had to walk back to the dude's place to get a hacksaw to cut the bolt off. The guy gave me a new bolt and hacksaw to use. Once we get the tank off you need certain tools to take the lines off, so I had to walk back to the guy's place to get the correct tools to take the lines off. The guy, Larry – a super nice guy – let me use anything we needed."
Three hours later, the Virginia duo were back on the road with a brand-new fuel pump. Problem solved. Well, not exactly. The engine started cutting off again just a few minutes down the freeway. Verdi tried to burn off as much of the potentially bad fuel as possible, but the situation didn't improve. It actually worsened as Verdi began rolling through the hills of Albuquerque, New Mexico, with tractor-trailers and local traffic weaving around the struggling dually. A query of the symptoms on Google attributed the issue to a bad crankshaft sensor, so Verdi pulled into a NAPA store. He swapped in a new sensor and Loan installed a fresh fuel filter. Once back on Interstate 40, the truck ran flawlessly until it finally pulled into its pit space at The Strip the next day.
With one part of their trip in the books, Verdi and Loan headed into town for a night on the world-famous Las Vegas strip. Big-money bracket racers are known to be equally as skilled at the tables as they are on the track, but Verdi saved his luck for race day.
"I had never been in a casino in my life so we met up with Anthony Bertozzi and Johnny Labbous when we got into town," says Verdi. "We ended up hanging out with them and eating dinner and watching them gamble. I ain't like they are. Those guys can throw some money around at the casinos. I had never been in an atmosphere like that, so that was pretty neat to have a little fun doing that."
Verdi's first stroke of luck came before he even fired up his Pontiac-powered Firebird. During the week's smaller races, Loan purchased a raffle ticket for a free entry into the Million. It ended up being a winner, though Verdi already had his entry locked in months before.
"I was riding around on the four-wheeler and I thought, I already have a free entry into the race, so I'll buy some raffle tickets myself," remembers Verdi. "I bought two tickets and I heard them call my name out as a winner, so there I was with another $2,000 entry ticket for the Million. I ended up selling mine to Anthony (Bertozzi) for $1,500 and Jerry sold his to Anthony for $1,000. Basically, it cost me about $600 to race the Million."
Several other races-within-a-race were contested before the Million on Friday, so Verdi had plenty of opportunities to dial in his entry. First he competed in a shootout race for an enclosed trailer on Tuesday, and then lost in the first-round during Wednesday's race. He went deep into eliminations on Thursday's race before a red-light sent him back to the pits in the sixth round.
"I had a run where I could've won, but I blew it when I missed the tree," he admits. "I beat myself up pretty bad. Jerry was like, 'We're going to talk about it.' And I said, 'No, I'm not going to talk about it.' Honestly, I just wasn't confident in my decisions with the delay box. Jerry kept hounding me, saying that I was making the right decisions, and that I needed to trust them. I wasn't having any of it."
Whether it was Loan's pep talks or not, Verdi found his confidence as he went into eliminations in the eighth-mile Spring Fling Million competition. He grabbed a first-round win, then things really got rolling.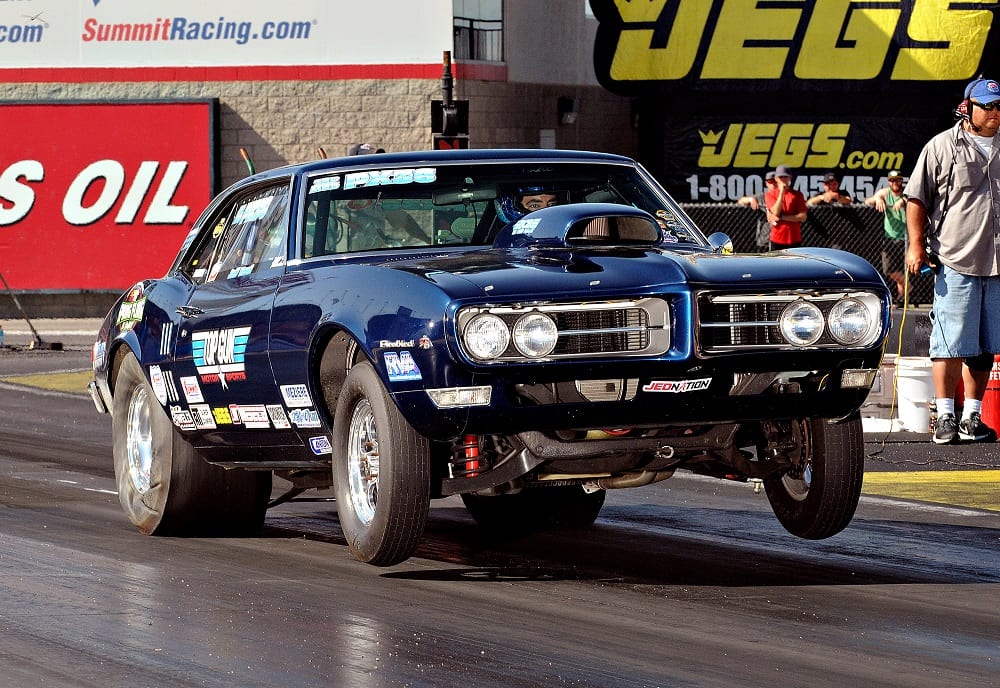 "A few things happened that were lucky breaks that don't normally happen. The guy got timed out on me second round. I couldn't believe that because, hey, we're talking about a $2,000 entry fee. I think he bumped the transbrake button by accident when he was bumping in. I could see him moving out of my peripheral vision. I was saying, 'Man, he better hurry up.' Then the tree lit up red on his side. I was kinda' feeling bad for him for a second there," Verdi says, without so much as a hint of sarcasm.
A third-round win came over big-money bracket race regular Hugh Meeks. Both drivers were dead-on with a two, but Verdi's .006-second reaction time sealed the deal over Meeks' .012 light. Verdi kept it going with wins over Rodney Snider and Scott Carpenter before the remaining racers were put onto a ladder. Verdi's first draw on the ladder was none other than multi-time NHRA Super Gas world champion Luke Bogacki in his dragster, but the Virginian moved on by just 17-inches.
On to the quarterfinals, Verdi met up with Paul Russell, who found himself in the Super Pro portion of the Spring Fling Million after winning six rounds in the Pro 32 shootout. Russell was closer to his 6.48 dial-in, but his .075 reaction time negated any advantage he had over Verdi's 5.930 on a 5.90 dial. Jeff reeled it back in with a 5.909 in the semifinals against heavy-hitter Kevin Brannon, setting up a final round meeting with Lane Dickey's rail.
Dragsters seemed to have the advantage through eliminations, but Verdi didn't see it that way.
"We run against dragsters at home all the time," says Verdi, with a smile. "I said if I get a dragster I have the advantage because he's gonna' lift. He's run against fast cars all day long. My car ain't slow but it's a whole lot slower than a 4.50 dragster. He's gonna' lift. He's gonna' look like he's going by me no matter what. He's been racing side-by-side all day and now I'm out there 150 to 200 feet. They're going so fast that it'll look like he's gonna' catch me no matter what. They will catch me, but maybe a foot after the finish line."
Racing in the dry atmosphere of the Vegas desert, Verdi was facing weather conditions vastly different than those he typically encounters in the southeast. Also unlike the swampy southern conditions, the air at The Strip was as consistent as Verdi.
"I knew I was in a good spot," he says. "The humidity was so low and the temperature was 60-degrees when the sun was out. When the sun went down it stayed 60 degrees. The humidity never changed. The weather stayed exactly the same, it was just the headwind. If I felt the headwind hit the car and I had to drive it around, I knew the car would run over the dial. If I didn't feel it hit the car I figured I would be dead-on. That's what it felt like every time it went a 90; I didn't feel the wind hit the car. But when it went the .91, I definitely felt it hit the car. Luckily, I had a good light or the other guy couldn't hit his dial."
After 16 hours and eight rounds of racing, Jeff Verdi spun the starter and pulled his Firebird around the bend and under the famous arch at The Strip. He rolled through the left lane water box, laid down a patch of rubber and brought the Top Gun Firebird into the staging beams. His tree dropped and he was off with a .014 reaction time, Dickey chasing with his quicker dial-in and .009 light. Just under six seconds after he left the starting line, the win light illuminated in Verdi's lane. His .015 package defeated Dickey's .026 pack.
"That final round I was dead-on with a one. I like to be anything under a 20 package. If you're anything better than a 20 package then it takes a double-oh on both ends to beat you. I try to be .009 or .010 on the tree and dead-on with a mid number, and that'll get you a lot of rounds. It might not get you to all of them, but it'll get you a lot without taking the chance of red-lighting or breaking out. That's just from years of points racing at my local track. I'm leaving first most of the time so I can't turn it red. I'm setting up .010," Verdi reveals of his strategy.
It's clear that Verdi values his years of experience racing on the local level. He attributes much of his success at the Million to the lessons learned while racing at his home tracks, Virginia Motorsports Park and Richmond Dragway.
"I'll race my opponent," he says. "Some people don't race their opponent. They'll just try to throw packages down no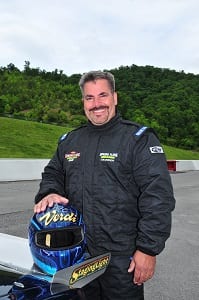 matter who they're running. I'll race who I'm running. I feel this package or what I can do right here can beat this guy, so I'm gonna' try to do what I want to do here and if I get beat, I get beat. I'm actually racing my guy versus just throwing something out there. I'll watch my buddies back here (in Virginia) red-light against someone who's never been to the track before. He's terrible on the tree and doesn't know what he's doing and my friend is out because he's trying to be triple-oh."
Verdi's local experience played a part not only in the on-track action, but also in the staging lanes when the racers were deciding how to split up the winnings in the late rounds.
"It's interesting to see the caliber of racers who race for a living and how they want to split up the money versus people who maybe race as a hobby," explains Verdi. "The guys who race for a living, they're looking for money for the next race. Coming home and going bracket racing locally isn't costing me anything.
"Some of the deals I didn't want to do as much. We paid two grand to race for this much money so we don't want to chop it up too crazy. A lot of those guys seemed like they'd be fine splitting it all up. The winner ends up losing because the winner ends up giving away the money that could've been. But I could've lost any round that I won. If you look at it playing the odds it's good to split the money up, but when you do end up winning and you look at what you gave away, you're like, 'Oh, my God,'" Verdi laughs. "But that's just part of racing. On the local level when you're racing for $1,200 and you split it up, it's whatever."
The check in the winner's circle photos says $272,000, but Verdi says his split of the winnings was actually around $100,000. The six losers at 13 cars walked away with $10,000, and the takeaways increased by $10,000 increments as the rounds continued. Proud of his competition, Verdi was amazed by the lack of attention that these payouts received.
"I feel bad for a lot of these other guys who went rounds," says Verdi. "There was a guy who had a GTO who was still in at four cars. He had a Pontiac motor in his car so at four cars there were two Pontiacs with Pontiac motors, which is a rare thing at big races like that – actually anywhere. He ended up red-lighting in the semifinals. He got forty grand for losing in the semis and the guy who lost in the finals got $65,000. Nobody even talks about them. Isn't that a shame? These guys won more money than they've ever won in their life and nobody is even talking about it.
"That's just the way it is. I just feel for those guys," he continues. "They had a great day. I never saw them again. I felt kinda' weird because when you're racing at the local level, you get down to four cars and you talk to each other and you're drinking a beer after the race, hanging out. At that race I got whisked away in a limousine down to downtown Vegas without talking to nobody."
After returning to the starting line for the winner's circle celebration, Verdi and Loan were treated to a VIP Las Vegas experience. While not widely advertised as a part of the prize, the extravagant treatment is standard operating procedure for the Spring Fling promoters, known for providing dozens of prizes and rewards for their racers.
"Peter Biondo jumped in the Firebird and drove it down to my pit space for me," recalls Verdi. "The limo took us down to the Cosmopolitan and, of course, I brought the trophy with me. So, we pull up in this new Challenger limo surrounded by people and I'm carrying this big gold trophy with 'Million' on it. We get back to the room and we're calling and talking to people, but it's three o'clock in the morning, so it's six o'clock back in Richmond. There's nothing to do. I was like, 'Man, we gotta race in four or five hours.'"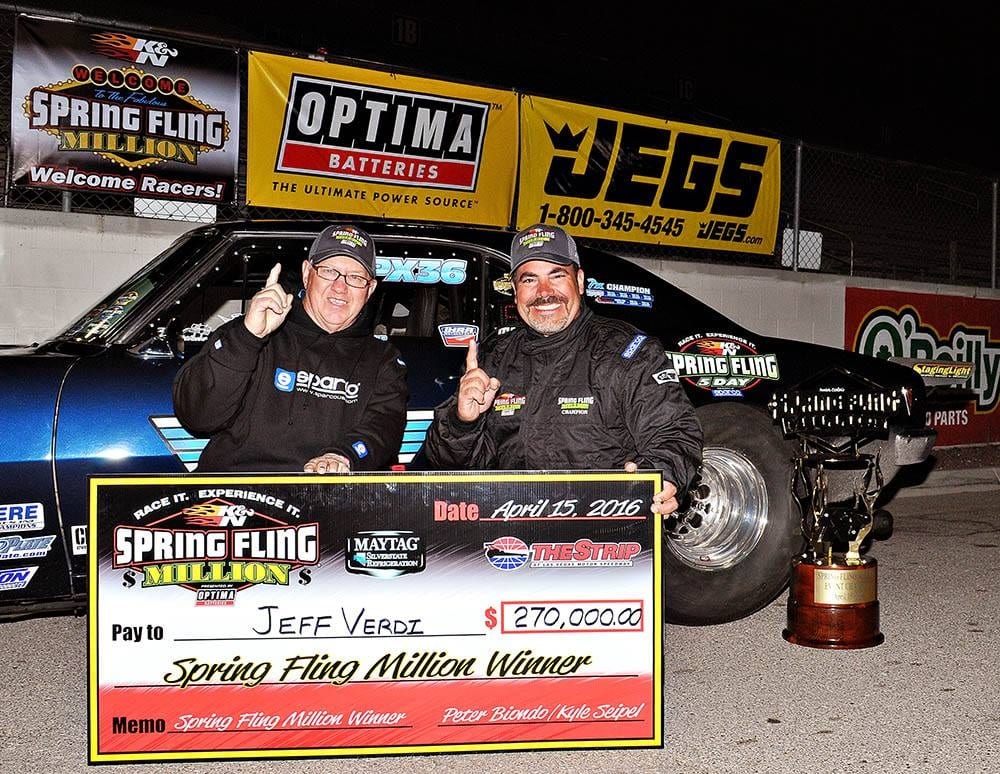 Verdi really felt lucky after running first round of Saturday's race, even though he was unable to turn on the win-light.
"I lost first round on a red light," he says, plainly. "I left the car alone from the night before and came up red. I was .014 in the final and .002 red first round the next morning with the same numbers in the box, so I just hit it right on the right run there."
Now out of races left to run, Verdi was finally able to absorb everything that happened over the last 24 hours. His wife purchased a plane ticket when he won on Friday night, so she was already on her way out Vegas to congratulate her husband and replace Loan on the ride back to Virginia, as he had to get back to work after taking a week off.
"My wife said she got a plane ticket and she was flying out. She had never been on a plane all her life. She got out there on Saturday night and we went to dinner. They put us up in the Cosmopolitan for winning the race, room service, a limo ride to and from the track. They just do it up right, Peter and Kyle. No expense spared. I got a nice watch with the Spring Fling stuff engraved on it, then of course the jacket and the trophy and the check and the money. All that stuff was unreal."
The next morning, Jeff and Susan were met with the sobering reality that another 2,300-miles stood between them and home. They hopped into the Chevy pickup and departed The Strip at Las Vegas Motor Speedway on Sunday afternoon. Fortunately, the ride back to Glen Allen wasn't nearly as bad as the gremlin-plagued trip out West.
"It really wasn't too bad," he says. "My wife was going to ride back with me, so that was pretty cool. I wasn't going to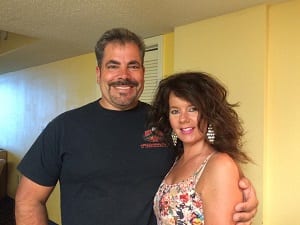 be by myself. I was worried about the truck for a little while. I loaded up the truck on Saturday, which is when I lost first round. I was more worried about getting back to reality at home with work and the kids and the dogs and the cutting grass – the things you do at home when you're not racing and goofing off. As far as the ride back, it wasn't bad. Just drove from seven or eight in the morning until seven or eight in the evening."
When the Verdis returned to Virginia, Jeff pulled right off the interstate and headed directly for the studios of WTVR, Richmond's CBS affiliate, where Verdi's buddy, Wayne Covil, was ready to film a piece on the big win for the evening news.
"Wayne, he's a CBS news anchor who used to do some announcing at Virginia Motorsports Park. He said he wanted to do a story when I came home. He interviewed my wife and put her on the news at five o'clock then interviewed me and put me on the news at six o'clock. They used some cool videos that Kyle [Seipel] sent them from the race."
Verdi was already back to reality the morning after he and Susan pulled into the driveway. The lawn needed to be mowed. There was nearly two weeks of laundry that needed to be washed. Work was piling up at the family cabinet and countertop business. And, of course, there were plenty of questions from friends and family to answer.
"Some people think I won a million," he says. "Some people will ask, your split was $270,000 of a million? A lot of people that I talk to I just leave it at $270,000 without even mentioning the split deals because some people don't get it."
Verdi might not have walked away with a million dollars, or even a quarter-million, but the large payday still allowed him to pay it forward.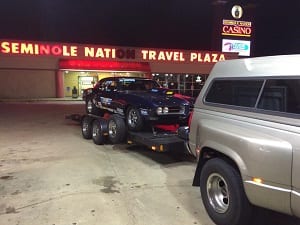 "I was fortunate enough to donate some money to people I saw who were affected by tornado damage where I wasn't in the position to do that before," says Verdi. "I just won this money so I'm going to give away five hundred here, a thousand there to help people who might need it. If I didn't win, I couldn't do that. Even when I drove back home I stopped back in Vega, Texas, to give some money to that guy who let me borrow those tools. I felt like I owed him for allowing me to do that," Verdi says.
Aside from those donations, Verdi doesn't really have any big plans for how he's going to spend the Spring Fling Million winnings. He does, however, know what he's not going to spend it on.
"I'm not looking at any more trucks or trailers," he says, defiantly. "Everyone asks me if I'm going to get a new enclosed trailer and I'm like, 'Uh, no.' I've had them before. I've been there and done that, and I didn't win any more money then than I do now. I like my open trailer."
Looking back at the whole ordeal, Verdi thinks it's almost inevitable that he won the Spring Fling Million. Things could have gone very differently. Parts could have and did break. In the end, everything came together to form the perfect underdog story.
"It was funny because Kyle [Seipel] asked me months before what car I was going to bring out to Vegas. I was going to bring my Firebird or the GTO and he asked me, 'Well, what car do you picture yourself winning the Million in?' I told him the Firebird, and he told me that's what I should bring then. I made more runs in the Firebird, so, like he said, why bring anything else?
"It's funny how that stuff works," ponders Verdi, in conclusion. "Everything seemed like it was meant to be. Even now I can't picture in my mind – all of the winner's circle stuff, staying in a Las Vegas hotel suite, and all of that. Of the 13 guys who were left, I can't picture any of them doing that but me. Of all days for it to be my day, I'm glad that was my day."
Photographs by Van Abernethy and John DiBartolomeo
This story originally appeared as the cover story in Drag Illustrated Issue No. 110, the Sportsman Issue, in June of 2016.