After suffering narrow losses last year in the Pro Boost finals at consecutive PDRA events in Budds Creek, Maryland, and Memphis, 27-year-old Tylor Miller finally outran his opponent at Dunn-Benson, North Carolina—only to lose by eight-thousandths of a second in his third-straight, final-round appearance, thanks to a slight holeshot in the opposite lane.
When the 2016 season wrapped up, Miller and his Hartsville, South Carolina-based team were still looking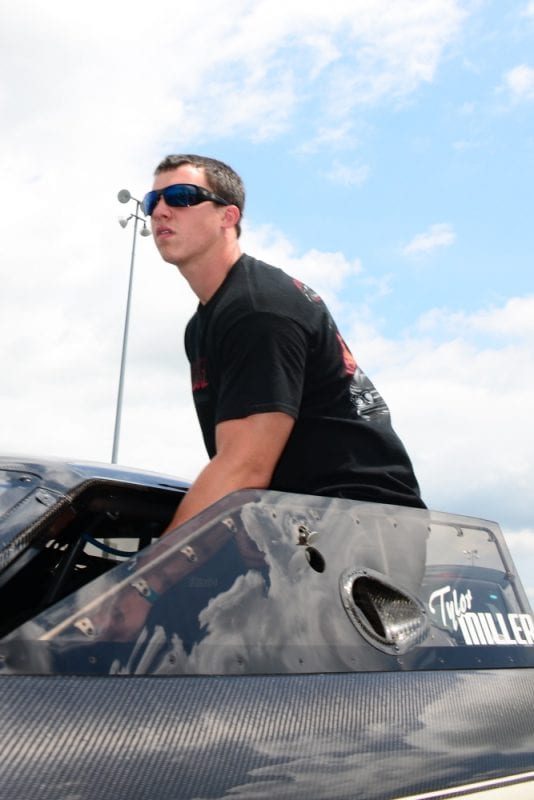 for their first PDRA win and despite missing three of nine events, wound up fourth overall in Pro Boost points, two positions better than the Pee Dee Fleet crew had managed the previous season.
"I'm okay with fourth; it's a lot better than fifth or sixth," Miller insists. "Obviously we want to be number one, just like anybody else, but we're happy just to be out there racing. It can be disappointing sometimes, but I always try to look at the upside of everything."
There's a lot of upside for Miller these days. His father, Russell, put together a top-notch team that includes chassis builder and tuner Andy McCoy, as well as fuel pump guru and crew chief Mike Kopchick of Rage Fuel Systems, which supplies most of the NHRA's top nitro teams.
"I can't say enough about Mike," McCoy stresses. "He builds the engines, builds the fuel pumps, runs the dyno, just gives us the best power. And his son, Tommy, he's on the team and he's really coming along, too. It's just really neat to see the father-and-son duo at work together there, as well as the father-and-son duo of Russell and Tylor. It's just neat for me to be a part of it all."
Miller grew up drag racing. At just nine years old he hit the track, but unlike so many others his first racing ride was a far cry from a Jr. Dragster. Instead, Miller attacked the eighth mile in an early-'80s, Fox-body Mustang outfitted with a 355 Chevy motor. "We basically built it out of spare parts that Daddy had laying around from racing over the years," he says.
With his father as crew chief, Miller began his career in the footbrake class at 710 Dragway, near Rowland, North Carolina, just across the state line from their Denton, South Carolina, home. "It's not like this now, but back in 1999 it was basically a run-what-you-brung, outlaw kind of place, which is how I got to race so young there," Miller explains. "That's where I picked up my nickname, too, because there were a lot of Indian guys that used to race there and that's what they got to calling me, 'Youngblood.'"
Miller raced the Mustang for about three years, then stepped up to a '92 Camaro with a 427 small block on nitrous. His dad swapped in a two-barrel carburetor to slow it down a little, since the first pass Miller made with the Camaro he went from 7.70s in the Mustang to a 6.20—with no nitrous. "I remember Daddy saying, 'Are you okay?' and I was like, 'Yeah, I'm fine, let's do it again, but let's shoot the nitrous this time!'"
In 2005, an already experienced 15-year-old Miller entered the Camaro in an ORSCA event at Jackson, South Carolina, competing in Limited Street with a nitrous-boosted 632 Fulton engine up front and no wheelie bars out back.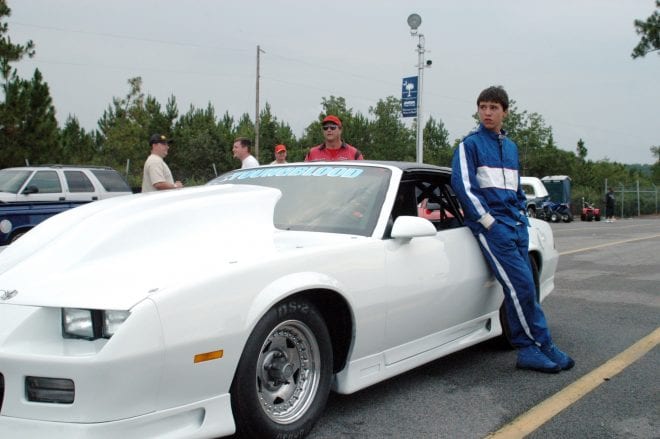 "I was still underage so I was running under someone else's license and I think I ended up qualifying eighth in a 16-car field for a substantial amount of money, especially for us low-budget racers," Miller recalls. "So anyway, for first round my dad told me, 'I'm gonna' wick it up on the starting line, so be ready for anything,' and I went up there and it did a major wheelie to where it hit the back bumper a little and spun the tires. When it spun it slammed the front end back down and just to be safe I did what anybody who knows how to drive race cars would do; I pulled off to the side and shut the car off so I didn't oil down the whole track. So then a guy comes up to see if I'm okay and when he saw how young I was he just told me to stay in the car while they got me off the track, because even though I was 15 I was pretty small and probably looked like I was 10 or 11. Anyway, when we got back to the trailer the car was fine and it fired right up, but then a lady came over and said to my dad, 'I'm not telling you your son can't race; I'm just telling you he can't do it here,' and that was the end of my ORSCA experience."
Miller raced on 10.5-inch tires almost exclusively before getting his first chance in a Pro Mod-style ride in 2007, shortly after turning 17. He describes the car as a single-framerail '97 Camaro with a cast-aluminum, 540 Chevy block, topped with a Littlefield supercharger. "We went to Dunn-Benson, long before it looks like it does now as GALOT, and the track record at the time was about a 4.27, I think. It wasn't a race, we just went there to test, so it was my first blower car ever and it was a lot louder than my nitrous car and I was kind of freaking out, to be honest," Miller says.
"I was on the phone with my mom and told her about how loud and obnoxious the blower car was and how I had butterflies in my stomach and how my dad just wanted me to go to 60 feet and turn it off. But I told her I wanted to run the full eighth mile and just get it over with. So she said to go ahead and tell Dad what I wanted to do, but I knew that if I asked him he was just gonna' say no. So what I asked him was, 'Hey Dad, if I go an eighth mile here, do you think I'd need the chutes?' And he goes, 'Uhhh, probably not here; I don't think it'd go that fast.' He knew I was nervous so I think he was answering in a way to give me confidence that it wasn't going to be that bad. He wasn't suggesting I actually try it, just that it wouldn't be that bad if I did.
"But I go up to the starting line and we didn't even have a transbrake in this car, I was footbraking it just like I did in my old Mustang, and my leg was shaking so bad going into the lights that I had to stop for a second just to get it under control. So I roll on in, it turns green and I took off. I remember going through my mind, okay there's a hundred feet, there's the 330 mark, there's the 660, I better lift and get on the brakes. Then I'm thinking, 'Jeez, I am really flying here,' and I'm on the brakes, I'm on the brakes, and I start thinking I might need the chutes, but then it all seemed to be slowing down okay and I remember making the final turn at the end of the race track, but I barely made it.
"I get out of the car and then my dad gets down there and comes running up to me and he has this look on his face that I wasn't sure if he was mad or happy. He says, 'I told you to run to 60 feet; I thought the throttle had hung open on you; I was about to die!' So he's freaking out but eventually asks me to guess what I run. So I said it had to be at least a 4.90, because I knew I'd never gone that fast before, and he says, '4.90? Try 4.28!' And my quickest before that was a 5.21, so yeah, that was a lot faster."
Kopchick was already working with the Millers on fuel pumps at the time and Russell remembers telling him he felt like he managed to keep Tylor reined in for the first couple of years of his career, but as the cars got faster his son did, too. "This kid, I put him in a Pro Mod, he runs almost a track record in a car he doesn't even know, then stops with just the brakes and gets out and his hands aren't even shaking," the elder Miller remembers saying to Kopchick. "He's not scared and he's ready to do it again. What should I do?" The answer? "I don't know," Kopchick replied. "Throw the book at it?"
McCoy says that calm demeanor remains with Miller to this day. "I've watched Tylor progress and the kid is just a 100-percent natural driver," states McCoy, who previously drove in the NHRA Pro Mod and ADRL Pro Extreme series. "I've seen him get out of shape to where we see both sides of the car from the starting line and then he just gathers it up and goes straight on down the track. He comes back just as calm as can be and says, 'Yeah, it kind of moved around a little bit on me there, but it straightened out okay,' just like nothing happened."
After shifting to a blown '67 Camaro in 2010, Miller's Quick 8 and Pro Mod career continued primarily throughout the Carolinas until he opted to take a break from racing after the 2012 season in order to focus on the imminent birth of his son, Trent. By the end of the year, however, his dad had brokered a deal to put a new Kopchick-built blower motor into a brand-new Andy McCoy Race Cars-built chassis and he wanted his son to wheel the new creation in PDRA competition. Miller says the only sticking point for him was the car itself.
"Ugh, I don't know if I want to drive a boat," he admits saying upon learning McCoy was building a '69 Chevelle. "I was never a Chevelle guy; I always liked my Camaros or a Corvette Stingray or something like that. The Chevelle just wasn't a car that struck my eye, but my dad said to come over to his office and look at a picture so I said okay and when I got there it was just a sketch, not even a real photograph, but the sketch just looked so cool that I agreed pretty much right away."
Russell Miller made it clear he was intent on going racing, but only if Tylor was his driver. It was an offer too good to pass up, Miller says, especially since his new wife, Jessica, was on board, too. "What did I have to lose? I mean, I had a chassis guy that builds cars for a living, a crew chief who's a genuine whiz when it comes to motors and fuel systems and blowers, and my dad who said he's got enough money to put it all together and make sure we have all the best parts. I was actually thinking why wouldn't I want to do this? I was all jacked up thinking we were going to be unstoppable, not really thinking there are other guys out there with the same resources and determination, but that's actually what makes it challenging for us."
It definitely presented a challenge when Miller's Pee Dee Fleet crew showed up at Rockingham (NC) Dragway in April 2014 for the PDRA's first-ever event. After McCoy's father suffered serious health problems late in 2013, the Millers told him to concentrate on family first, resulting in the raw carbon-fiber-clad Chevelle arriving late to their race shop and even with Miller in the driver's seat it was well below the 2,550-pound minimum weight for Pro Boost.
"I thought there ain't no way we're going to make it, but I looked at my dad and said, 'Seriously, I don't care if we have to get steel plates and drill holes in 'em to bolt them to the chassis; we have got to make this race.' So that's what we did, we bolted in lead and steel and literally had nearly 200 pounds of weight bolted in just in time for the first round of qualifying," Miller says. "Then, when we showed up we had every issue in the book, obviously because we had to thrash just to get the car done in time. It took us a long time to recover from all that, too, because we had to work to find every bit of positive we ever had in the car. It's come a long way from where we started."
In the meantime Russell Miller had taken out a 10-year lease on Darlington Dragway late in 2015, almost surely saving it from becoming just another footnote to drag racing history. "It was going to close down and we really didn't want to see that happen; we didn't want to see the track go to waste," his son says. "But the biggest thing that made us get started on Darlington Dragway was to get people back on the race track because people around here were starting to go back to street racing real bad."
A major renovation ensued, with the track's guardrails almost immediately replaced by new concrete walls poured by Tylor himself. Then there were upgrades made to the restrooms and concession stands, plus new equipment acquired to improve and speed up track prep. The new Darlington Dragway also attracted the attention of promoter Nathan Vanbeek, who booked in two events in 2016 for his Carolina Xtreme Pro Mod series. That led to Miller and his dad thinking about how they were struggling in the heat on PDRA tracks and needing to find a tune-up on tracks not quite so well-prepared, so they opted to sit out PDRA races at Tulsa, Dallas and Martin, Michigan, and hit the CXPM circuit instead
"We actually did that deal just to test, and none of Nathan's dates fell on PDRA, which was great for us since we still wanted the option and capability to go back there once we got the car figured out. It seemed like we were always just a step behind, so we missed three or four races because we just needed to step back, do our homework and figure things out so we could come back full force."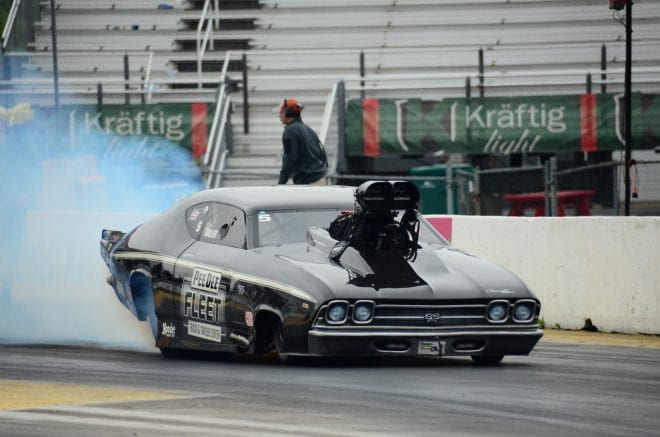 Miller actually went on to win three of eight CXPM events last year on his way to securing the series championship. And what he and his team learned led directly to their oh-so-close results upon returning to PDRA action.
"We have good equipment, but really, we race with a very small budget compared to a lot of the teams that we compete against. It's like we really don't have a budget because as soon as there's any money in the bank it's used to pay a bill for the race car," Miller reveals. Not surprisingly, Miller says he and the team are "very open to sponsorship opportunities," pointing out his dad "does a great job at keeping us out there" before adding there's nothing they would like better than to see another company's name on the doors as a major sponsor.
Regardless, Miller sees the team on an upswing and is enjoying its newfound success and notoriety among competitors and fans alike.
"We seem to have a lot more people interested in what we're doing. It's really quite overwhelming and awesome. Sometimes I'm at a loss for words because I'm just not used to it. I'm more used to being one of those guys who try hard but usually have to pack up early, so to be in a position where we're going rounds and in a position to win races, well, it's like a dream come true for me," he says. "To be considered a professional drag racer, there's just nothing better than that as far as I'm concerned."