Mike Yedgarian pulls up to the starting line in his '68 Firebird Pro Mod. He stages, the engine builds up boost, and everyone within earshot is treated to a twin-turbocharged cacophony of pops and bangs. The tree illuminates, the lights drop, and Yedgarian leaves—in a hurry. He continues down the track smoothly, but there's one thing fans don't see along the way. He's rowing gears the whole time.
Based out of the Toronto, Ontario area, Yedgarian tried perfecting a clutch setup during his 10.5 tire and NMCA Super Street days but ran into driveshaft difficulties early on. "The manufacturers told me I was in uncharted territory making the kind of power I was with a 3,000-pound car and such a long driveshaft. Broken driveshafts were just too dangerous," he remembers. "I decided that the only way to do it right was to build a Pro Mod."
Yedgarian says he'd always dreamed of owning a twin-turbo Pro Mod clutch car, so when the opportunity arose for him to make that dream a reality, he went for it.
Late in 2012, Yedgarian had the opportunity to buy a '68 Firebird originally built four years earlier by Jim Geese at Vanishing Point Race Cars. The selected powerplant, a used 526-cubic-inch BAE Hemi, along with twin Precision 88-millimeter turbochargers, was purchased from NHRA Pro Mod racer Chip King. At first, Yedgarian's new car was set up to run as an automatic and he received help from Pro Line Racing's Eric Dillard and Steve Petty in getting things figured out.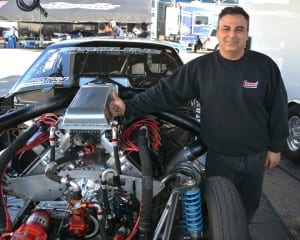 The build was buttoned up in August 2013 and Yedgarian spent some time learning to drive the Pro Mod beast. "It went 5.99, but I got fed up with the automatic and it not being consistent enough at the starting line," Yedgarian recalls of his first five-second pass with the car in 2014 during the annual NMCA race at Atlanta Dragway. "I told the guys I was going to put the standard back in, and they thought I was crazy. But to me, racing is more than just winning every race. It's learning, making the car run every time and going down the track."
Not long after, in August 2014, Yedgarian purchased a RAM clutch from fellow Pro Mod racer Brad Personett and it has remained in the car ever since. "Pat [Norcia] at RAM has always been really helpful with everything," notes Yedgarian, who owns Beverly Hills Auto, a transmission service shop in Canada. He initially began with a four-speed Lenco transmission, but as NHRA rules allow only three forward gears, he quickly swapped over to a compliant three-speed unit with NHRA racing as his goal. "It's been a consistent 5.90s car ever since."
Being intimately familiar with gearboxes, Yedgarian does all maintenance of the Pro Mod's clutch himself, although he admits it really doesn't require a whole lot of work. "Clutches are a passion of mine. You get down the track with your hand on the shifter, banging gears the whole way, and it's a feeling I just can't explain," states Yedgarian, whose girlfriend Sharon Somerville often lends a hand with the clutch servicing as well. "I've got a clutch machine in my trailer, but I haven't even used it once since the day I bought it from Brad [Personett]," he laughs.
Though some may view opting to run a clutch akin to doing things the hard way, Yedgarian sees it as the opposite and loves his clutch setup for many reasons. Primarily, he feels the advantage at the starting line of a quick spool and the ability to dial in consistency to the runs is unbeatable with a clutch. "Automatics work really well on seriously prepped tracks and thanks to today's converter technology it can be tough to beat them there. Converters are basically sealed oil couplings. However, a clutch is essentially an open box that you can tickle and make do whatever you want at any point of the track," he explains, noting that clutches offer much better adjustability when it comes to getting down tracks that are tough due to temperature and prep.
Safety, too, is a factor in Yedgarian's decision to stick with the stick. "Being able to disconnect the clutch and disconnect the powertrain from the rear wheels, and gain control of the tires, is really important to me," he says.
Although he's locked in to the clutch for quarter-mile racing, Yedgarian admits he may pick an automatic for eighth-mile applications since the converter can lock relatively quickly. "We've got a prime example of guys that use converters who have gone to the lockup portion of engagement to make up for what the converter slips, and are doing it successfully," he says.
The idea of running a clutch system may be shot down by many racers who are concerned about the challenges they'd face, but Yedgarian doesn't subscribe to the belief that a clutch is inherently more difficult than an automatic. "There are two ways of running a clutch. You can either run a fresh clutch in the vehicle, or run a glazed surface, and that's been my direction that I've taken with it," he details. "We keep the temperature of the clutch consistent, the air gap consistent, and the height of the hat. We run differently than most people, and maybe I've gotten lucky, but it works for us whether it's right or wrong."
His methods have paid off as Yedgarian recorded a personal-best, quarter-mile run of 5.87 seconds at 255.92 mph during Pro Mod qualifying last November for the PSCA Street Car Super Nationals X race at the Strip at Las Vegas Motor Speedway. "I can't say enough good things about the car. It's so consistent and repeats itself every time no matter where we are," he says.
Now, bathed in black with Speedwire Systems logos gracing its sides, Yedgarian's car has been a little quieter than he wanted for the 2015 season. "It's been a really busy season at work," he shares. "It's starting to feel like I may not come back out, but I know it's just a matter of time."
In between fixing customer cars and managing the day-to-day operations of his business, Yedgarian has managed to hit a handful of events this year. He's run a few races at Cayuga's Toronto Motorsports Park, his home track, and participated in the NAPA Auto Pro Ultimate Showdown Pro Mod series. "We made some changes to the car this year, too. We upgraded the front end and took the car down to 2,670 pounds," says Yedgarian, who also qualified well this July with a 5.97 blast at the NDRA (National Drag Racing Association) Canadian Nitro Nationals race.
Yedgarian's biggest goal for 2015, however, was to run an NHRA race. He almost couldn't believe his luck when he got the call saying a spot had opened up for the Summit Racing Equipment NHRA Nationals in Norwalk, Ohio. "Within five days, I managed to get legal NHRA SFI-approved turbos, certified everything on the car from the engine diaper to the trans blanket, to the clutch and more. When I built the car, it was built with NHRA-required safety devices in it, thankfully," Yedgarian remembers of the rush that was the hectic week prepping the car for national NHRA competition.
He arrived at Summit Motorsports Park ready to go, and although he didn't make the cut with his best pass of 6.015 at 244.65 mph, he did set the class top speed with a 251.02-mph run. "The bump was a 5.99, but there were a lot of big guys with a lot more experience on NHRA track surfaces who were at the bottom with me, so my not qualifying is nothing to be ashamed of," he calmly interjects. "They have to prep for so many different types of cars at NHRA races, so there's a big learning curve for me to get used to those tracks."
Thrilled just to have been a part of the action and happy to have kept his engine together, Yedgarian says he is committed to getting more comfortable on NHRA racing surfaces and hopes to commit to the full 2016 Pro Mod racing season. Recently, Yedgarian's "Turbobird" has undergone a few minor changes. Thanks to help from Al Billes the camshaft has been modified and Jeremy at Brad Anderson Enterprises lent a hand in perfecting the engine's overall performance.
Despite sporadic naysayers, Yedgarian still believes a clutch is the ultimate setup in the long run over automatic and converter-equipped cars. Whether or not he'll ever make the switch to putting an automatic back in his Pro Mod, however, is not up for debate. "When I see Top Fuel and Funny Cars switch to automatics, that's when I'll consider giving up the clutch," he responds with confidence.