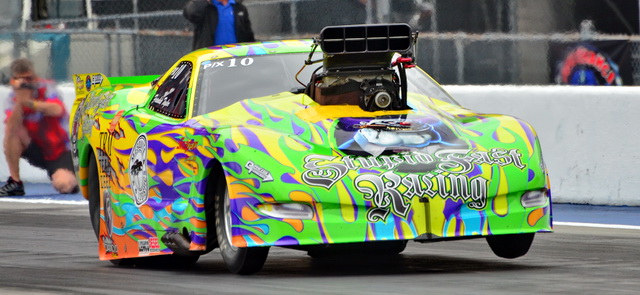 It may just be the third-ever event for the new X-treme Drag Racing League, but this weekend's Bash On The Bayou already has incredible significance thanks to the X-DRL's recently announced X-treme Shootout, to be contested at the X-DRL's Thunder In The Heartland on Sept. 20-21 at Lucas Oil Raceway at Indianapolis.
The X-DRL created the eight-car shootout for the Pro X-treme, Switzer Dynamics Pro Nitrous and X-treme Pro Stock classes, and will award each class $25,000 ($75,000 overall). But to qualify for the X-Treme Shootout drivers must be a top-eight points earner this weekend at No Problem Raceway in Belle Rose, La., which puts a spotlight on the X-DRL's first visit to the track.
"I am really excited about the Bash On The Bayou race. I have never been to this track and all I hear is good things. The X-treme Shootout race is really big to us, and Brandon (Pesz) and I have been talking about this since it was announced at Bristol," Pro X-treme driver Todd Martin said.
"We have mapped out several different scenarios for the race. The best one is just to win first round. If not, then you would have to do some pretty creative stuff in qualifying to make it. But it's not just the money on the line, it is the opportunity to get to race in a special event at the Granddaddy of all race tracks at Indianapolis."
Winners of the "X-treme Shootout" in all three classes will earn $10,000 in addition to the regular purse at the event. If a driver wins both the "X-treme Shootout" and the Thunder In The Heartland event in their respective class, the X-DRL also announced it will award that driver an additional $5,000 double-up bonus. In all, a driver in PX, PN, XPS could win $21,500 should they win both the eight-car shootout and event.
But competitors must take care of business at No Problem Raceway first.
"It's a really important event and I'm really excited about it. We certainly want to end up in the shootout," Pro X-treme driver Terry Leggett said. "The car is running well and I think we have a real good gameplan. We're hoping to have a really good weekend.
"There's definitely going to be some pressure. The first round will be like a final at any other race as far as pressure," Leggett said.
Frankie Taylor (top), who ran the fastest time in X-DRL history through two races by going 3.646 in Bristol, sees it as a tremendous chance to lower that record while also qualifying for the shootout.
"It's going to be a great opportunity to go fast and the forecast looks good, too," Taylor said. "It's not too far from home, and having something like the X-treme Shootout on the line makes for an even better race. We can't wait to start racing."
It's also a chance for some drivers to immediately turn around their seasons. It has been a struggle through two races for X-treme Pro Stock standout Todd Hoerner, but a strong performance at No Problem Raceway could put him back on track, and into the shootout as well.
"I'm hopeful guys will come to have a chance at the big purses. It was great for the X-DRL to step up and do this for the racers, and it brings excitement to an already competitive program," Hoerner said. "I hope the racers decide to come race in Belle Rose, and also I hope the fans come to watch some great side-by-side racing."
Todd Tutterow and his GALOT Motorsports team had a strong performance in Bristol before the event was rained out, switching from a turbocharger combination to a blower motor in Pro X-treme. It yielded good results almost immediately, as Tutterow ran a season-best 3.672, and he's excited to continue that momentum at No Problem Raceway.
"The GALOT Motorsports team has had a great season so far, and we're excited to be a part of the X-DRL's X-treme Shootout. Our Pro X-Treme Mustang has been running really well lately and we're feeling confident about the pair making some strong passes," Tutterow said. "This is a great opportunity for all of the drivers involved in the PX, PN and XPS classes and we would like to thank the X-DRL for the opportunity to be involved."
For 2012 Pro Nitrous world champion Bob Rahaim, the institution of the "X-treme Shootout" is an indication of the direction the X-DRL is headed. Rahaim, who was the No. 1 qualifier in Tulsa, will be racing for the first time at No Problem Raceway and hopes to get a strong read on the track throughout qualifying in the Switzer Dynamics Pro Nitrous class.
"The X-treme Shootout is exciting and it's going to be a really neat deal there. I'm excited for everybody at the X-DRL. I think they're on the right track. It's going to take time to put it all together, but the tracks have been good and the people have been great," Rahaim said. "We just have to do our thing and let the chips fall where they may. I've never been this to track, so that's going to present a whole series of things to sort, but I'm sure if the weather cooperates, we'll have a good handle for eliminations."
Competitors will get three qualifying attempts on Friday and one on Saturday before eliminations begin. Live coverage of the event will be available at www.X-DRL.com, www.1320go.com and www.dragracecentral.com.
(DI.com file photos by Ian Tocher; Click to enlarge)