A late night of racing at the Professional Drag Racers Association (PDRA) Spring Nationals paid off for pro class winners Mattias Wulcan (Pro Extreme), Tommy Franklin (Switzer Dynamics Pro Nitrous presented by MoTeC), Melanie Salemi (Andy McCoy Race Cars Pro Boost), Trevor Eman (Extreme Pro Stock), and Travis Davis (Drag 965 Pro Extreme Motorcycle). Dillon Voss picked up the win in East Coast Auto Transport Extreme Outlaw 632 at the class' second of four races with the PDRA.
In the PDRA's sportsman classes, Dwayne Silance won Magnafuel Top Sportsman and Matt Cooke won Lucas Oil Top Dragster. The Campers Inn RV Pro Junior Dragster win went to Jarrod Kissinger on a holeshot over Nicole Zuccarelli. MegaCorp Top Junior Dragster driver Kaylee Love earned a runner-up finish in the completion of the East Coast Nationals and won the Spring Nationals race over Brooke Miller in the final round. Tim West earned the Edelbrock Bracket Bash win with his 4.529 run in the final round.
PRO EXTREME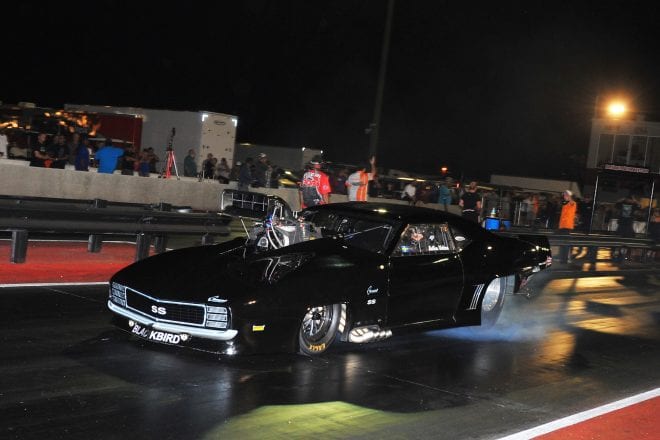 Past European Pro Mod champion Mattias Wulcan earned the Pro Extreme win in just his third race in the United States. The Swedish driver made strides at the Valdosta and Benson races, then managed to string together three quick passes during Saturday's eliminations at Darlington.
"It's amazing – a dream come true," Wulcan said. "We've been thinking about this for a couple years, and we decided in December to come here to run Pro Extreme. I was able to get my whole crew to come with me. We're regular workers and we do this in our spare time. It's a huge sacrifice for my crew. It's a great feeling to win with them"
Wulcan qualified third and made his way past Wesley Jones and past world champion Jason Scruggs before meeting low qualifier Mike Recchia in the final round. Wulcan's '69 Camaro moved off the starting line first, allowing his 3.604-second pass at 209.50 mph to defeat Recchia's 3.555 at 212.46, which stood for low et of the event.
"These are the fastest cars in the world. I drove a Pro Mod in Europe. We won the 2014 FIA championship, then we went to Qatar and tried going 200 meters (roughly 660 ft). We started liking that, then we crashed our old Pro Mod car. We had thought about switching to the screw blowers, so that was the time to make the move. That move paid off today," Wulcan added.
PRO NITROUS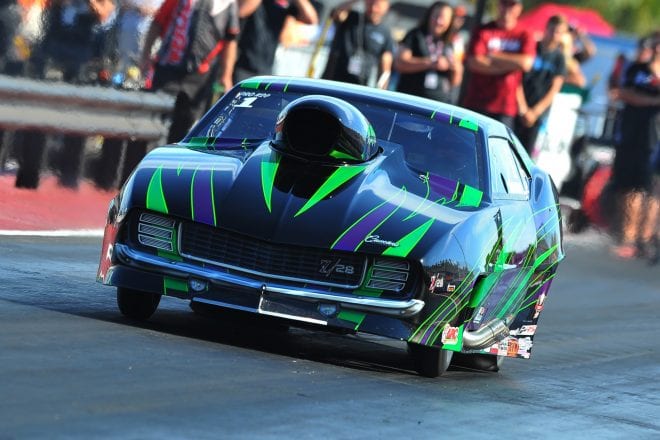 Defending world champion Tommy Franklin managed to pull off a clean sweep of the weekend, qualifying No. 1 and recording low et of three rounds in the process of winning his first Pro Nitrous race of the season.
Franklin posted a 3.706 at 204.17 to qualify No. 1, but he was looking for more out of his Pat Musi-powered '69 Camaro. He found what he was looking for in a 3.699 at 203.90 second-round victory over John Hall. Franklin backed down his "Jungle Rat" entry to run a 3.711 at 204.62 over Lizzy Musi, then a 3.722 at 203.71 to defeat Randy Weatherford's 3.732 at 198.59.
"We just tried to pick away at it," Franklin said of his eliminations strategy. "We actually started to get some power with the cool air rolling in so we slowed it down to get it down through there. The 3.69 was nice. Getting the No. 1 qualifier and the win is awesome.
"Like always, I thank the Lord, my crew, my family, all of my employees taking care of things back at home, and all of the fans who come out and watch the PDRA. It's one heck of a show."
PRO BOOST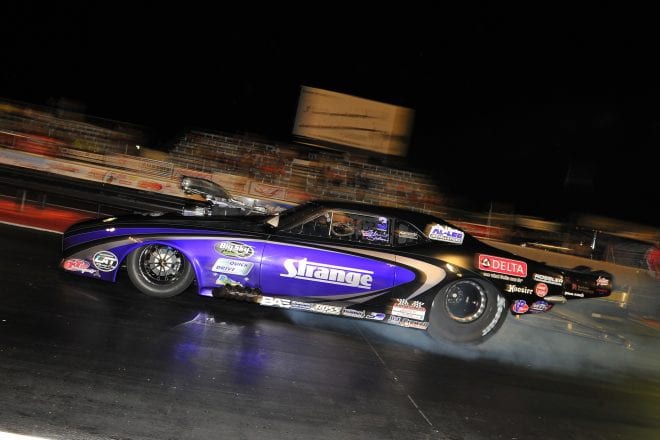 Perennial Pro Boost contender Melanie Salemi charged to her first win since the 2015 Rockingham fall race. Racing out of the seventh spot, Salemi drove her Strange Engineering-backed "Purple Reign" '68 Firebird to consecutively quicker runs through eliminations.
"It felt really good to get the win tonight," Salemi said. "I went to a couple big finals last year and it was disappointing that we couldn't come out on top for those, but coming here with even tougher competition, I think it's really awesome that we were able to pull it together tonight."
Driving a G-Force Race Cars entry built by her brother-in-law, Jim Salemi, and tuned by her husband, Jon, Melanie first ran 3.796 at 195.91 to beat Jerico Balduf in the opening round. She improved to a 3.758 at 197.89 unopposed when points leader José Gonzales ran into problems. Quicker still, Salemi posted a 3.746 at 198.41 over "Turbo" Todd Moyer, then a 3.732 at 198.24 to defeat GALOT Motorsports driver John Strickland's 3.756 at 195.23.
"We actually struggled when the cool air came to us this weekend," Salemi admitted. "We had a good car in the heat, so hopefully we can continue that on for the rest of the summer."
EXTREME PRO STOCK
After doing battle with some of the toughest drivers in Extreme Pro Stock, Aruba's Trevor Eman can now add a PDRA trophy to his impressive trophy case.
"We've been doing this for a while and we're always chasing a championship, of course, but we have managed to win a race with all of the different sanctioning bodies we've raced in," Eman said. "We won a race in the IHRA, won a race in the ADRL, and now add to that winning a race with the PDRA."
Eman qualified his Aruba.com '11 Mustang in the fifth spot and raced past Dwayne Rice, Benson race winner Chris Powers and class veteran Cary Goforth before facing 2016 World Finals winner Buddy Perkinson in the final round. Though Perkinson grabbed a starting-line advantage, Eman drove around him with a 4.079 at 176.33 over Perkinson's 4.175 at 170.00.
"Today was a tough day. Qualifying didn't go too well for us yesterday. We put a good run in finally after making some big changes today. Every run after that just kept getting better and better. It was a long, exciting day.
"The team worked really hard today. I have a team that wakes up at 7 o'clock in the morning, works on the car all day, and here we are standing in the winner's circle at 2 a.m. almost 20 hours later. My hat's off to the team. They did a phenomenal job today. Adam and Andy (Lambert) from Precision Racing Shocks helped us really well today and they put us on a different direction that I think really helped us. We're very excited for what the car's doing now and we look forward to the next race," Eman concluded.
PRO EXTREME MOTORCYCLE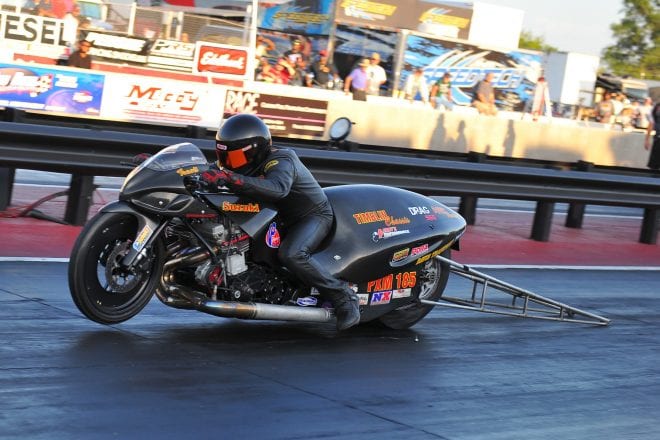 Travis Davis found himself in a familiar place Saturday night when he won his second consecutive Pro Extreme Motorcycle race on the PDRA tour. He also qualified No. 1 aboard his Timblin Chassis '12 Suzuki.
"It's a good feeling to get another win," Davis said. "The track was hot and tricky; had all different kinds of conditions to deal with. I chose to sit out the last qualifying session today because it was so hot and I didn't feel like I was going to improve. We chose to get ready for eliminations and focus on that challenge."
The soft-spoken Georgia rider slowed from his qualifying pace to a 4.286 in the opening round, but improved to back-to-back 4.05s to defeat Burke Forster and Brad McCoy. Davis used a better reaction time and his best run of the day, a 4.039 at 174.83, to win the final round over multi-time and defending world champion Eric McKinney and his 4.017 at 177.73.
"That's two in a row for us. We went 3.98 at the last race, which was a big shock to me, too. We're tickled. We have a good program going right now, and maybe we can keep it going," Davis added.
EXTREME OUTLAW 632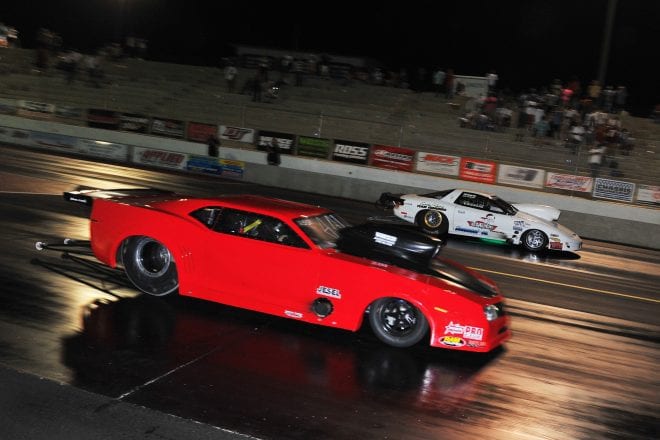 A battle between two young Floridians proved to be one of the best races of the day in Extreme Outlaw 632. No. 2 qualifier Dillon Voss drove his Voss Racing Engines '10 Camaro to a 4.337 at 166.05 over Jordan Ensslin's 4.363 at 163.10 in the final round. The two drivers left the starting line just one thousandth of a second apart.
"This is our first national event win; it's big," Voss said. "The team worked hard this weekend. We have a fast, consistent race car. We qualified three-thousandths off the pole. It's been a great race car all weekend. We're very happy."
TOP SPORTSMAN/TOP DRAGSTER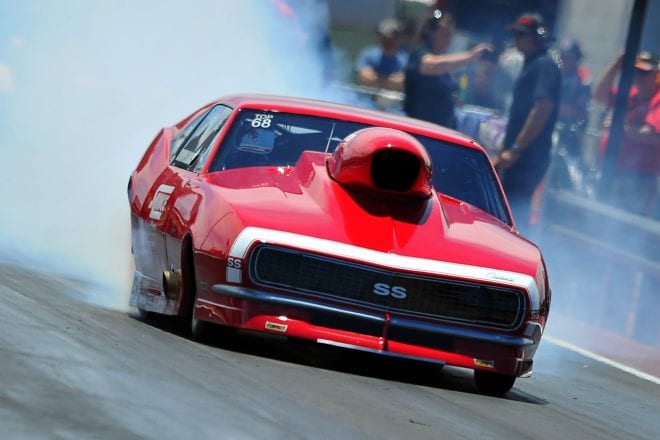 The Top Sportsman final round was won on the starting line when Jacksonville, North Carolina's Dwayne Silance cut a perfect .000 reaction time alongside John Benoit. Silance posted a 4.11 on his 4.10 dial-in, while Benoit broke out with a 4.086 on his 4.09 dial. Silance previously defeated Bruce Thrift, Cam Clark and Jordan Wood before the final.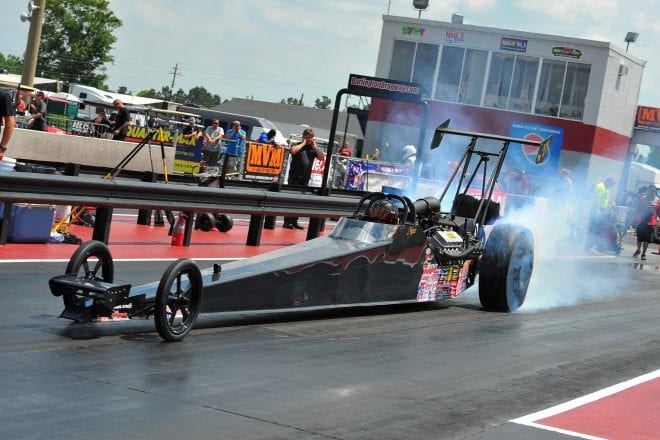 Top Dragster winner Matt Cooke had to wait over a second to leave the starting line after No. 16 qualifier Noah Strickland took off, considering Cooke's 3.92 dial and Strickland's 5.06 dial. Young Strickland had the better reaction time, but he broke out with a 5.039 ahead of Cooke's 3.97. Cooke's previous opponents in eliminations were Russ Whitlock, Angie Travis and Jimmy Sackuvich.
The 2017 PDRA Tour continues in two weeks at the PDRA North-South Shootout, June 1-3, at Maryland International Raceway in Mechanicsville, MD.