Driver Aaron Glaser can normally be found wheeling his now infamous 2Face '69 Camaro at any number of Pro Mod races across the country, including his debut at the Drag Illustrated World Series of Pro Mod last month at Bandimere Speedway.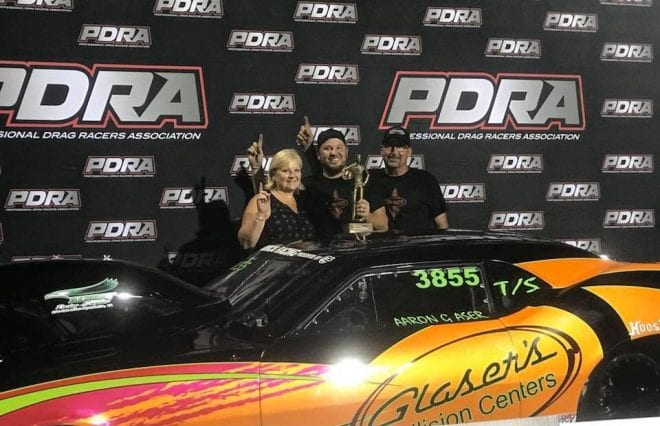 But last weekend Glaser and his team went back to their roots and ran their '68 Firebird Top Sportsman car at the sixth stop on the 2018 PDRA tour. The decision proved to be a good one, as the team repeated their 2017 performance and claimed the 2018 Drag Wars Top Sportsman victory. It wraps up a solid summer after Glaser performed well at his debut on Thunder Mountain, as he became the first nitrous-powered car to reach the three-second zone in the 1/8-mile at Bandimere Speedway.
Glaser is a veteran of the Top Sportsman class, having spent 15 years driving cars in several different sanctioning bodies and claiming championships in IHRA as well as ADRL.
"Even tough we have been focusing on Pro Mod over the last year, I still love Top Sportsman and plan on running as many events as I can," said Glaser, who was among three drivers who brought nitrous-powered entries to the World Series of Pro Mod for the first time.
With the season winding down, the team's Firebird has only seen on track action one time this season. This is why Glaser left 2Face in the trailer and brought out "The Bird" to play.
Glaser qualified ninth in the always-tough Elite 16 Top Sportsman. The Firebird proved to be a potent combination, as Glaser wheeled it to a string of consistent runs to take out friend and engine builder Billy Albert (second in championship points), points leader Henry Underwood, Cam Clark and Scott Moore in the final round.
Coming fresh off a win gives Glaser and his team the boost of confidence needed to finish out the 2018 season strong. The Firebird is scheduled to run two more events this season and 2Face will see its next outing in two weeks at the NMCA World Finals in Indy.
To keep up with news and results from Glaser Racing, follow the team's Facebook page at https://www.facebook.com/2FaceRacing/