With the 2023 Drag Illustrated World Series of Pro Mod presented by J&A Service at Bradenton Motorsports Park rapidly approaching, we're taking a look back at the previous three winners of this $100,000 race when it was held at Bandimere Speedway near Denver, Colorado. In today's feature, inaugural WSOPM winner Mike Bowman discusses his path to victory. This story originally appeared in DI #125 in the fall of 2017.
Bowman will be one of over 60 drivers competing for the $100,000 title this weekend, March 3-5, at Bradenton.
In the months leading up to the inaugural Drag Illustrated World Series of Pro Mod, names like Coughlin, Janis, Jackson and Whiteley were brought up in the discussions over who would win the lucrative race. No one could have predicted that the winner wouldn't be one of those names, drivers who compete in the NHRA J&A Service Pro Mod Series on a full-time basis, but would instead be Mike Bowman, who was inserted into the fan vote winner spot just weeks before the race.
"The owner of the company I work for, Ray Coburn at Coburn Equipment, I asked him if it was OK if I took a few days off to come race here," Bowman remembers. "He said, 'Heck yeah! It's a hundred thousand dollars; you better go get you some of that!' So, we loaded up the trailer and got ready to leave for Denver."
A past NMCA champion and winner of the 2016 Street Car Super Nationals in Las Vegas, Bowman began the week at the Precision Racing Suspension/Penske Racing Shocks Test Session, where his turbocharged '69 Chevelle made Bandimere Speedway history, though only he and a few others knew because of the no-scoreboards format of the event.
"I unloaded the car and made the first full pass, and 'Sporty' Bandimere came over and told me I made the first five-second door car pass here at Denver. That was an honor to me. The weekend just kept getting more amazing for me. I ended up making six (test) runs and decided to sit out a couple of the rounds. I wanted to save my motor for the race. The car's already been down the racetrack six times, I don't need to go out there and beat on it. I think that was the right decision because you never know what's going to happen on the very next run."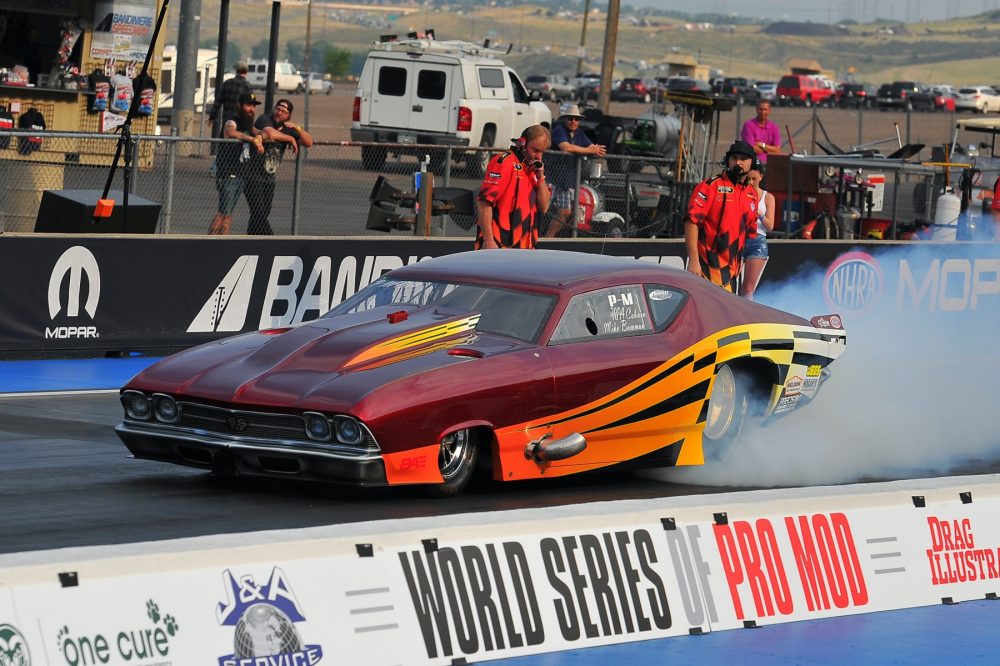 While Bowman made his shakedown runs on Friday evening, he watched as his first-round opponent of the Main Event was decided. The eliminations ladder was laid out one month prior when Buck drew random pairings on his weekly Facebook live show. The drawing revealed that the fan vote winner would face off against the Aeromotive Wild Card Shootout winner, meaning the two names would not be known until the Wild Card Shootout final round was completed on Friday night. The Wild Card Shootout win went to Montana's Derek Menholt, who recently made the jump from Top Sportsman to Pro Mod with his Pro Line-powered '68 Camaro, deciding the final match-up in the Main Event.
Following a heavy rain shower Saturday afternoon, the World Series of Pro Mod Main Event began under ominous cloud cover. Menholt left on Bowman in their all-turbocharged matchup, but Menholt lost traction and Bowman charged ahead to the finish line. He dipped into the fives again against Michael Biehle in the second round. A low-six-second pass was all Bowman need to drive around the .016-second reaction time by Shane Molinari in the semifinals.
In the final round, Bowman would face Grand Junction, Colorado's Steven Whiteley and his J&A Service supercharged '14 Cadillac CTS-V. Whiteley was quietly the most consistently quick driver in eliminations. He ripped off a sub-six-second run in the first round against Tommy Johanns, who was inserted into the field to replace Mike Knowles after his Blown Money '67 Mustang was damaged in a top-end accident on Friday night. Whiteley improved over Eric Latino in the second round, then used a holeshot advantage to defeat Steve Matusek in the semifinals.
As the tree dropped for the final round, Bowman was just a tick quicker than Whiteley. Both drivers lost traction down track, but Bowman was able to recover and recorded another six-second pass to defeat Whiteley. Bowman and his team returned to the starting line, where they were awarded the WSOPM championship belt and a $100,000 check by John Bandimere Jr. and Wes Buck.
"I wasn't really under that much pressure going into the final," Bowman said. "I just saw it as another round I had to win. The not knowing what the other guy ran in the previous round, that's what made it a challenge. We live and die by knowing those numbers. We usually know what they ran and they usually know what we ran. Steven whipped me at the Four-Wide Nationals in Charlotte – he nailed me on the tree and outran me – so of course I thought about that. And he's so good; he's a good driver. The guy is just awesome, as is his whole family; they're drag racers. But I wasn't really nervous. I knew I had to cut a good light and I guess I did – I was .024 on the tree. I figured we were going to be door-to-door and it would be settled at the Christmas tree. I was like, 'I can't let him beat me again on the tree.' I was digging hard. That's honestly what I was thinking about, how hard I was going to dig for the tree and not make a mistake."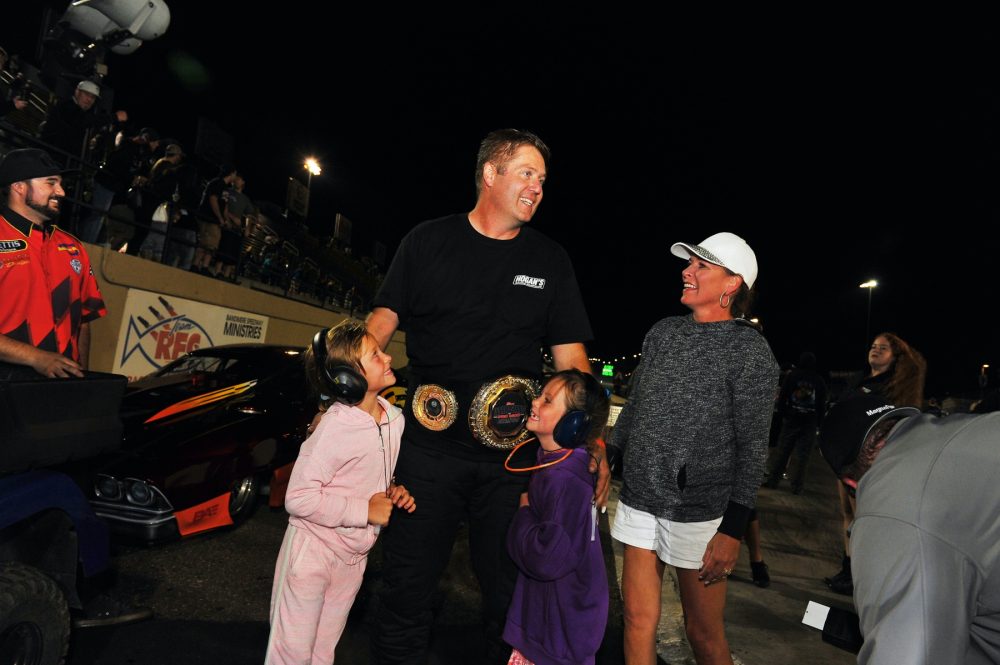 Bowman, who last raced at Bandimere in 1995, was sure to thank his supporters, including his family; his wife, Kristy; his crew members, Brian Strange, Taylor Strange, Alex Grinder and Chris Costanza; his employer, Ray Coburn at Coburn Equipment; Jeremy Evrist and Brad Anderson at Brad Anderson Enterprises; and Brad Personett.
As the evening's celebrations began to wind down, Bowman was asked if he began the day feeling like an underdog. Since he rarely competes against the top-tier drivers and cars he beat, it was a valid question. Bowman's answer explained why he won the first-ever World Series of Pro Mod and why he'll be back for the next one.
"I don't consider myself an underdog to those guys because when I go to the NHRA events – I've been to four of them now – I qualify sixth or better, so I know that I'm competitive with those guys," Bowman said in the winner's circle.
"For sure, I respect all of them. I have full respect for anybody who qualifies at an NHRA national event, or any of the guys who are out there trying to do it. We're all spending the same kind of money and putting the same kind of effort in, being away from our family and work at home. I don't do the whole NHRA tour, but I'll be doing more of those races next year, and I'll be back here, for sure."