A breakout season working with a noteworthy tuner has Shane Molinari thinking big. Like, $10,000 to win and a chance for a $100,000 prize big. Molinari has thrown his name into the hat for the Drag Illustrated World Series of Pro Mod and its Aeromotive Wild Card Shootout, which takes place Friday, Aug. 4 and awards the winner $10,000.
Of course, it also gives that driver an automatic berth into the next day's main event, where $100,000 will be on the line at Bandimere Speedway. It's more than enough to catch Molinari's attention and he's not going just to have a good time.
"We're not going there to practice and play around, you know," Molinari said. "We're looking forward to it and we're going there to win on Friday. It's going to be a cool race so we'll see how it goes."
Judging on what has transpired during his 2017 NHRA Pro Mod season, it has a chance to go very well for Molinari, even though the Battle Ground, Wash., native will race at the Denver-area track for the first time. He has advanced to his first two career final rounds in the loaded class and was also the No. 1 qualifier in his turbo Firebird in Bristol, racing two-time world champ – and fellow WSOPM participant – Troy Coughlin in an all-turbo final.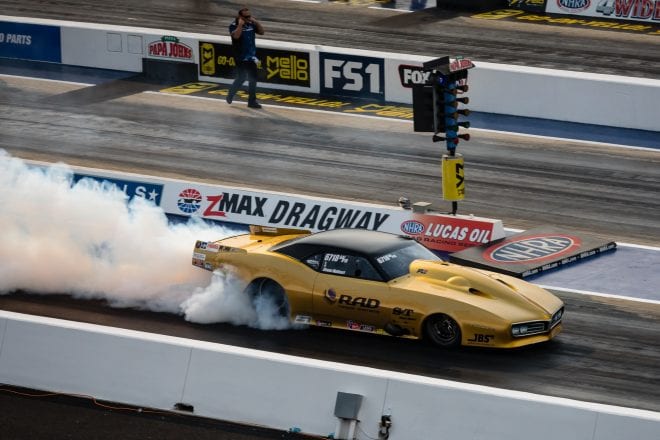 As much as Molinari, currently fourth in points, would like to take the credit following a frustrating 2016 season where he only qualified for two races, he's quick to credit famed tuner and Pro Mod standout Brad Personett.
"Obviously the tuner makes a big difference and Brad's got his stuff together," Molinari said. "He's an amazing guy. He's owned his own car, he's tuned his own car. What else can you ask for? The guy has been astronomical for us. He knows what's right and what needs fixed, and he makes sure you're comfortable in the car. It's just been a great thing."
Personett also has Molinari confident he can do well on the mountain racing at an altitude of nearly 6,000 feet. But with a huge lineup for Friday's Aeromotive Wild Card Shootout, drivers won't be afraid to do whatever it takes to try to win. That means plenty of wild runs and raucous action, and Molinari knows he has to be prepared for what could take place.
"Everybody up there is going to have their stuff on kill and I think it would be cool," Molinari said. "But honestly, you just have to make laps. You can't go up there and try to do something crazy or stupid. It's going to be about going A to B, that's going to be the key. If you don't go down the track, you can't win. There's going to be a bunch of badass cars there and we're excited to get after it."
With the scoreboards shut off and the winner-take-all prize on both days, it adds two more interesting elements into the highly-anticipated weekend. Racing at challenging Bandimere Speedway for the first time is another added one for Molinari, who plans to test on Tuesday and Wednesday at the private test session. It will be imperative to see progress during those two days, but Molinari's confidence in Personett has him excited.
"Brad says we can run up there," Molinari said. "It's a good challenge, but our car is working just as good as anybody right now. Obviously we've never run in that type of air before, so we'll see what happens."
To Molinari, the race is just further validation of the growth of the Pro Mod class. He sees the 30 cars trying to qualify and win at NHRA races these days, noting the huge number of talented drivers. Adding an event like the Drag Illustrated World Series of Pro Mod adds yet another impressive example of the strength of the class.
"It's just crazy," Molinari said. "Pro Mod is the class right now. You have this variety of cars, which is cool, and I'm sure there's going to be some old-school stuff (in Denver). It will be cool to see it all. I just think the class is badass. I don't know what else you can say."