Mike Knowles didn't make any bold proclamations about how he expects to fare in his Blown Money Mustang at the Drag Illustrated World Series of Pro Mod on Aug. 4-5 at Bandimere Speedway. But he did issue a warning of sorts to the loaded field that will race at an elevation of nearly 6,000 feet.
"You better bring your oxygen mask and be prepared," Knowles said.
There was a touch of humor in Knowles' message, but it will be one of the major challenges facing the top Pro Mod stars when they descend on the inaugural event paying out $100,000 to the winner.
Knowles is one of the 14 drivers invited to compete in the WSOPM main event taking place on Saturday. A 15th driver will be voted in via fan vote online, and the final participant for the highly-anticipated main event will be determined by the winner of an open 16-car, $10,000-to win Pro Mod shootout on Friday.
The multitude of variables makes it a truly one-of-a-kind event and something Knowles has been clamoring for the past several years.
"I talked with Wes (Buck, Drag Illustrated Editor-in-Chief) probably 4-5 years ago and thought it was a great idea," Knowles said. "To see a race of this magnitude, it proves how big this class is and how much appeal there is to the class. It's exciting and I want it to be successful, and I know it's going to be a great race."
The uniqueness of the race – from the giant curveball of racing Pro Mod cars at high altitude to the massive winner payout – held a strong appeal to Knowles. He was also just as ecstatic about a format that includes no qualifying, three shakedown runs with the scoreboards off and predetermined first-round pairings announced a month prior to the race.
Racing at Bandimere Speedway, long regarded as one of the finest facilities in the country, has Knowles plenty excited as well. He has known the Bandimere family for a number of years, knowing they bring a first-rate production when it comes to promotion and taking care of drivers. Knowles and his Blown Money Racing team raced at the track's Night of Fire and Thunder a year ago, performing in front of a huge crowd, and he expects the same will take place during the WSOPM event as well.
"When you go to the races, you're there to compete number one, but you're also there for fans," Knowles said. "Why do you think I paint my car like I do? Seeing the excitement there, I think it will be packed for this event and I can't wait. All these Pro Mod fans are flying in to watch and I think that's cool. Everyone is passionate to see this class grow."
As far as the altitude, it will play a huge factor and it is something Knowles and the rest of the field will have to overcome. But he welcomes the challenge, especially with $100,000 on the line.
"I think it's neat to come up here and I think it's definitely going to add excitement to it," Knowles said. "It's going to be a lot different for a lot of guys and some of them might be in for a little surprise.
"It's an awesome venue and they run such a great facility up there, but it's going to be challenging and interesting. If you run (well) there, you've done your homework. You're racing for a lot of money and when you put that into the equation, things are adding up to be exciting."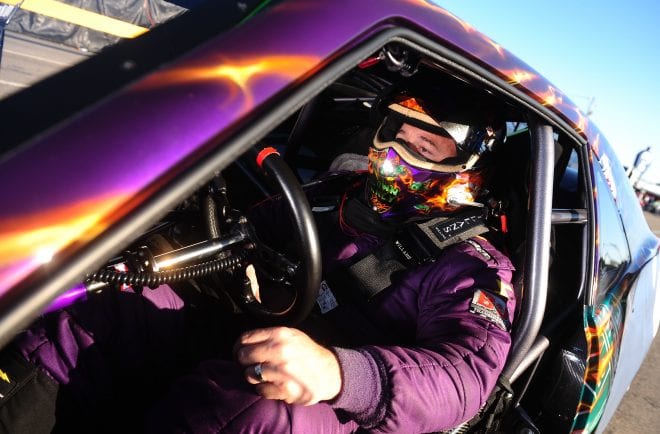 Even with that substantial of a grand prize on the line, Knowles said he doesn't expect to alter an approach that is simply trying to run as fast as he can every round. It led to a big-time win at the NHRA Pro Mod race in St. Louis in 2015 and Knowles believes it's an approach that could lead to a memorable celebration at Bandimere Speedway this year.
"That's the neat part about Pro Mod. Part of the success of winning is just going down the track," Knowles said. "But the money is a big deal to all of us. I think this has the opportunity to be big and really pull people into Pro Mod racing."