A couple years ago, a discussion broke out in the media center at an NHRA National event. Doesn't it seem as though parachutes on the nitro cars are shredding upon deployment more lately? Like, a lot more?
It appears as though we weren't the only ones paying attention. Former NHRA Mello Yello Series Top Fuel and Funny Car champion Del Worsham noticed it as well. As with many things in this life, the problem was discovered when another problem was solved.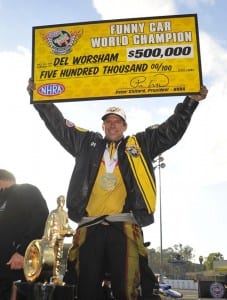 "It started back in 2015 when I was driving the DHL Funny Car (for Kalitta Motorsports)," he said. "It appeared that when we swept the headers back and we took all the wing off and the car was going faster, it started ripping parachutes pretty regular. It started about 325 mph and when the cars got up to about 2,600 lbs, I just noticed I was putting one or two or three (new) parachutes on the car a race and prior to that, hardly any at all.
"The idea of the third chute," Worsham continued, "is that it's a smaller chute that hopefully won't tear up the car. It was built by Simpson and is a little bit longer than the other two chutes. What I'm doing is, I'm pulling that parachute first and hopefully, scrub a little speed off the car before the other two deploy. Once it blossoms, it pulls the other two out automatically and then, those two come out behind the first one."
The issue stayed in Worsham's head until last fall at Gateway Motorsports Park outside of St. Louis. During the NHRA's annual trip to the area, Worsham ran into Top Fuel veteran Scott Palmer. Palmer, a jack of all trades when it comes to drag racing, had his Top Fuel boat on display at the event and Worsham noticed it had three parachutes.
"Scott said they pull the one chute pretty early to get the boat straightened out and the other two come out and actually stop the boat," Worsham said. "When he said that, I thought 'You know, that's not a bad idea for a Funny Car right now.' I don't pull it before the finish line, but I get it out pretty early and it comes out and the lines get tight and as it blossoms, it has a lanyard that goes up and jerks the other two wires out mechanically."
There's more to solving a problem than just coming up with an answer. The answer has to be examined and experimented upon and proven correct, beyond a shadow of a doubt. Part of the issue is finding the full reason the parachutes are shredding. Sure, increased speed plays a part in the process, but what other factors play a part?
"It appeared to happen more to the guys who drive into the parachutes and not so much the people who let up on the throttle first, the car loses a little bit of speed, and then you pull the parachutes," said Worsham. "They didn't seem to have as big a problem as the guys who pull them as they lift, like myself or, say, Ron Capps or Tommy Johnson (Jr.) or Jack Beckman. I notice it more and more with those drivers more so than drivers who are able to lift and then pull the parachutes.
"I think after 30 years of racing, there's no way I'm going to be able to change the way I pull the parachutes in relationship to my foot coming off the throttle."
No racing sanctions that spring immediately to mind, including the NHRA, tend to allow its drivers, even its decorated champions, to just add new pieces to their car regardless of potential safety features. The California native worked with Glendora on the issue and continues to do so.
"I went ahead and told them about my designs and how I wanted this thing to work and they said no problem, it sounds like it goes within the rules," he said. "They didn't see anywhere where it broke any of the rules and that it's definitely safety-minded. They didn't have a problem with it at all."
The third parachute has another St. Louis-area tie, as it was Jerry Bickel providing him with the entire setup, including a launcher for the new chute. Worsham noticed his chute had a tendency to get sucked under the car when deployed. A trip to Qatar solved the problem when he saw a racer using the same type of launcher a doorslammer uses on his Top Fuel dragster.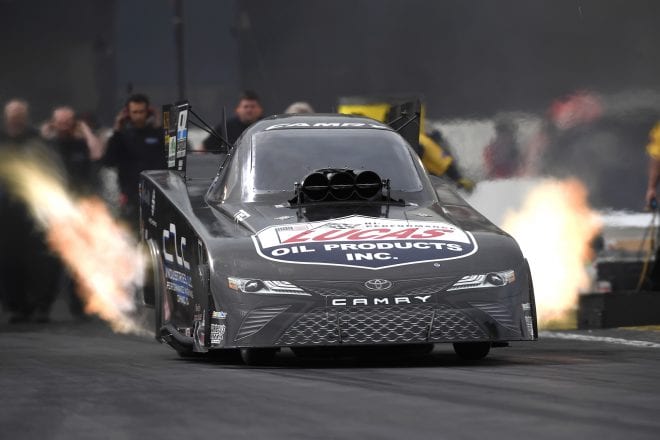 The new setup was ready at the beginning of the season, but with the shorter-than-average shutdown area at Pomona, Worsham decided to debut the new chute at Wild Horse Pass Motorsports Park in Phoenix last weekend. The two-time nitro champ said he felt it was helpful, but he also said he didn't feel he had the kind of runs that allowed him to collect better data.
"Unfortunately, I didn't get a bunch of great runs in (last) weekend, but I stayed on Monday to make some more runs," he said. "I'm going to take it to Gainesville because a couple modifications need to be made to it, such as tether length. When the main chute deployed and it pulled out the other two chutes, it actually ripped the parachute wires in half, so I need to make those lanyards longer. There must be a lot of force on that when those come out. Just a couple small things like that."
While it's always open season when it comes to pointing out NHRA's flaws, Worsham will be one of the first to tell you the sanction has been incredible when it comes to making racing safer for everyone involved at their events.
"I think it's great," Worsham said, in reference to Glendora's working with teams on safety issues. "I thought it was pretty good of them to say 'Look, we trust you and your judgement on this and we don't believe you'd put yourself in danger.' They're willing to just kind of let me give it a shot. They have their eyes on it and they're watching it very close and I'm giving them the reports on what's going on.
"It's great. I'm glad they're so open-minded to safety."