Funny Car points leader Del Worsham reset the track record in elapsed time en route to the qualifying lead Friday at the AAA Texas NHRA FallNationals.
Dave Connolly (Top Fuel), Jonathan Gray (Pro Stock) and Karen Stoffer (Pro Stock Motorcycle) also were qualifying leaders at the 22nd of 24 events in the 2015 NHRA Mello Yello Drag Racing Series season and the fourth of six races in the NHRA Mello Yello Countdown to the Championship.
Worsham posted a 3.917-second pass at 323.58 mph at the controls of his DHL Toyota Camry to earn the provisional No. 1 spot. Worsham opened the Countdown to the Championship with back-to-back wins at Charlotte and St. Louis as he is in search of his first Funny Car world title. He is looking for his 17th career No. 1 qualifiers (10th in FC) and a third victory at the Texas Motorplex, located just outside Dallas.
"We're all making the best runs we think we can," said Worsham. "All we can do is get as many points a week as we can. You have to earn every point that's yours and hopefully when it's all said and done and we leave Las Vegas and head to Pomona, we'll be in a position to race for the NHRA Mello Yello Funny Car championship. That's really my goal."
Title contender Jack Beckman, who entered the event second in points, ran a 3.919 at 332.97, earning him the provisional No. 2 spot. Beckman, the 2012 world champ, is looking for his first win in Dallas.
Two-time and defending world champ Matt Hagan pushed his Pennzoil Dodge Charger R/T to the provisional No. 3 position while Robert Hight and Ron Capps sit fourth and fifth respectively.
Connolly powered his C&J Energy Services Top Fuel dragster to a 3.744 at 329.18, both track records, to earn the top qualifying spot through the first two sessions. Connolly, who won this race last year in Pro Stock and is in his first season in Top Fuel, has eight career No. 1 qualifiers and is two sessions away from earning his first in Top Fuel.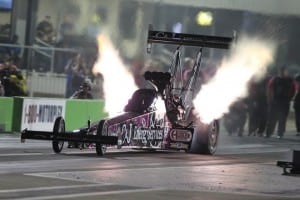 "I didn't really know what to expect," said Connolly, a contender in the Countdown to the Championship playoff. "We saw Langdon go .75 right in front of us. My crew chiefs – Kurt Elliott and Jason McCulloch – looked at each other and said, 'Just leave it.' It worked tonight and was enough to hold on to the No. 1 spot. C&J Energy Services is based out of Texas, so it's nice to run good here with a lot of eyes on us."
Brittany Force pushed her Monster Energy dragster to the second qualifying position with a 3.749 at 326.71. Force, who sits a career-high third in points, is searching for her first career victory.
Shawn Langdon is in the provisional third spot in the Sandvik Coromant dragster while Steve Torrence and Richie Crampton are fourth and fifth.
Gray sprinted to the qualifying lead in Pro Stock with a track record 6.493 at 212.53 in his Gray Manufacturing Chevy Camaro. Gray, who is seeking his first win of the season and second of his career, is two passes away from securing his first career No. 1 qualifier.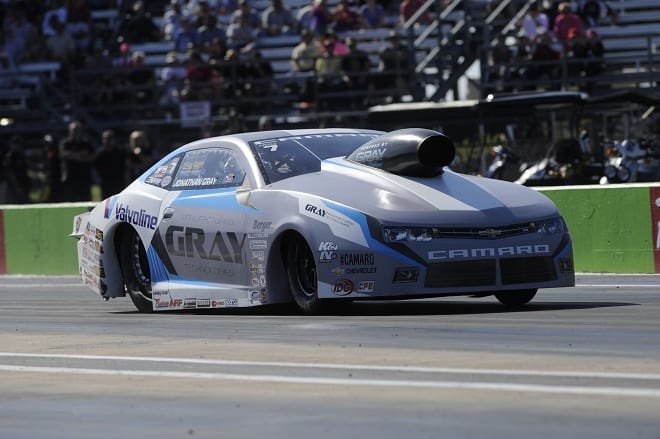 "Ever since the Countdown began, my crew has busted their butts to give me a car capable of winning, and I've just dropped the ball as I driver," said Gray. "I was so disappointed with myself that I made a commitment with the crew that we're just going to win the last three races. And the way that the car is running, I really think that can happen. We just wanted to make a nice run in the first session today, and after the car ran as quick as it did, we felt we had enough to get the No. 1 spot again."
Automobile Club of Southern California Road to the Future Award contender Drew Skillman raced his Ray Skillman Chevy Camaro to the provisional No. 2 qualifier with a 4.494 at 211.86 during Friday night's second session. Defending world champ and current points leader Erica Enders sits third in her Elite Motorsports Chevy Camaro. Summit Racing Equipment teammates Greg Anderson and Jason Line sit fourth and fifth, respectively.
In Pro Stock Motorcycle, Stoffer grabbed the qualifying lead with a 6.832 at 195.14 on her BIG St. Charles Motorsports Suzuki. She is looking for her first No. 1 qualifier of the season and fourth of her career. She has two wins this year but is pursuing her first victory at Dallas and her first in the Countdown this season.
"This is a great thing to do but right now I'm not thinking about little points or anything like that," said Stoffer, who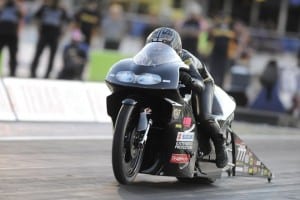 was quickest in both sessions and earned six bonus points as a result. "All I want to focus on is doing the best job I can as a rider. We're running our favorite motor right now, and my husband, Gary, is doing his usual great work on the tune-up, so I know we have the power."
Chip Ellis is qualified second after the first two sessions with a 6.837 at 194.44 on his Junior Pippin Trucking Buell and held the No. 1 spot until Stoffer stole it during the final pass of the night. Jerry Savoie sits in the provision third spot on his Savoie's Alligator Farm Suzuki. Eddie Krawiec, who is second in points, powered his Screamin' Eagle Vance & Hines Harley-Davidson to the fourth spot and was followed by Matt Smith in fifth.
Qualifying for the AAA Texas NHRA FallNationals resumes Saturday at 12:45 p.m. with the final two sessions to set the fields for Sunday's 11 a.m. eliminations.