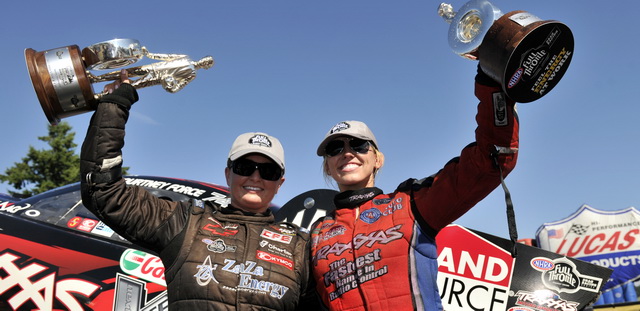 For the first time in NHRA Full Throttle Drag Racing Series history, two female drivers claimed Wally trophies at the same event. Courtney Force (above right) powered her Traxxas Ford Mustang Funny Car to the winner's circle for the first time in her career, and Erica Enders (left) earned her second career Pro Stock victory in her GK Racing Chevy Cobalt at the O'Reilly Auto Parts NHRA Northwest Nationals presented by Super Start Batteries at Pacific Raceways.
"To have both me and Erica in the winner's circle is awesome," Force said. "We're not just out here to race the boys, we're here to beat the boys and today just proves that."
"This [the women drag racers] is a big family out here, and all of the girls tend to stick together," Enders said. "I couldn't be more proud of her. She's an awesome driver and she does a tremendous job out here."
Steve Torrence also earned his third career Top Fuel victory at the NHRA Full Throttle Drag Racing Series event.
Force, the youngest daughter of 15-time Funny Car world champion John Force and sister of the first woman to win in Funny Car, Ashley Force Hood, earned her firstcareer Funny Car victory at the same track where she earned her first victory in the Lucas Oil series in 2009.
"I remember coming out here and getting my Top Alcohol Dragster win," Force said, "I looked at that Wally and remember thinking how much I couldn't wait for the day I could get one that said Funny Car on the side. Being that it's my rookie season, I didn't expect it to happen this year at all. This is my learning season. I'm doing everything I can to be the best at what I'm trying to do."
Force struggled throughout qualifying, starting from the No. 14 spot but managed to get the tune-up right for Sunday's eliminations as she maintained lane choice in the semifinal and final round in the tough conditions.
"Our Traxxas Ford Mustang was running good today but we worked hard just to get it in the show. This track is tough."
Force took out Cruz Pedregon in the opening round, Bob Tasca in the quarterfinals and her father in the semifinals. Then Force's 4.238-second pass at 293.54 mph in the final round was too much for reigning Funny Car world champ Matt Hagan's 4.328-second pass at 276.58 mph.
"Cruz (Pedregon), Bob Tasca, my dad, and Matt Hagan are some heavy hitters," Force said. "We had tough competition today. Taking out a Schumacher car in the process was a huge accomplishment for us."
This win is a dream come true for the rookie Funny Car driver who dreamed of competing in Funny Car with her dad since she was a seven-year old girl.
"It was huge," Force said. "Seeing that win light, I really couldn't believe it. Getting that victory and having to take out my dad in the process was a huge accomplishment. I was listening to my guys on the radio, and I was yelling back at them. As a kid being in a tow truck watching my dad race, I told myself I wanted to be out there racing against my dad."
Enders drove her GK Racing Chevy Cobalt straight to the winner's circle for the second time in her career in the tough conditions at Pacific Raceways.
"I'm so proud of my guys because they won this race today," Enders said. "They gave me a great car for me to drive, and we drove it right to the winner's circle. I'm honored to be their driver, and hopefully we can get a few more wins before the season is over. If we can position ourselves well before the Countdown begins, this is a good time to be starting to gain momentum."
Enders took out three of the heavy hitters in Pro Stock en route to her second career victory including four-time Pro Stock world champ Greg Anderson in the quarterfinals, points leader and the winner of the past two events Allen Johnson in the semifinals, and reigning Pro Stock world champ Jason Line in the final round.
"Beating those guys [Greg Anderson, Allen Johnson, and Jason Line] is something else because they've always been on the top of my list, guys that I've looked up to my entire life. Allen and Pam are very good friends of mine. I knew that [Allen] wanted to sweep [the Western Swing], but I told him I was going to take that dagum broom out of his hand, and he wasn't leaving here with it. I'm just very proud to do it for Gaston Kirby and the team."
With the win, Enders clinched her spot in the Countdown to the Championship, NHRA's playoffs that start in Charlotte, Sept. 14-16.
Texas native Torrence also had a successful weekend in the Northwest as he earned his first victory at Pacific Raceways. The hot conditions made it tough for the Capco Contractors Top Fuel team but they made the most of their day earning their third win of the season.
"We'll take them anyway we can get them," Torrence said. "It wasn't pretty. We definitely had to work for it today, but we got our third win of the season and I'm so proud of my team."
Torrence raced fellow young-gun pilot Shawn Langdon and his Al-Anabi Racing dragster in the final round. The final-round wasn't a picture perfect pass, but Torrence's 4.168-second pass at 261.98 mph was enough to take out a tire-smoking Langdon.
"Shawn had me nervous in the final," Torrence said. "He's a great leaver and a great race car driver. Alan Johnson has had that Al-Anabi car runnin' all day. I counted on Richard Hogan and had a lot of confidence and did my job. I felt it start to knock the tire off in the final round and went as quick as I could to get it back going. Today, we were just on the right side. We're living lucky."
Torrence also clinched his spot in the Countdown to the Championship.
Seattle-native Megan Ellingson also won Super Street in the Lucas Oil Drag Racing Series, NHRA's sportsman category, making even more history as this is the first NHRA event where three women have claimed victories across all categories of NHRA competition.
The next NHRA Full Throttle Drag Racing Series event is the Lucas Oil NHRA Nationals, Aug. 16-19 at Brainerd International Raceway in Brainerd, Minn.
(Photos courtesy NHRA/National Dragster; Click to enlarge)
KENT, Wash. — Final round-by-round results from the 25th annual O'Reilly Auto Parts NHRA Northwest Nationals presented by Super Start Batteries at Pacific Raceways, the 15th of 23 events in the NHRA Full Throttle Drag Racing Series:
TOP FUEL
ROUND ONE — Khalid alBalooshi, 3.881, 318.54 def. Bob Vandergriff, 9.333, 82.39;Shawn Langdon, 3.838, 316.15 def. Terry McMillen, 5.647, 120.26; Antron Brown, 3.859, 313.95 def. Clay Millican, 3.926, 294.05; Steve Torrence, 4.563, 208.46 def. Steven Chrisman, 6.880, 84.31; Tony Schumacher, 3.828, 318.62 def. Scott Palmer, 5.178, 143.32; Spencer Massey, 3.824, 320.51 def. Ron Smith, 6.834,88.95; Doug Kalitta, 3.842, 317.87 def. Brandon Bernstein, 3.940, 297.75; David Grubnic, 3.854, 312.28 def. Morgan Lucas, 3.935, 264.86; QUARTERFINALS — Torrence, 3.879, 303.03 def. alBalooshi, 3.877, 312.64; Langdon, 3.852, 314.83 def. Brown, 4.267, 224.06; Kalitta, 5.386, 229.27 def. Schumacher, foul; Grubnic, 3.958, 281.42 def. Massey, 5.067, 151.90; SEMIFINALS — Torrence, 4.138, 274.89 def. Kalitta, 6.310, 142.39; Langdon, 4.777, 223.39 def. Grubnic, 6.379, 133.33; FINAL — Torrence, 4.168, 261.98 def. Langdon,4.329, 254.57.
FUNNY CAR
ROUND ONE — Courtney Force, Ford Mustang, 4.164, 301.33 def. Cruz Pedregon, Toyota Camry, 4.710, 189.71; Ron Capps, Dodge Charger, 4.118, 296.89 def. Jeff Diehl, Chevy Monte Carlo, broke; Jack Beckman, Charger, 4.152, 300.53 def. Gary Densham, Charger, 5.240, 143.11; Johnny Gray, Charger, 4.159, 304.05 def. Robert Hight, Mustang, 5.059, 152.14; Matt Hagan, Charger, 4.181, 297.88 def. Jeff Arend, Camry, 4.383, 255.19; Bob Tasca III, Mustang, 4.323, 261.83 def. Mike Neff, Mustang, 4.412, 258.52; John Force, Mustang, 4.254, 291.70 def. Alexis DeJoria, Camry, 4.185, 296.83; Tim Wilkerson, Mustang, 4.138, 298.67 def. Tony Pedregon, Camry, 4.358, 234.13; QUARTERFINALS — Hagan, 4.268, 280.08 def. Gray, 5.865, 125.47; Capps, 4.169, 288.46 def. Wilkerson, 4.214, 292.90; J. Force, 4.505, 254.28 def. Beckman, 4.574, 274.05; C. Force, 4.255, 290.57 def. Tasca III, 5.694, 132.28; SEMIFINALS — C. Force, 4.239, 297.48 def. J. Force, 10.548, 84.75; Hagan, 4.410, 231.28 def. Capps, 5.328, 159.61; FINAL — C. Force, 4.238, 293.54 def. Hagan, 4.328, 276.58.
PRO STOCK
ROUND ONE — Warren Johnson, Pontiac GXP, 6.658, 208.46 def. Shane Gray, Chevy Camaro, 6.880, 206.13; V. Gaines, Dodge Avenger, 6.614, 208.55 def. Larry Morgan, Ford Mustang, 9.664, 94.10; Jason Line, Camaro, 6.601, 209.56 def. Jeg Coughlin, Avenger, 10.507, 86.73; Mike Edwards, GXP, 6.606, 209.95 def. JR Carr, Mustang, broke; Vincent Nobile, Avenger, 6.622, 208.71 def. Mark Wolfe, Mustang, 6.726, 206.76; Allen Johnson, Avenger, 6.575, 210.70 def. Matt Hartford, Avenger, 6.719, 207.56; Erica Enders, Chevy Cobalt, 6.596, 209.56 def. Ron Krisher, GXP, 6.640, 209.56; Greg Anderson, Camaro, 6.607, 210.05 def. KurtJohnson, GXP, 6.729, 207.18; QUARTERFINALS — Nobile, 6.628, 209.52 def. Gaines, 6.631, 208.33; Line, 6.620, 209.43 def. Edwards, 18.357, 43.30; Enders, 6.638, 209.20 def. Anderson, 6.646, 209.62; A. Johnson, 6.605, 209.69 def. W. Johnson, 6.684, 207.66; SEMIFINALS — Line, 6.657, 209.23 def. Nobile, 6.709, 208.75; Enders, 6.624, 209.33 def. A. Johnson, 6.747, 209.14; FINAL — Enders, 6.614, 209.65 def. Line, 6.631, 209.72.
KENT, Wash. — Sunday's sportsman final results from the 25th annual O'Reilly Auto Parts NHRA Northwest Nationals presented by Super Start Batteries at Pacific Raceways. The race is the 15th of 23 in the NHRA Full Throttle Drag Racing Series:
Top Alcohol Dragster — Chris Demke, 11.370, 46.05  def. Jim Whiteley, 11.763, 50.91.
Top Alcohol Funny Car — John Evanchuk, Chevy Monte Carlo, 6.582, 230.88  def. Steve Gasparrelli, Monte Carlo, 6.803, 244.92.
Competition Eliminator — Mike DePalma, Pontiac Trans Am, 8.999, 149.93  def. Brandon Huhtala, Pontiac GXP, 7.344, 186.85.
Super Stock — Joe Sorensen, Chevy Camaro, 10.321, 121.65  def. Jody Lang, Chevy Malibu, 10.877, 120.20.
Stock Eliminator — Brad Plourd, Chevy Nova, 12.562, 95.13  def. DallasGlenn, Chevy Corvette, 10.870, 120.16.
Super Comp — Brad Plourd, Dragster, 8.925, 157.48  def. Stefan Kondolay, Dragster, 8.899, 171.51.
Super Gas — Ken Mostowich, Chevy Corvette, 9.896, 166.70  def. Mike Shannon, Corvette, 9.892, 154.46.
Super Street — Megan Ellingson, Chevy Chevelle, 10.849, 134.50  def. Jason Gibson, Ford Mustang, foul.