NHRA Top Alcohol Dragster rookie Kirk Wolf earned his first regional event victory in his third consecutive final round last weekend. Racing at the NHRA North Central Region's Summer Shootout at Lucas Oil Raceway, Wolf drove the torque-converter-equipped Booher Racing blown alcohol dragster to a 5.334-second pass at 273.50 mph to defeat Marty Thacker and his 5.393 at 267.75 in the final round.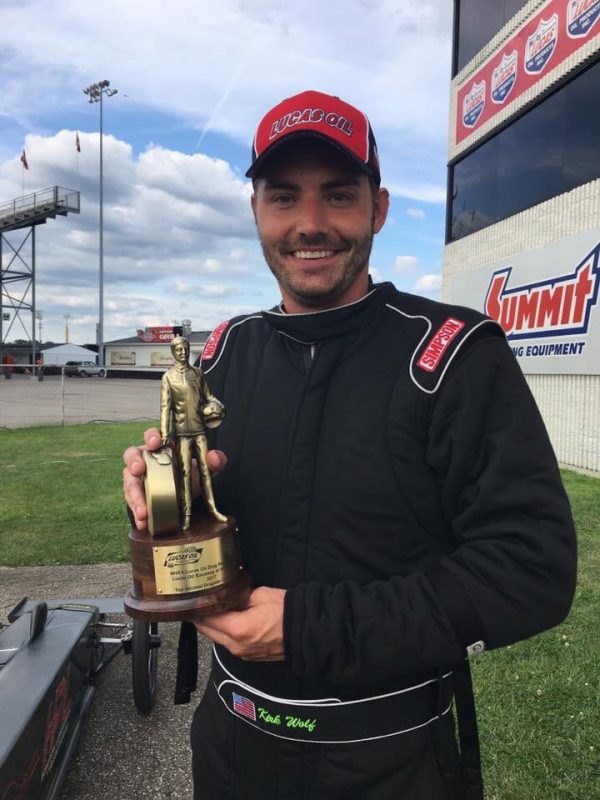 "It was one of those things where you can't find the words to describe it," Wolf said. "It felt amazing to see that win light come on after all the hard work and trouble we've been through this year. It was real rewarding to see that pay off and get to take home a trophy at the end of the weekend. I've been trying to win a Wally since I was 10 years old racing Jr. Dragsters. Twenty-one years later, I finally got one. It's very gratifying."
Tuned by past NHRA national event winner and 2013 North Central Regional champion Brandon Booher, Wolf qualified second with a 5.345 at 272.83. In eliminations, he used a 5.362 at 270.81 to defeat JP Gutierrez, then fired off low elapsed time of eliminations, 5.315 at 272.83, to beat Kris Krabill and move on to face Thacker in the final round.
One day prior, Wolf raced to the final round in the rain-delayed NHRA Spring Spectacle of Speed eliminations. Racing out of the fourth spot, Wolf ran 5.484 at 269.24 to beat Gutierrez in the first round, then charged to a 5.345 at 272.83 to advance over Jerry Powell II. A red light against Mia Tedesco ended his day in the final round.
"Having the late-round experience from Saturday helped big-time. After we won second round on Saturday, I had so much confidence in my driving and Brandon's tuning abilities because the car was a beast. The numbers we were seeing suggested the car was capable of running low 5.3s on a 120-degree track, and we proved that on Sunday," Wolf added.
Wolf now has one win, two runner-up finishes and a DNQ on his 2017 NHRA North Central Region scorecard. With a few races left on the season, he still has his sight set on a regional championship chase.
"We had a rough start to the year with the rainouts and the DNQ at Norwalk," added the former Texas dragstrip owner/operator. "This has definitely boosted the team's confidence as we move forward. I have no doubt there are more wins out there."
The next race for Kirk Wolf and the Booher Racing Top Alcohol Dragster team is the 63rd annual Chevrolet Performance NHRA US Nationals, Aug. 30-Sept. 4, at Lucas Oil Raceway near Indianapolis.
"All of the best drivers in Top Alcohol Dragster will be racing at the US Nationals. We're the underdog with the converter car, but we're able to run the numbers right there with those guys. We haven't raced at a national event yet this year, so I'm excited to see what kind of numbers we can run on a national-event-prepped track. If Brandon and I perform like we did last weekend, I think we have as a good a shot as anyone at winning the US Nationals," Wolf said.
Wolf praised his crew, Aaron and Brian Booher, as well as sponsors: Blendtek, Neal Chance Racing Convertors, Quick Drive, HPL Oil and AB Construction.