It could be said that Victor Ellinger didn't pick the Volvo so much as the Volvo picked him. Ellinger's a Mopar guy at heart and cherishes his '70 Duster above many things in his life, including the '80 Volvo Bertone that, last fall, took him to the biggest win of his career thus far.
"I happened to be cruising around on Racing Junk one day and found the Volvo," Ellinger told of how his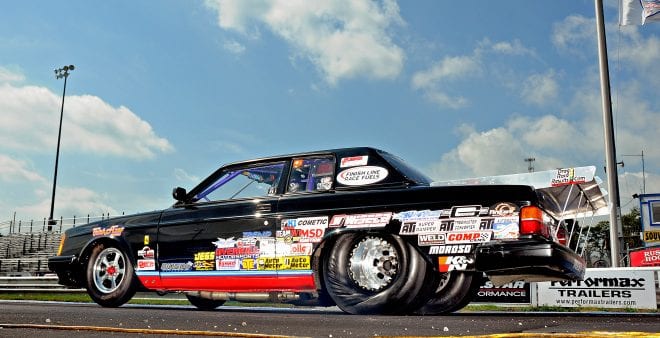 story with the Volvo began. "A couple weeks went by and it popped up again. It kept dropping in price, so at one point we made a call in to see what the deal was, because it was almost too-good-to-be-true pricing. Being a Carpenter chassis car, it was a well-built piece intended for Top Sportsman racing originally, capable of going 7.50s. The guy dropped his price to $7,000 and gave us two days to go get it. I figured we could part it out for what we paid for it. We wound up getting home and thought, It's so ugly it's cool. We took it all apart, painted it, rewired it, went over the whole car. We weren't really attached to it and thought we'd sell it in a couple of years, but it's been with us for 10 years now.
"I don't think it's going anywhere anymore," laughed Ellinger. "The Volvo was by chance, the black sheep that never left the stable."
Still, Ellinger is quick to point out he still owns the Duster he started with at 14, and that it's a successful machine as well. And to keep true to his Chrysler roots, the Volvo is powered by a 440 Chrysler with Trick Flow heads built by Mark Cook at Badman Racing Engines, comprised of parts from Cometic Gaskets, Trend Components, Comp Cams and Lifters, APD Fuel System, Pypes Exhaust System, FireCore50, ATI Torque Converter, and Moser Axles. Ellinger also credits Strange Engineering, Wilwood, Autometer, Digital Delay, Mickey Thompson Tires, Fleenor Transmissions, K&R Engineering and Holley with aiding in the success of his operation.
"It's a group effort. It's never just the driver, never just the car. I have a lot of help from industry guys. Running a Chrysler's not as hard when you have some help from the best in the industry. There's a lot of brains behind it to help make a maybe not-so-common combination like this work."
Ellinger's cars wouldn't be complete without pistons built by the company he's served for the last decade, Wiseco Piston Company. "I've always used Wiseco pistons and wanted to work for a company I could believe in. I've got to meet a lot of guys and gals I read about and idolized growing up. Now I'm helping guys that I used to cut out pictures of their cars from magazines and hang on the wall. I'm helping them build their engines now, which is really cool! It's been a huge blessing. It's not too hard to do my job here every day when you are one of your customers. I've got in my mind what it takes racers to be successful, the sacrifices they make, like eating peanut butter and jelly or bologna instead of going to Applebees after a race. Anything you can do to save money for the next race – I keep that in mind in my daily job. The guy on the other end of the phone might be a little bit upset or animated or need something quick. I go through that same thing. It really helps to live it myself. I'm able to better help the customers here."
Ellinger has had a successful run in his career, winning footbrake events across the country. In 2014, he won a 10-grander at the World Footbrake Challenge in Bristol and this year has had a steady run of wins, even beating delay box cars while leaving on the bottom bulb. But this past fall, the Volvo made a move that would etch it forever in the history books.
Ellinger is by and large an NHRA racer, often competing at his home track, Summit Motorsports Park in Norwalk, Ohio. However, when time permits, he'll travel down to an IHRA track, Thompson Dragway. It was a lifelong goal of his to win the Summit Super Series Division 3 title.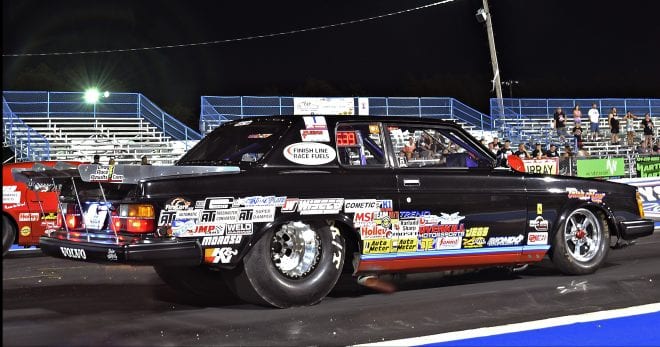 "I'd been to the semis a bunch of times when Norwalk held the IHRA Finals, but never won it," Ellinger storied. "Then last year I won the Division 3 Finals at Pittsburgh Raceway and that qualified me to go to Memphis for the world championship for IHRA. I was pretty happy with just winning the Divisional Finals. That was the goal and all I was really setting out to do. I didn't think I would put enough time and effort in to be a world champion in the IHRA program. But me and my girlfriend Jessica Berberich made a trip down to Memphis and seven or eight hours later, we wound up winning that, too. I raced Bobby Paul Arnett in the final. He's one of the best in the country, so to be able to race with him and be able to come out on top is a big accomplishment in my book, because that guy wins just about everything he goes to. So that was a storybook ending to the season. I was more so just dabbling in IHRA, but all good things come to guys who put their effort into it when it counts.
"I want to say a huge thank you to Mike Downs of Trick Flow and Jim Greenleaf and the rest of the crew at Summit Racing Equipment for supporting the backbone of our sport with the Summit Super Series and for providing us a pro-level stage to race on for a world championship!"
Ellinger received the generous Summit payday, along with a Performax trailer that came in just the nick of time to replace his dated 2001 Classic. Throw in an Aruban vacation and the Summit Super Series world championship is one of the biggest rewards available to bracket racers.
Ellinger scored big in his "black sheep". It's one of the most unusual combinations found in drag racing, but, one race at a time, Ellinger is proving that following your own path can lead to the sweetest of rewards.
This story originally appeared in DRAG ILLUSTRATED Issue No. 122, the Sportsman Issue, in June of 2017.