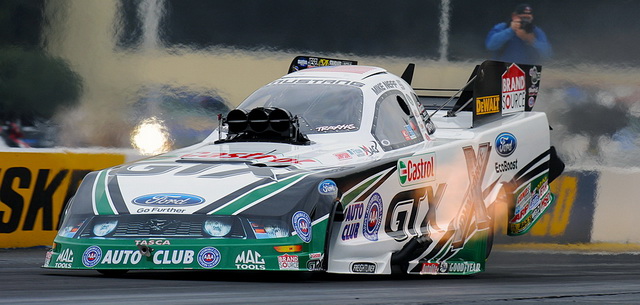 Funny Car racer Mike Neff (above) kept his championship hopes alive by racing to victory Oct. 8, at the rain-delayed Auto-Plus NHRA Nationals at Maple Grove Raceway. Khalid alBalooshi (Top Fuel) and V. Gaines (Pro Stock) also were winners at the fourth of six playoff events in the NHRA Full Throttle Countdown to the Championship.
Due to more rain showers moving into the Reading, PA, area on Monday afternoon, the Pro Stock Motorcycle final round between teammates Andrew Hines and Eddie Krawiec was postponed until the Big O Tires NHRA Nationals in Las Vegas, Oct. 25-28.
Neff defeated veteran driver Johnny Gray with a time of 4.030 seconds at 317.94 mph in his Castrol GTX Ford Mustang to earn his fourth win of the season, and his first of the year in the playoffs.
With the win, Neff closed in on new series leader Jack Beckman, who set a national record and advanced to the semifinals over the weekend in his Schumacher Electric Dodge Charger. Neff trails Beckman by 54 points and Ron Capps is in second place, 23 back of Beckman with only two races remaining in the season.
"You have to have it all right to get a win any more," said Neff, who defeated Tony Pedregon, Jim Head and John Force to advance to the final. "The biggest thing is it will be exciting. I want to be able to head out west with a chance. It would be a downer if we were out of it at this point. It is nice to be alive for the championship."
In Top Fuel, rookie driver alBalooshi earned his first career victory with a winning performance of 3.910 at 312.42 in his Al-Anabi Racing dragster, defeating current points leader Antron Brown in the final round.  AlBalooshi defeated Spencer Massey, Ike Maier and teammate Shawn Langdon en route to the victory and becoming the first Middle Eastern driver and only the third driver from outside North America to win a Full Throttle Series race, joining Australian David Grubnic and Kenji Okazaki from Japan.
"I give my team owner, the crew guys and all the people who work with us thanks for making this win," alBalooshi said. "I try my best, and I know that everybody on the team is trying their best, and finally, I won my first race."
Brown increased his series lead to 104 points over second place Massey by setting a national record time of 3.701 seconds in his pink Matco Tools dragster during his semifinal victory over Brandon Bernstein.
In Pro Stock, V. Gaines powered his Kendall Oil Dodge Avenger to victory for the first time since 2008 with a performance of 6.515 at 212.26, while final round opponent Dave Connolly fouled with a red-light start.
The fourth win of Gaines' career moves him up to sixth in the Countdown to Championship points standings. Gaines beat Warren Johnson, Greg Anderson and Jason Line before taking out Connolly in the final.
"We didn't qualify for five of the first of seven races, but then we started making improvements and began to run better and better," Gaines said.
"We were a bit worried about running in cold weather conditions because you know that we're from Denver where it is 5,000 feet high. We were really uncertain. But we showed this weekend that we can compete in the cold weather, and we're just ecstatic."
Pro Stock points leader Allen Johnson and his Team Mopar/ J&J Racing Dodge Avenger was eliminated in the second round with a red-light start, but the Tennessee driver left the event with an 82-point lead over defending world champ Line.
Due to more rain showers moving into the Reading area on Monday afternoon, the Pro Stock Motorcycle final round between the Screamin' Eagle Vance & Hines Harley-Davidson duo of Hines and Krawiec was postponed to Las Vegas later in the month. Prior to the final round, Hines set the national record for elapsed time in this class at 6.720, which earned him a 20-point bonus towards the championship.
"That 6.72 was the best run of my career," Hines said. "I had my best 60-foot time, but if I had run the back half like Eddie, it would have been a 6.70.
"I'm glad to get the record because this is probably the last time we'll see it set this year. It's not going to happen in Las Vegas and it would take some extraordinary conditions for it to happen in Pomona. Those 20 points could come in handy at the last two races."
After six straight weeks of racing, the NHRA tour finally gets a couple of weekends off before heading to Las Vegas Oct. 26-28, for the 12th annual Big O Tires NHRA Nationals.
(Photos courtesy NHRA/National Dragster and JFR/Nastase; Click to enlarge)
MOHNTON, Pa. — Final round-by-round results from the 28th annual Auto-Plus NHRA Nationals at Maple Grove Raceway, the 21st of 23 events in the NHRA Full Throttle Drag Racing Series:
TOP FUEL
ROUND ONE — Khalid alBalooshi, 3.754, 322.81 def. Spencer Massey, 3.772, 320.81; Antron Brown, 3.745, 327.66 def. Steve Torrence, 3.775, 323.12; Brandon Bernstein, 3.749, 327.11 def. Larry Dixon, 3.816, 317.19; Morgan Lucas, 3.744, 330.39 def. Dom Lagana, 7.894, 87.68; Ike Maier, 5.699, 202.18 def. David Grubnic, 9.098, 75.46; Tony Schumacher, 3.744, 326.71 def. Terry McMillen, 3.822, 314.17; Doug Kalitta, 3.802, 325.22 def. Clay Millican, 3.880, 303.43; Shawn Langdon, 3.741, 324.51 def. Bob Vandergriff, 3.822, 318.77; QUARTERFINALS — alBalooshi, 3.966, 328.46 def. Maier, 5.081, 197.54; Bernstein, 3.736, 330.31 def. Schumacher, 3.821, 309.70; Brown, 3.722, 325.69 def. Lucas, 5.859, 115.84; Langdon, 3.712, 334.15 def. Kalitta, 3.861, 324.51; SEMIFINALS — Brown, 3.701, 328.78 def. Bernstein, 3.740, 326.08; alBalooshi, 3.735, 327.43 def. Langdon, 10.942, 75.34; FINAL — alBalooshi, 3.910, 312.42 def. Brown, 9.818, 75.99.
FUNNY CAR
ROUND ONE — Jim Head, Toyota Solara, 7.171, 205.26 def. Alexis DeJoria, Toyota Camry, 7.780, 149.71; Matt Hagan, Dodge Charger, 4.057, 311.20 def. Courtney Force, Ford Mustang, 14.636, 30.03; Mike Neff, Mustang, 4.032, 316.82 def. Tony Pedregon, Camry, 4.781, 194.10; Todd Lesenko, Charger, 4.299, 284.75 def. Cruz Pedregon, Camry, 4.733, 197.22; Jack Beckman, Charger, 3.986, 318.54 def. Mike Smith, Dodge Stratus, 4.896, 174.64; Johnny Gray, Charger, 4.138, 285.83 def. Bob Tasca III, Mustang, 4.249, 247.75; John Force, Mustang, 4.081, 310.41 def. Robert Hight, Mustang, 5.222, 162.68; Ron Capps, Charger, 4.249, 310.48 def. Jeff Arend, Camry, 4.480, 233.24; QUARTERFINALS — J. Force, 4.138, 313.22 def. Lesenko, 10.240, 59.80; Gray, 4.066, 314.09 def. Hagan, 7.962, 89.00; Neff, 4.024, 315.71 def. Head, 5.215, 156.01; Beckman, 4.042, 316.08 def. Capps, 4.576, 196.96; SEMIFINALS — Gray, 4.026, 319.45 def. Beckman, 4.025, 318.02; Neff, 4.031, 316.45 def. J. Force, 8.355, 83.33; FINAL — Neff, 4.030, 317.94 def. Gray, 9.305, 77.88.
PRO STOCK
ROUND ONE — Ronnie Humphrey, Pontiac GXP, 6.537, 212.23 def. Mike Edwards, GXP, 17.777, 41.39; Jeg Coughlin, Dodge Avenger, 6.522, 211.86 def. Ron Krisher, GXP, 6.540, 211.49; Allen Johnson, Avenger, 6.526, 212.43 def. Vincent Nobile, Avenger, 6.547, 211.36; Dave Connolly, Chevy Cobalt, 6.522, 212.43 def. Frank Gugliotta, Ford Mustang, 6.536, 211.30; V. Gaines, Avenger, 6.525, 212.49 def. Warren Johnson, GXP, 7.255, 152.64; Erica Enders, Cobalt, 6.525, 212.56 def. Kurt Johnson, GXP, 6.596, 210.60; Jason Line, Chevy Camaro, 6.482, 213.64 def. Shane Gray, GXP, 8.502, 116.02; Greg Anderson, Camaro, 6.487, 212.86 def. Larry Morgan, Mustang, foul; QUARTERFINALS — Connolly, 26.684, 25.96 def. A. Johnson, foul; Coughlin, 6.523, 211.63 def. Enders, 6.589, 212.43; Gaines, 6.489, 212.96 def. Anderson, 13.683, 51.32; Line, 6.527, 214.35 def. Humphrey, 14.243, 42.91; SEMIFINALS — Connolly, 6.535, 212.19 def. Coughlin, 6.526, 211.99; Gaines, 6.511, 212.36 def. Line, 6.502, 212.76; FINAL — Gaines, 6.515, 212.26 def. Connolly, foul.
PRO STOCK MOTORCYCLE
ROUND ONE — Karen Stoffer, Suzuki, 21.988, 99.31 def. Michael Ray, Buell, no time; Chip Ellis, Buell, 6.920, 191.48 def. Steve Johnson, Suzuki, 7.329, 152.37; Matt Smith, Buell, 6.851, 194.72 def. Scotty Pollacheck, Buell, 6.937, 173.94; John Hall, Buell, 6.864, 194.30 def. LE Tonglet, Suzuki, foul; Hector Arana Jr, Buell, 7.009, 162.72 def. Shawn Gann, Buell, 11.942, 66.52; Eddie Krawiec, Harley-Davidson, 6.758, 196.22 def. Craig Treble, Buell, 6.992, 190.30; Andrew Hines, Harley-Davidson, 6.742, 198.73 def. Wesley Wells, Suzuki, 14.601, 42.20; Hector Arana, Buell, 7.214, 194.35 def. Michael Phillips, Suzuki, 7.300, 188.94; QUARTERFINALS — Arana Jr, 6.843, 195.42 def. Hall, broke; Smith, 6.838, 195.51 def. Arana, 13.941, 44.96; Krawiec, 6.777, 198.15 def. Stoffer, 6.934, 192.99; Hines, 6.783, 198.03 def. Ellis, 6.906, 192.28; SEMIFINALS — Hines, 6.728, 198.17 def. Smith, 6.841, 196.04; Krawiec, 6.730, 198.17 def. Arana Jr, 6.865, 179.54; FINAL — Hines vs. Krawiec to be contested at 12th annual Big O Tires NHRA Nationals at Las Vegas Motor Speedway, Oct. 25-28.
MOHNTON, Pa. — Monday's final results from the 28th annual Auto-Plus NHRA Nationals at Maple Grove Raceway. The race is the 21st of 23 in the NHRA Full Throttle Drag Racing Series:
Top Alcohol Funny Car — Frank Manzo, Chevy Monte Carlo, 5.508, 263.20  def. Paul Noakes, Ford Mustang, 5.611, 256.65.
Top Alcohol Dragster — Bill Reichert, 5.286, 268.12  def. Chris Demke, 6.292, 119.87.
Competition Eliminator — Calvin Hill, Pontia Grand Am, 8.667, 120.54  def. Sal Biondo, Chevy Cavalier, foul.
Super Stock — Bryan Worner, Chevy Camaro, 10.021, 107.66  def. Anthony Bertozzi, Pontiac Grand Am, 12.029, 69.45.
Stock Eliminator — Craig Marshall, Dodge Dart, 10.952, 115.02  def. Kelly MacKay, Plymouth Duster, 11.211, 115.81.
Super Comp — Jack Sepanek, Dragster, 8.934, 169.78  def. Chase Fahnestock, Dragster, 8.921, 170.56.
Super Gas — Alan Kenny, Chevy Corvette, 9.906, 158.56  def. Jason Kenny, Corvette, foul.