With three days of competition on tap at the Super Bowl of Bracket Racing, the drivers, crews, and track personnel settled in for a long, hot weekend at the "Doorslammer Capital of the World", Piedmont Dragway. With guidance from all-star promoter, Michael Beard, the three days of the best in bracket racing came off in a timely fashion allowing all competition to be over at or about the curfew time of 11:00. The field allowed for 450 cars and over 400 showed up for a shot at the $50,000-per-day payday.
The Thursday night preliminary event was won by Lee Crawford winning the Bracket Master race for which he won a Race Tech chassis, as well as the winner's share of the purse for the night. Congrats to Lee and family, and thanks Russ Farmer for your continued support of the sport.
Friday would have a very unique result as a foot brake car was the winner, with Kevin Pollard's Chevy Luv truck taking the win over John Lassiter's '66 Chevelle. Where were the dragsters? Well, they were all defeated allowing Pollard to win an additional $5,000 for driving a foot brake car and winning. Lassiter responded to one of his greatest paydays to date, even with finishing in the runner up position.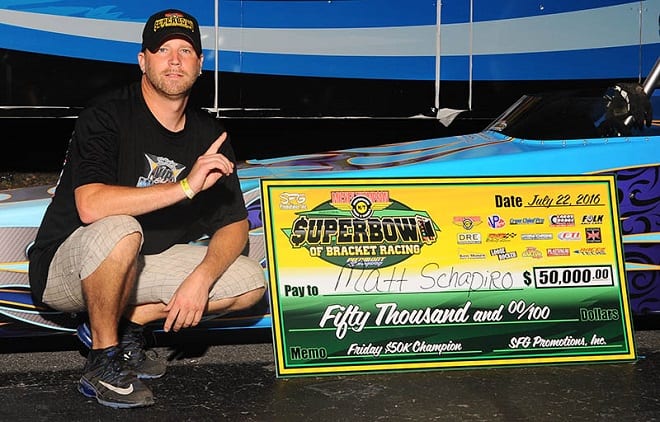 Saturday's eliminations came down to three cars – two dragsters and a door car. Winning was Matt Shapiro's dragster over the all-conquering Camaro of Kenny Underwood. Friday's winner, Pollard, actually got down to five cars, hoping to make it two in a row, but it was not to be. The Saturday eliminations were finished before the curfew so the Sunday event could go off as scheduled, allowing for the noon start time.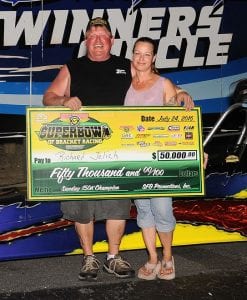 Sunday's race saw three dragsters left in the semifinals, with Shannon Justice finishing in penultimate round. That left Richard Jelich to face Taylor Sweeten in the final. Jelich was able to prevail, right at the curfew time but finishing, none the less.
So if you're keeping up at home, that made for a $150,000 payout over the three-day event. The grounds were full of cars from front to back and side to side. The results show that big-time bracket racing is alive and well, even with the summer heat, but with great management from promoters and track personnel, it can be done. That puts this edition of the Super Bowl of Bracket Racing in the books with certainty that there will be another at the "DoorSlammer Capital of the World", historic Piedmont Dragway.
Story by Greg Burrow
Photos by Chris Simmons