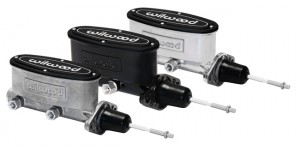 Camarillo, CA • August, 2014
Wilwood's 15/16" bore tandem master cylinder provides a new option for matching cylinder output to caliper capacity with custom brake upgrades on single pushrod, manual pedal brake systems.
The high-capacity body is lightweight, adds high-tech style, and has the durability for street or track. The machined billet lid captures a pressure balancing bellows gasket that fully seals moisture out and fluid in.
Standard finishes include bright media burnished for a polished look, glossy black e-coat, or plain as-cast aluminum. The master cylinders are available as stand-alone units, or can be purchased in a kit. Tandem master cylinder kits include master cylinder, combination proportioning valve, mounting bracket, pre-bent fluid tubes, and mounting hardware.
Wilwood has been expertly designing and manufacturing high-performance disc brakes in the USA since 1977. Engineered and rigorously tested for the track, Wilwood brake components provide unsurpassed quality and performance with sleek, lightweight designs. Wilwood has dominated the m0torsports arena for decades, making their street market brakes among the most technologically advanced around.
For more information, or to request high resolution photos for printing, contact Wilwood Engineering at [email protected]