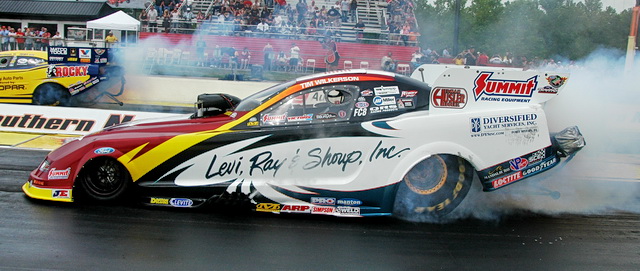 Funny Car driver Tim Wilkerson has done just about everything but win a race through nine events in the 2013 NHRA Mello Yello Drag Racing Series. Currently sixth in points, Wilkerson has advanced to one final and grabbed four semifinals finishes in the loaded Funny Car class, making him one of the highest points earners in the class without a victory.
The driver of the Levi, Ray & Shoup Ford Shelby Mustang hopes to change that stat and break into the win column for the first time this season at the Ford NHRA Thunder Valley Nationals, June 14-16, at legendary Bristol Dragway. Tony Schumacher (Top Fuel), Ron Capps (Funny Car) and Mike Edwards (Pro Stock) are the defending winners of the NHRA Mello Yello Drag Racing Series event, which will be televised nationally on ESPN2HD.
Wilkerson has continued to build momentum in his 8,000-horsepower Funny Car, qualifying fourth or better at four of the last five races. That hot stretch has also included all four semifinal appearances and a trip to the finals at Houston in April, allowing him to steadily move up the points standings.
Now, the Springfield, Ill. native, looking for his first win since 2011, hopes to finish the job in Bristol.
"I guess that says something about us being good overall lately, but we haven't gotten the prize yet this year," Wilkerson said. "As for being next in line, I never really feel that way. So many little things can trip you up out here and get in the way of a win, in any round not just the race, it's hard to look ahead and say we're next in line. I'd like to think we're always in line, and if you are then one of these days it might happen for you."
In terms of picking a venue to score his first win of the season, historic Bristol Dragway would rank near the top of the list for Wilkerson. He has never won at the state-of-the-art facility which is nestled in the rolling hills of Northeast Tennessee. He lost in the 2010 final round to that season's eventual world champion, John Force.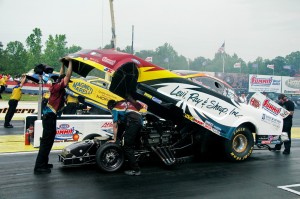 "It's a great place to race, more than anything else," Wilkerson said. "A great track, great fans, and one of the more scenic places you'll ever see with a drag strip running down the middle of it. We've had some success there, and we felt like we probably should've won in 2010, but we had a little glitch that shut the car off and put out the 'chutes. I'd sure like to win there, that's for sure."
A victory in Bristol would also keep Wilkerson on the heels of current Funny Car points leader Matt Hagan, giving the team a definite boost heading into a grueling stretch of four consecutive race weekends.
Defending Funny Car world champion Jack Beckman and Wilkerson are the only drivers in the top seven without a win, a nod to how competitive the class has been through nine events.
That being said, another strong finish in Wilkerson's recent surge would ensure he remains in the mix for the 2013 Countdown to the Championship.
"The class really is competitive and what we've seen at some of these recent races, where we only got two qualifying runs instead of four, was that everyone stumbles from time to time and everyone can run fast too," Wilkerson said.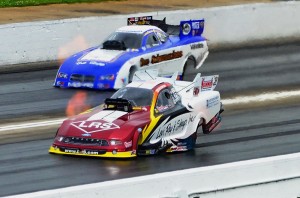 "When you only have two (qualifying) sessions, you get kind of a snapshot of what everyone did that one day, instead of over two days, and we had great cars scattered from 1 to 16. With all that in mind, you better believe it's important to earn every single point you can get," he added.
"After that nerve-wracking 'late inning rally' we put on last year in Indy, I'd prefer to not have to go through that again."
(Photos by Ian Tocher; Click to enlarge)