Outlasting an enormous field of 626 of the drag racing's best E.T. bracket racers, Allen Wickell of Saraland, Ala., earned the $25,000 top prize during Friday's action at the Mickey Thompson Tire Million Dollar Drag Race. Wickell, a veteran racer with numerous big money wins to his credit, won the all-dragster final round after his opponent, Canadian Jamie Bridge red-lighted at the start.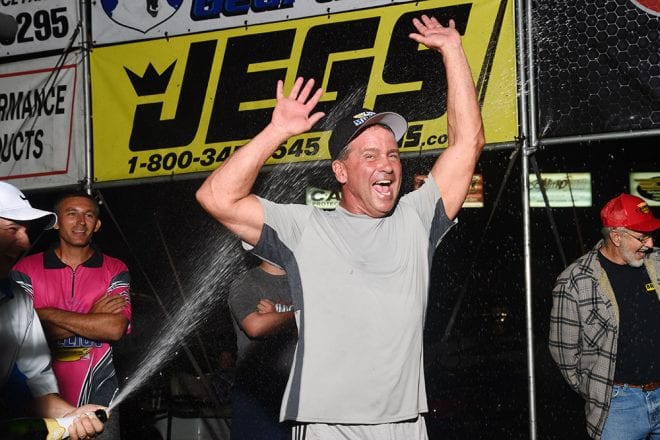 With performances in the 4.3-second zone on the eighth-mile track, Wickell's dragster was one of the quicker cars in action, but it also proved to be one of the most consistent. In round six, Wickell matched his 4.36 dial-in against Kevin Bennett. A round later, he ran a 4.37 to beat two-time NHRA national champion Luke Bogacki. Wickell finished the job with a semifinal win over Joey Anderson.
"This is the most consistent car I've ever had," said Wickell. "The faster we make it run, the better it is. It feels awesome to get out here and compete against the greatest racers in the country. I just love competing. At my age, it feels good just to be here. It makes me think I can still do this.
"This win gives me a lot of confidence and I'm going to need that for the big [Million Dollar main event] tomorrow," said Wickell.
Bridge had so much confidence in his race car that he did not change his 4.69-second dial-in for the last five rounds of eliminations. Bridge's path to the final included wins against Josh Luedke, Wade White, and Lane Dicken.
"I had a really good day today," said Bridge, who earned $5,000 for his runner-up finish. "I'm proud of my old car. The car was just amazing and that reflects on the quality of the facility. Early on, I recognized that the car wanted to run 4.69 on every pass and that's where we left it."
Bridge also made note of the electric atmosphere and the racer camaraderie that helps make the Mickey Thompson Million Dollar Drag Race a highlight of each season.
"I have to say, I don't do this for the win lights," Bridge said. "I just love the atmosphere here, and the way we're taken care of. I had a lot of people come by to visit today and I appreciate their support. It is funny how nobody ever comes to visit me when I lose in the second round."
The best losing package winners from Friday's $25,000 event included Gina Mundt (BTE Racing torque converter), Cameron Manuel (set of Hoosier slicks), Darrell Pittman ($500 Yukon Gear & Axle gift certificate), Jeremey Maples (Moser Engineering spool and axle), Wes Neely ($500 Auto Meter gift certificate), and Josh Luedke ($500 JEGS gift certificate).
Winners were also drawn from the Million Dollar Race VIP Club and Friday's prize winners included Richard Taylor (Abruzzi Racing converter), Roland Taylor (California Car cover). Casey Wagner ($250 Platinum Products gift certificate), Billy Doucette ($100 JEGS gift certificate), Anthony Berry ($500 Folk Race Cars gift certificate), Trevor Moore (set of Mickey Thompson slicks), Chance Lykens ($200 Moser Engineering gift certificate), and Neil Pressimone ($100 JEGS gift certificate).