With decades of drag racing experience under his belt, Steve Summers has tried his hand in many different classes. Over the years, he's evolved his racing operation and refined his focus to hone in on one mission – going Pro Mod racing.
Based out of Utica, Illinois, Summers actually found the sport on his own. From his street racing days during his teenage years, he eventually transitioned to the 10.5 events held at Byron Dragway during the early '90s. "They had most of the original Chicago-area heavy hitters – Chuck Samuel, Spiro Pappas – and it all developed from there," reminisced Summers, who now spends his days working at his shop, Illinois Valley Truck Repair, getting his hands dirty with the ins and outs of running a heavy truck repair business. He campaigned a 10.5 car until '06 or '07, at which point he took up residence in the NMCA series.
His first foray into NMCA competition was in the now-defunct Nostalgia Pro Street class. Fielding a black '81 Camaro with a single-stage nitrous kit and a single carburetor, Summers was competitive, but the setup didn't whet his appetite. "The technology developments left that class behind a little. It was all mechanically-controlled and I lost interest," Summers candidly admitted. Feeling inspired, he took his Camaro to Jerry Bickel Race Cars and had the combination changed to use ProCharger power instead.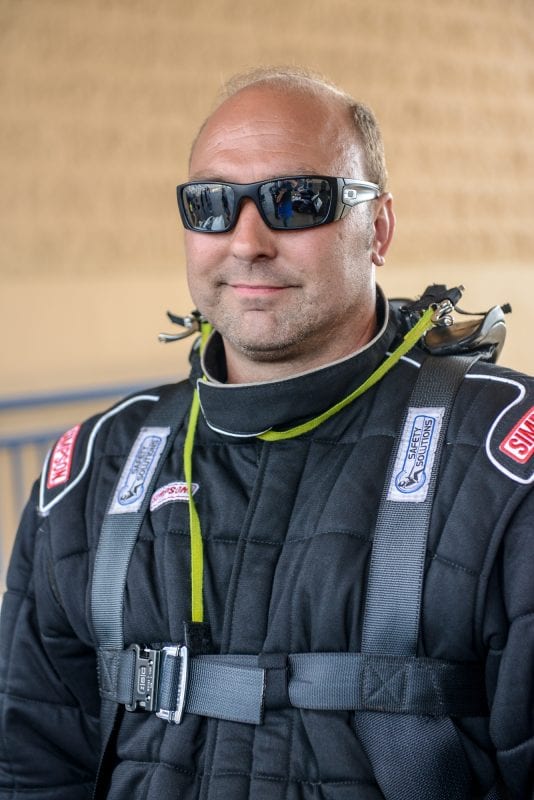 In 2010, Summers made his debut in NMCA Super Street. "It was a twin turbo world back then, but we helped developed the current ProCharger F-3-136 that everyone runs now," noted Summers, who wasn't afraid to buck the trends of the time. He finished fifth in the championship points chase for the class in 2011, and moved up impressively to second overall in 2012. "Once we figured it out, I was really competitive in the class." As a result, Summers took home the win at the season finale race in Indianapolis, Indiana, and had one of the quickest ProCharged cars in the country at the time.
Summers made the decision at the end of the season to leave Super Street and try something else. "I figured I might as well go Pro Mod racing and spend the same amount of money. I had the same components and budget, so why not go a lot faster? Super Street was a great, fun class, but it was tough because there was so much power and no tire. Track prep was nothing like it is now," explained Summers of what spurred the switch.
What is now known as Pro Mod was originally called Pro Street in NMCA, and Summers easily stepped into the new class that would become his long-term home with a white Bickel-built '70.5 Z28 Camaro. His first year in the class saw him earn two back-to-back wins at both the Norwalk, Ohio, and Indianapolis events, and he finished up with a third place championship points placing.
The following season, the class name officially changed to Pro Mod, and Summers stepped it up by taking a win at Route 66 Raceway in Joliet, Illinois, with his Camaro. He was both the number-one qualifier as well as the runner-up at the last two events of the year, and set the top speed at each of the season's six races with a peak number of 257.28 mph. The impressive performances earned Summers the honor of being named the 2014 NMCA Pro Mod champion, his first-ever national series title. "It was really cool to win the championship. We raced quarter-mile back then, which I really enjoyed; the car was super-fast and we set a lot of records. We had a ton of success with the program, NMCA had great car count, and it was a blast," added Summers.
Summers slipped to second for the NMCA season in 2015 as the competition got tougher, but not for lack of trying – he earned two wins that year. Meanwhile, at the Shakedown at the Summit race at Summit Motorsports Park in September, Summers drove his '70.5 Camaro to the number-one qualifying position in Pro Line Racing Outlaw Pro Mod. His 5.70 at 263 mph hit also reset the track's Outlaw Pro Mod record, but came at a cost. "We had a parachute failure and tore the car up pretty good. It caused some engine damage that we couldn't recover from. I went to the semi-finals, but it was a mess and was pretty disheartening, especially since I had the field covered by a bunch," lamented Summers, who spent the end of 2015 working on repairs and new projects instead of celebrations.
His never-say-die attitude and strong work ethic, though, ensured he was ready to go for the start of 2016 with a host of new goodies. A tech guy by nature – but only when it comes to racecars, not consumer electronics, surprisingly – Summers is always clamoring to find the latest and greatest. "Everything's gotten so much more advanced, electrically, in recent years. I really like the competition of driving, but the gizmos are just awesome," Summers shared of his passion for parts. As a result, he added a new Haltech Elite 2500 engine management system to his program. He ran well in Xtreme Pro Mod, which had moved to an eighth-mile format, but didn't get any wins that year as he was focused more on testing. Sometimes, the best way to make a jump forward is to take a step back.
Late in the season, Summers added another big new item to his racing operations – a whole new car. He had gone back to his trusted friends at Jerry Bickel and took delivery of an all-new, beautiful '16 Camaro just in time for the PDRA World Finals in October at Virginia Motorsports Park. A quick 3.834 at 209.98 mph eighth-mile pass during Pro Boost qualifying ranked him thirteenth in the large thirty-car field, and Summers picked up a round win and set the top speed with a 211.33 mph blast during eliminations.
Under the shiny new Camaro's hood, a 5.0" bore space, all-billet 522 ci Chevy Wedge-style bullet could be found. Summers had tapped his friend Jeff Jasiek of Jasiek Racing Engines to do the machine work, while the actual engine design, spec selection, and assembly was handled by Summers himself.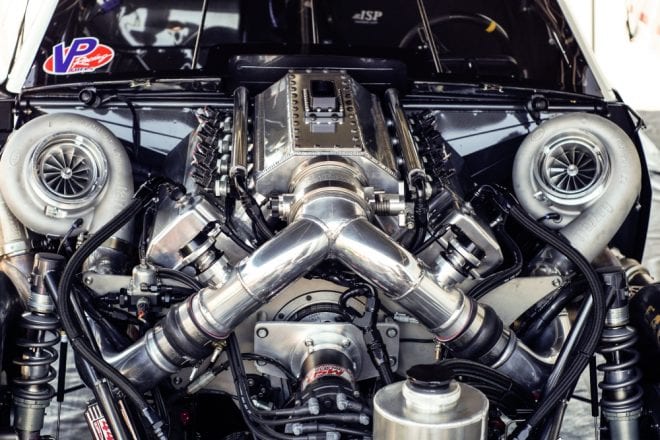 Summers' nitrous and supercharged days are long gone, and a pair of intimidating 94mm Garrett Gen II turbochargers flank the engine like two boost-providing bodyguards. Although Summers primarily focuses on NMCA, he runs the car in full PDRA-trim, which means he's often one-hundred pounds heavier than he needs to be. Ample power created by the turbos helps to offset the weight handicap.
With only limited testing on the new ride, Summers began his 2017 season at the NMCA race in Bradenton, Florida. There, he qualified fifth with a 3.872 at 214.33 mph hit and went on to get a round-one win over Jackie Sloan. "I generally show up at Bradenton with new stuff and minimal test data, so I've never actually won there. I need to be more prepared at the beginning of the season," laughed Summers, poking fun at himself for preferring to push the envelope rather than win the race.
After Bradenton, Summers made even more changes. A four-speed Extreme-T transmission from Liberty was installed along with a Bruno lockup drive unit and a Coan lockup converter. "That converter is fantastic and really nailed it with what we needed," Summers noted. He had installed a Haltech system on the new car, too, and credits the true standalone system for the Camaro's incredible consistency which stemmed from his ability eliminate any other electronic control devices. Although Summers lays his own tune, he receives guidance and consulting assistance from PTP Racing's co-owner, Patrick Barnhill.
Summers's plan for the next NMCA event in Atlanta was to simply race the racetrack and not beat himself. "We had been trying some different ratio packages and air-shift components with the transmission and found what worked for us," said Summers, who qualified second on a 3.821 at 216.03 mph hit and took four elimination-round wins before going out to Adam Flamholc in the finals. Along the way, Summers also reset the class speed record when he flew through the traps at 216.06 mph. "If we can figure out how to make the car hook harder on the back half, we'll be able to go even faster."
For the third stop on the 2017 NMCA tour, Summers pulled into Bowling Green, Kentucky. He improved again, and this time took the number-one qualifying spot with a 3.810 at 214.45 mph blast to set both the low et as well as the top speed. Summers cruised through eliminations all the way to the finals, but had to hustle in the pits before the last run due to a gear case failure. "We had a driveshaft sensor that went bad on that run, so the car spun, I recovered and pedaled to catch up, but then the fuel pump belt broke and I came up short. It was a mess from start to finish," he laughed of his runner-up end to the trying weekend.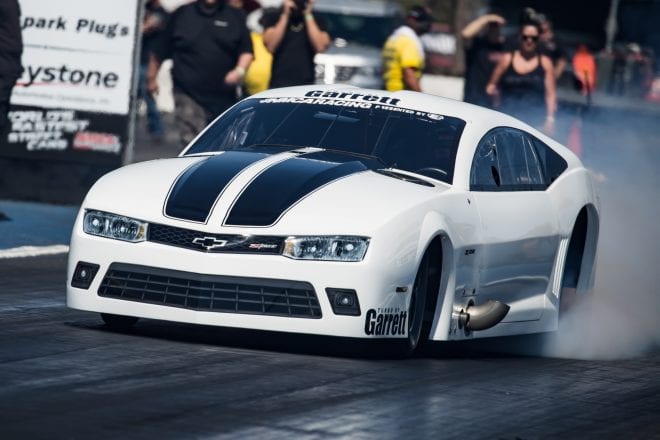 With his multiple records and wins over the years, many folks believe that Summers is one of the larger teams in the sport when in fact, the opposite is true. He handles the maintenance of all his componentry on his own, and does all of the fabrication, plumbing, and electrical work – everything short of painting and chassis building – by himself.
When he goes to the track, he does so with a skeleton crew consisting of mostly family. "My wife, Jerilynn, does whatever needs to be done on the car. My daughter, Italy, 11, helps out with food preparation and keeps everything organized. My son, Colin, 9, can put the car on the Pro Jacks, take off the belly pans, drain the oil, take off the tires, and a lot more," said the proud husband and father of his incredibly supportive family. The patriarch is the backbone of the operation, though, and Summers is his own crew chief who handles the bulk of the work.
By providing such a strong role model for not just his own kids but many other youths in the sport to look up to, Summers has garnered a reputation as a respected, likeable, and formidable racer. Despite having changed classes several times throughout his career, he's found his niche in Pro Mod and plans to continue with the class for years to come, undoubtedly setting more records and hopefully winning another championship along the way.
This story originally appeared in DRAG ILLUSTRATED Issue No. 121 in May of 2017.