Pro Mod racing has enjoyed a strong cult following since its inception more than 25-years ago. First it was the IHRA that embraced the wild doorslammers, debuting Pro Modified as an official class early in 1990 at Darlington, South Carolina. It flourished on the IHRA quarter mile, but also was contested over the eighth at countless outlaw strips throughout the Southeast. Then the ADRL stepped up in 2005 to split the power adders—supercharged and nitrous-boosted entries—for the first time in a national eighth-mile series and that effort morphed over the years to the current PDRA program.
The IHRA abandoned quarter-mile Pro Mod competition after the 2009 season (since reestablished); however it was quickly picked up by NHRA and added to its 2010 schedule. For the first few years the NHRA Pro Mod series struggled somewhat to establish an identity within the "big show," but late in 2013 at the SEMA trade show in Las Vegas the groundwork was laid for what would become the current Real Pro Mod (RPM) organization. In addition to several passionate advocates of Pro Mod racing, in attendance at the initial meeting were officials from NHRA, including then-president Tom Compton, Senior Vice President-Sales & Marketing Gary Darcy, and Senior Vice President-Racing Operations Graham Light. The group discussed the future of the Pro Mod class within NHRA, and developed RPM to spearhead the movement to ensure its continued success and longevity.
It's no secret the Pro Mod class has struggled to gain acceptance from NHRA, says Danny Rowe, owner and driver of the Agave Underground Tequila Pro Mod entry, but the reasons for that are complex and multi-faceted, he insists. Rowe has spearheaded much of the progress made by RPM and feels the class has gotten a bad rap despite best intentions.
"A lot of people have come in to try and help, but many had their own agendas and it wasn't necessarily with respect to what was good for the class and NHRA," Rowe explains. "Our goal is to grow and build Pro Mod drag racing and make decisions that are the best for the class and its longevity."
Fortunately, sponsors have been taking note of what RPM has achieved with the class. The growth and popularity of Pro Mod in recent years, especially with fans, has been huge. Rowe believes there's enough interest and enough people who want to get involved, that it's just a matter of time before the right deal gets inked.
Rowe's teammate, Steve Matusek, founder and president of fuel system manufacturer Aeromotive Inc., also points out a recent shake-up in NHRA top management has been a challenge, but he believes the California-based sanctioning body is now better focused than ever before, offering open discussion and no false promises.
"Plain and simple, NHRA is a business. We want a chance to not kill the class. The others have major sponsors, and that's the challenge that Pro Mod has—no major sponsor," Matusek says. "We're figuring out how to get multiple involvements so we can diversify how many people are contributing. That will give us strength as opposed to just one guy mandating policies, programs, etc."
Out on the track, the NHRA Pro Mod series has come a long way in a relatively short time. It wasn't all that long ago that crashes were common and cars rarely made it down the track as intended. Now, Pro Mod features some of the closest competition in drag racing and the cars are relentlessly pushing the limits of what's possible.
"I believe Pro Mod is some of the most exciting racing out there," says Rowe, who's a huge fan of the varying power adders, body styles and outrageous performance associated with modern-day Pro Mod—attractions that most other eliminators just can't match.
For fans, Pro Mod also features readily accessible and approachable cars and drivers. There are no roped off areas; it's common to see drivers signing autographs and taking photos of kids sitting in their cars. John Waldie, who has been instrumental in managing the ins and outs of the RPM organization, believes fan involvement is crucial to the class' success.
"Pro Mod is relevant," Waldie insists. "Everyone's got something to cheer for no matter what their preference. Pick a body, pick a power adder, pick a driver, pick a crew chief; there are so many choices," he explains of a class that features supercharged, turbocharged, and nitrous oxide-powered Mustangs, Camaros, Chargers, Daytonas, and many more.
Entry lists also have grown since RPM got involved, Rowe points out. "NHRA came to us to talk about dwindling car counts. Everyone was building eighth-mile cars at the time. We did a good job communicating to the racers to get competitive cars to come out."
RPM has been able to stabilize the class and Rowe believes that's a big part of why there are so many cars showing up today. Full qualifying fields and nearly 30 entrants for each of 10 RPM national events each year has become the Pro Mod standard. "NHRA is a great place to race with some of the best racing in the country, if not the world. There's a lot of value there, and I think we'll see car counts continue to grow," he predicts.
Parity between the different power adders has been a hot-button item for Pro Mod's participants, however. It's an issue that plagued IHRA for years, too, and Matusek recognizes it's always going to be a moving target. "As one combination does the homework to get ahead, the others fall behind, but then they start to work harder and make advances and get ahead themselves," he says. "It's an ever-changing deal."
More of an issue for Matusek, who drives a supercharged '69 Camaro in the RPM series, is the growing presence of what he feels are "ready-made" combinations, especially turbocharged entries. He appreciates the trend has brought more people to Pro Mod, but still can't agree with the process. Originally known as a driver's class where racers had to shift, pull their own 'chutes, and own considerable talent behind the wheel, Matusek says he misses those days.
"Buy a car, engine, turbos, get a program and let go of a button to drive a car. Someone who may not necessarily have experience can go race now," he plainly states. "It's morphed into something where you just have to have money, although we wouldn't have the inventory of cars otherwise. We're making it so anyone can do it, but that can be a negative. I think it should still be a purist class."
There also are problems in regard to Pro Mod's representation on NHRA's new All Access television program, aired on the Fox Sports network, Matusek says. He believes the show is too boring, too dry, and doesn't take advantage of the opportunity to emphasize the excitement and drama within the RPM group that exists behind the scenes. "The previous program we had, the ratings were off the charts. Now, the show is sub-par. They just show round-after-round of race coverage."
Rowe agrees there should be more emphasis placed on the story line for Pro Mod racers at each race and remains
hopeful the TV format will soon improve. "We're not getting the same love as some of the other classes as far as production goes. NHRA has promised they'll work on it, but it just doesn't show the quality of what we have going on and we need to do a better job to relate that to fans on TV," he says.
Regardless, others outside of NHRA have taken note of Pro Mod, and the RPM organization has been repeatedly asked to make special appearances at non-NHRA events. With major drag racing facilities, including Florida's Palm Beach International Raceway and Colorado's Bandimere Speedway, reaching out to have RPM as part of their special events, it's evident RPM has achieved its goal of bolstering the reputation of and desire for Pro Mod racing as a whole.
"We have tons of tracks calling us and requesting we bring the RPM cars to race at their tracks," says Rowe, who above all remains grateful for each success. "There are opportunities for us to grow our program by building the value and brand of RPM. It feels like our hard work is paying off."
Matusek recalls RPM's appearance at Bandimere's Night of Fire and Thunder race this May and the positive response of the crowd.
"We signed more autographs at that one race in Denver than we have the whole season. Fans had a great time, and the Pro Mods ran fast. That's what racing should be," he says. "We have track operators calling us to come out, and that's a good feeling. To have NHRA-legal Pro Mod cars headline a major event at a track like Bandimere—I have to believe we're doing something right."
What many may not realize is that RPM—not NHRA—is actually managing the vast majority of the intricacies of the Pro Mod class. RPM has the burden of finding sponsors to ensure the 10-race schedule can be run, that payouts can be provided to racers, and nurturing relationships with racers to maintain high car counts. It's a unique situation in drag racing, and a burdensome task for those involved.
"We wanted to do everything on our own so that we would have a good, solid series, something we can be proud of. But it's almost a detriment because NHRA doesn't have to worry about it," Rowe explains. "We seek out our own sponsors; we hire PR people, manage relationships with the media and invest countless hours in both preserving the class and growing it beyond what we have currently. We've removed the burden from NHRA and, in turn, we sometimes don't get the attention from them that we feel we deserve."
The original agreement in 2014 between RPM and NHRA called for RPM to manage the logistical and business operations for a short-term period of three years, at which point it would transition back to NHRA. As the 2016 season progresses, the class is undeniably at its peak in terms of performance, participation and competition—however, with most members of RPM being business owners who have day-to-day responsibilities within their own operations, the future of Pro Mod racing within NHRA is once again uncertain. Although as passionate as any group of racers, it was never anyone's intention to have RPM members manage Pro Mod drag racing within NHRA forever.
"This whole process was incubatory. Let's put our heads together, leverage our own businesses and relationships and create some stability. Now it's NHRA's turn," Matusek says. "We're confident this is a program that will continue to grow. We recently had an unbelievably constructive meeting with (NHRA President) Peter Clifford, and there are going to be a lot of positive changes with our program moving forward."
RPM's work, primarily behind the scenes, has turned NHRA Pro Mod into the ultimate proving ground for quarter-mile doorslammer racing. This year's class features a plethora of colorful owners and drivers, side-by-side racing at more than 250 mph with three dramatically different engine combinations in play, and a slew of different makes, models and body styles. While the future of the category within NHRA may not be set in stone, the promise and potential of NHRA Pro Mod is certain.
"I'd like to believe we'll be with NHRA for 2017 and hopefully longer if we do things properly," Rowe says. "The biggest challenge is funding. RPM has worked hard to get in a position to pay for the racing that's going on, but it's a constant struggle trying to generate revenue and give more back to the drivers."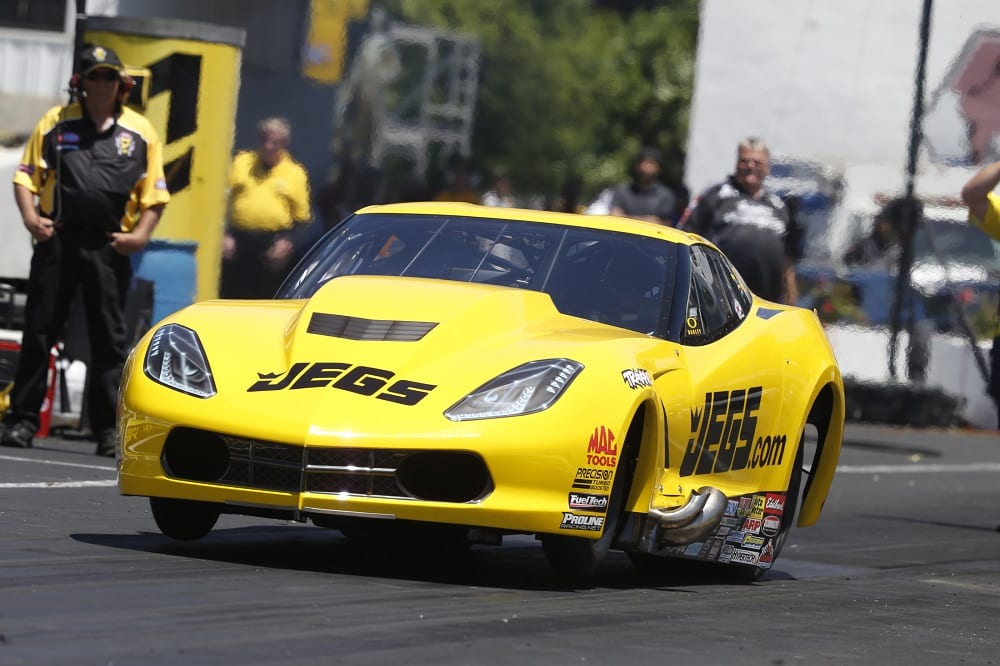 Thanks to the involvement of RPM and its members—Rowe, Matusek, Waldie, and others including 2016 series sponsor J&A Services' Jim & Annie Whiteley, JEGS' Troy Coughlin, Precision Turbo & Engine's Harry Hruska—NHRA Pro Mod has become a prestigious and competitive place to race. It's a work in progress, though, most likely requiring the efforts of both RPM and NHRA to continue Pro Mod's upward trajectory on drag racing's biggest stage.
"In general, I believe that Pro Mod is growing as a class and headed in the right direction," Rowe states. "We're partial to the original quarter-mile drag racing and NHRA has given us a good, safe and prestigious place to race. Collectively, I think we can all agree that there is work left to be done, but we have to appreciate the level Pro Mod is at currently."
Photographs by NHRA, Mark J. Rebilas, and Wes Buck
This story originally appeared in Drag Illustrated Issue No. 111, the State of Drag Issue, in July of 2016.