The Quarter Mile Foundation's fundraiser roast of Pro Stock drag racing star Larry Morgan on Thursday, June 23 will have WFO Radio's Joe Castello at the mike as Master of Ceremonies.
Castello assumed the role when Bill Bader, Jr., President of Summit Racing Equipment Motorsports Park had to relinquish the role due to an unexpected schedule conflict.
Castello, a native of south Florida, hosts the highly popular motorsports internet radio program, and is a fixture at most National Hot Rod Association (NHRA) events, doing live public address interviews.
"Bill Bader and the Foundation are disappointed that he had the conflict, but we feel Joe's special brand of energy and passion for the preservation of the history of drag racing will bring excitement to the evening. Joe has been a great supporter of the Foundation and its goals, and I am pleased he could assist us on short notice," said Traci Hrudka, Foundation chairman.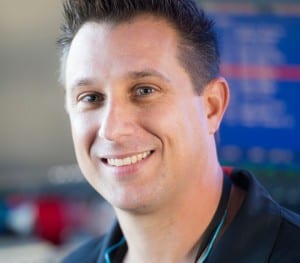 Castello will oversee the evening's theme — The Larry Morgan Roast – A Cavalcade of Laughter" and as "Ringmaster of Ceremonies," he will attempt to direct Morgan's personally selected panel of tormenters: Tony Christian – Modified Eliminator, Pro Stock and Pro Street star, Ian Landies, Jr. – Competition Eliminator racer (son of the late sportsman star Ian Landis, Sr.), Pat Musi – Engine builder, Pro Street pioneer, John Nobile – IHRA Pro Stock World Champion, NHRA Pro Stock (father of Pro Stock star Vincent Nobile), Ollie Volpe – a former Gas-class racer and racing sales specialist for serveral leading aftermarket companies, and Billy ("B.M.F.") Wagner – former Larry Morgan Racing crew chief. Supporting the roast will be added themed entertainment centered on a carnival atmosphere through the cocktail hour, dinner and roast.
The event is being held at The Colonnade, north of Milan, Oh., during the NHRA Summit Racing Equipment Nationals race weekend.
The event is being supported by V.I.P. sponsors Country Corvette (West Chester, Pa.), Holley Performance Products (Bowling Green, Ky.), JEGS High Performance and the JEGS Foundation (Delaware, Oh.), Joe Hrudka (Phoenix, Az.), Lucas Oil Company (Corona, Ca.), National Hot Rod Association (NHRA – Glendora, Calif.), Speed City Performance (Mentor, Oh.).
Activities commence at 6:00 PM, with a cocktail reception hour, followed by a buffet dinner. A cash bar will be open throughout the evening. The roast festivities will begin at approximately 8:00 PM.
TICKETS — The window of opportunity for purchase of tickets is quickly narrowing, according to Ms. Hrudka. "The cutoff point for advance sales will be Friday, June 10 at midnight. After that, walk-up tickets will be $90, and there will be no guarantee of the availability of food."
Individual seat tickets are available at $80.00 per seat. Sponsored, V.I.P. tables (8 seats) are available at $1500.00 per table. V.I.P.-sponsored tables receive a complementary bottle of red and white wine, company logo rights on the stage back drop, table signage plus recognition on event marketing materials. Non-sponsored tables can be reserved for $640 for eight seats, but with no extras.
Tickets may be ordered through Event Brite or by visiting the Quarter Mile Foundation's website. Payment may also be made by check/money order payable to Quarter Mile Foundation at 6210 Beverly Dr. Cleveland, OH 44130. Please mark for "Larry Morgan Roast."
There will be both a live auction from the stage, and a silent auction which will be active during the cocktail hour and dinner. Payment for auction items will be cash or check only — no credit cards. All proceeds will benefit the Quarter Mile Foundation, and a portion of the ticket price will be tax deductible for US citizens.