As one of the most well-known big money bracket races in history, The Million Dollar Drag Race is etched on the bucket list for most and circled on the calendar of many racers year after year. For the 28th installment of The Mickey Thompson Million, Folk Promotions swapped the long-standing southern staple for a Midwest venue just east of the Mississippi River as they relocated to World Wide Technology Raceway.
Racers were not only welcomed with views of the nearby Gateway Arch but also the hospitality that only The Million can provide. From complimentary snacks and beverages in the staging lanes, one free event t-shirt per competitor, zero spectator or crew fees, and the Laris Motorsports Insurance Racer Appreciation dinner on Friday, The Million's attention to detail makes each participant feel valued, which explains why the pits were packed full on a Tuesday.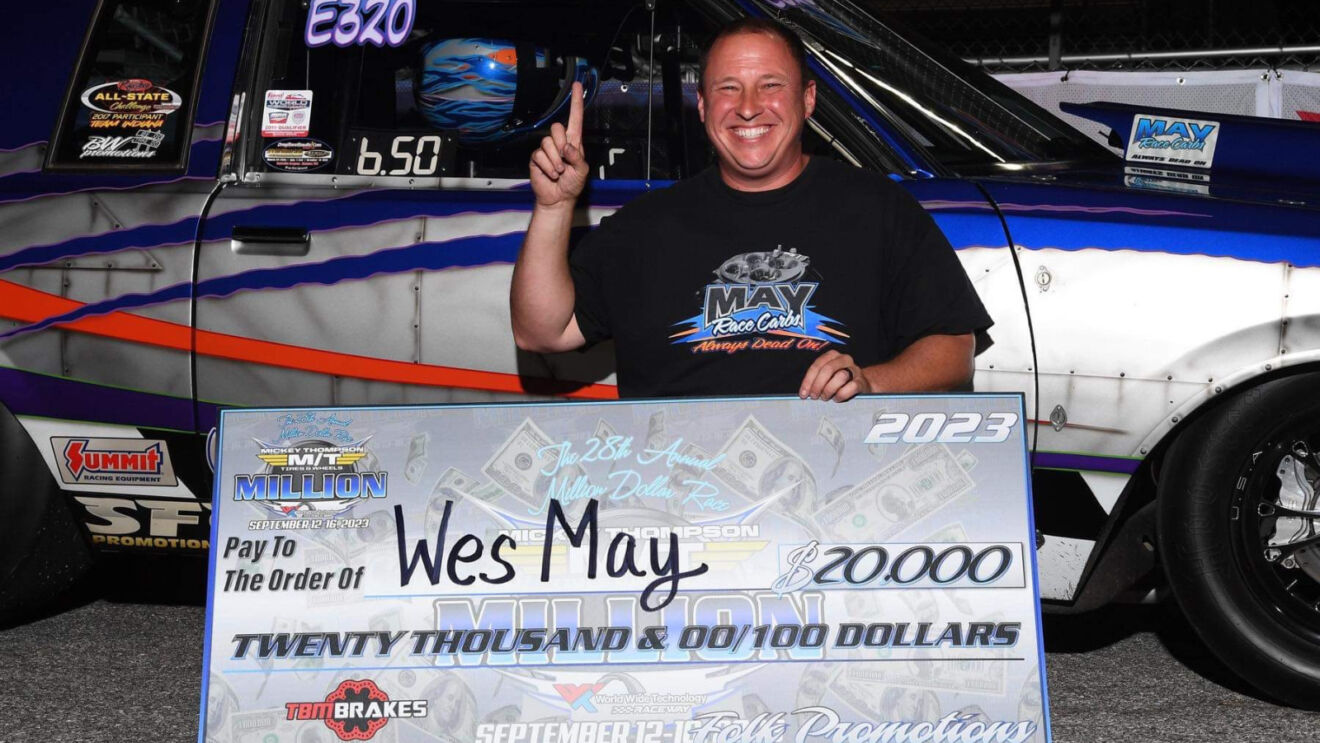 Five days of competition would kick off on TBM Brakes Tuesday, where a top prize valued at $20,000 was ready for the taking. An overnight rain shower delayed the start time, but eventually, each car would make a test pass prior to the first round of eliminations.
An impressive 584 entries made their way down the eight-mile in a high-stakes round one as buybacks were canceled due to the late start and crowd of racers. Seven rounds of win lights later, only five drivers remained eligible to pay the week's tab off on day one: Wes May, Darian Boesch, Jake Stephens, Mark Cather, and Brett Williamson.
The first quarterfinal pairing has Boesch turning on the red light by three thousandths beside a wheel-standing May, who is .001 green for the win. Cather also leaves too soon while Stephens puts together a .028 package to make it an all-door car semifinal. Williamson coasts through the finish line on his bye run after launching with a .004 bulb.
Williamson continues to crush the tree and lays down an .017 total package to leave Stephens mathematically ineligible, although his semifinal finish does earn an entry into Friday's Million main event. May's previous near-perfect light allows him to stage up for the bye run, where a hard launch results in almost taking down the tree literally, but he quickly recovers and will return for the final unscathed.
TBM Brakes Tuesday's final round included $18,000 and a Million main event entry for the winner, while the runner-up earned a full weekend entry. Only four-thousandths separate the pair on the starting line when May throws down a .006 total package, turning on the win light beside Williamson, who was .009 up front but had no chance.
Wednesday is the first of three $ 50,000-to-win races courtesy of Summit Racing Equipment. Registration opens at 8 AM, and only new entries will receive a time trial at 8:30 AM, followed by eliminations. For the bottom bulb drivers, a $1,000 No-Box bonus is up for grabs during each $50K.
Catch all the action live this week on MotorManiaTV, thanks to the support from Lucas Oil and Vintage Trailers.
For more information on The Million Dollar Drag Race, visit our website at www.themilliononline.com.