Virginia native Randy Weatherford secured his first No. 1 qualifier award of the season in Switzer Dynamics Pro Nitrous presented by MoTeC at the Professional Drag Racers Association (PDRA) Firecracker Nationals at Virginia Motorsports Park.
Joining Weatherford as the low qualifiers in the PDRA's professional classes were Melanie Salemi in Moroso Pro Boost, John Montecalvo in Liberty's Gears Extreme Pro Stock, Terry Schweigert in Drag 965 Pro Extreme Motorcycle and Johnny Pluchino in East Side Auto Transport Pro Outlaw 632. Ken Quartuccio is the No. 1 qualifer in Atomizer Racing Injectors Outlaw 10.5.
The PDRA's sportsman categories, which will receive a third and final qualifying session Saturday morning, are topped by Billy Albert in MagnaFuel Top Sportsman and Matt Sackman in Lucas Oil Top Dragster. Leading the Jr. Dragster classes going into Saturday are Brooke Miller in Coolshirt Pro Jr. Dragster with her 7.901 pass and Virginia's own Connor Shields with a near-perfect .001 reaction time in Gilbert Motorsports Top Jr. Dragster.
PRO NITROUS
While Randy Weatherford's Musi-powered '69 Camaro resembles many of the other first-generation Camaros in Pro Nitrous, it houses a Leanders clutch that sets it apart from the competition. In Weatherford's opinion, it's also what allowed him to top a field made up largely of torque converter-equipped cars. He recorded a 3.712-second pass at 202.82 mph during the third qualifying session.
"It's going to be pretty hot tomorrow, but we went 3.75 in the heat today," said Weatherford, who won his first PDRA Pro Nitrous "660 Man" trophy at the North-South Shootout in May. "I think I have an advantage over (converter cars) with the clutch in the heat – the scoreboard shows it. I'll race them in the daytime in the heat. We'll start racing in the heat, but hopefully we're still in the race late Saturday when it cools off again. We ran just as quick as the other guys did tonight, so I think we'll have something for them."
Weatherford will line up against Tony Wilson in the first round of eliminations Saturday afternoon. Jim Halsey qualified No. 2 in his Yellowbullet Nationals '68 Camaro with a 3.727 at 203.28, followed by points leader Jason Harris in the "Party Time" '69 Camaro with a 3.733 at 202.06.
PRO BOOST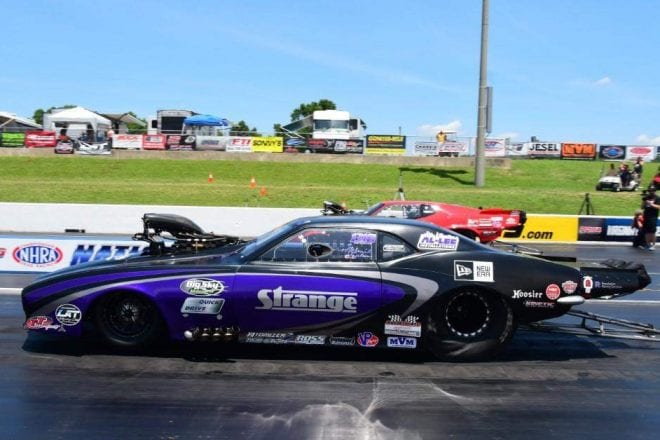 Melanie Salemi is making the most of her return to eighth-mile Pro Boost racing, posting a 3.748 at 199.52 in her Strange Engineering-backed "Purple Reign" '68 Firebird to qualify No. 1. Tuned by her husband, Jon, and brother-in-law Jim, Salemi topped the Pro Boost field for the first time in her career.
"I really feel like we've always had a good race car when it's hot out," Salemi said. "I guess we picked the right race to come to. The conditions for first round tomorrow are going to be similar to what they were this afternoon when we went 3.77. We'll probably be a little conservative and make sure the car goes down the race track, and hopefully that works in our favor."
Salemi will face Eric Donovan in the first round. Ric Fleck and the "Dragon III" '41 Willys are No. 2 with a 3.776 at 196.73, followed by Maryland winner Tommy D'Aprile and his 3.783 at 197.33 in tuner Al BIlles' '69 Camaro.
EXTREME PRO STOCK
After encountering a challenging first three races this season, John Montecalvo's Haas-built '18 Camaro seemed to come alive Friday night when it recorded a 4.086 at 176.19 to claim the top spot in Extreme Pro Stock.
"It's been a tough year and we really needed that run," Montecalvo said. "We brought this car out at Indy last July and it was exceptionally hot. Coming into this race, I figured this is our territory. We stumbled on the first couple runs, but I think we have a good hot-weather combination in the car now. We should be good from here on out."
With 15 cars on the qualifying order, Montecalvo will receive a bye run first round. Chris Powers, tuned by world champion crew chief Chuck Samuel, is No. 2 with a 4.095 at 174.59 in his Liberty's Gears '14 Camaro. Maryland winner Steven Boone and his Boone Motorsports '07 Cobalt are third with a 4.097 at 176.58.
PRO EXTREME MOTORCYCLE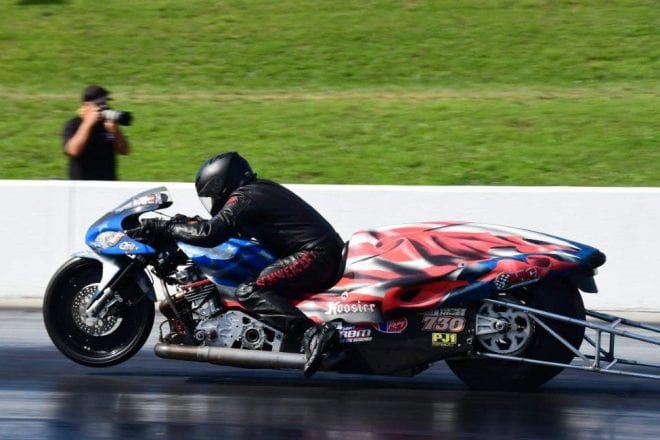 Third-generation Canadian dairy farmer Terry Schweigert rode his way to his second No. 1 spot of the season aboard his Dan "The Man" Wagner-tuned '15 Suzuki. He was the quickest rider after the second and third qualifying sessions, ending the day with a 4.025 at 173.32.
"We knew the conditions would be better in the night session, so we were just waiting for that run," Schweigert said. "I'm surprised we ran that 4.05 in the heat. Sure enough, the air was better and the track was good for Q3, so we were just able to put a little more to it when it cooled down. We actually thought it would quicker, but we're happy with where we ended up."
Schweigert will go head-to-head with GALOT winner Rodney Williford in eliminations. Ehren Litten on the lone turbocharged motorcycle in the field qualified No. 2 with a 4.035 at 177.30.
Points leader Ronnie "Pro Mod" Smith is third with a 4.045 at 174.28.
PRO OUTLAW 632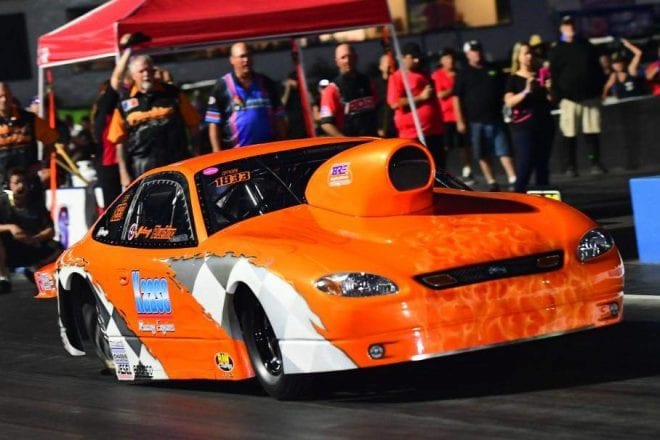 Second-generation New York drag racer Johnny Pluchino ended defending world champion Dillon Voss' perfect No. 1 qualifying record this season when he drove his naturally aspirated '06 Ford Escort to a 4.26 at 165.84 to claim the Pro Outlaw 632 top spot. He also helped his father, 2016 world champion John Pluchino, qualify No. 4 in Extreme Pro Stock.
"My main goal is to win races and win the championship, but qualifying No. 1 feels good," Pluchino said. "It gives you that little boost of confidence, especially when you're ahead of a nitrous car and you're in a naturally aspirated car in hot conditions. I'm excited. Jon Kaase Racing Engines put together a great piece and Ram Clutches just designed us a kickass clutch. It's our first weekend with it and it's already paying dividends."
Pluchino will face off against No. 12 qualifier Mike Murphy in the first round. Voss finished qualifying in second with a 4.282 at 167.34 in his Voss Racing Engines '17 Corvette, while
Daryl Hameetman and his 5 Days Shutters & Blinds '67 Mustang are third with a 4.324 at 166.52.
OUTLAW 10.5
Pro Outlaw 632 star Ken Quartuccio debuted his new turbocharged '17 Corvette in Outlaw 10.5 trim, shooting to the top with a 3.999 at 196.24. He will receive a first-round bye run. Quartuccio leads the father-son Decker Salvage team, with Mike Decker III holding the No. 2 spot with a 4.028 at 200.41 in his '14 Corvette. Mike Decker Jr. is third with a 4.108 at 191.32 in his '02 Camaro.
TOP SPORTSMAN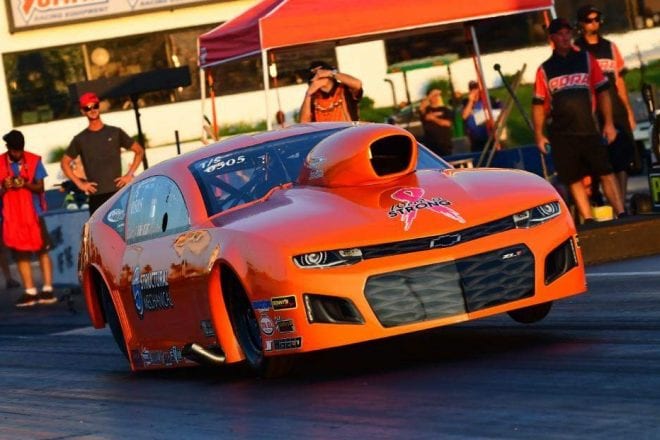 The most consistent No. 1 qualifier in Top Sportsman, engine builder Billy Albert continued his streak with a 3.86 at 192.36 in Stan Nance's Structural Mechanical '17 Camaro to lead the 60-car qualifying order, which will be split into the Elite 16 and Top 32 fields after Saturday's final qualifying session. John Benoit is No. 2 with a 3.873 at 197.74, followed by Aaron Glaser's 3.947 at 187.63 in the No. 3 spot.
TOP DRAGSTER
Matt Sackman, who races his family's Hangsterfer's Metalworking Lubricants Top Dragster on his weekends off from serving as the cylinder head specialist on Antron Brown's Top Fuel Dragster, is the provisional No. 1 qualifier after a 3.858 at 184.98 in "The Unit". The supercharged FTI Converters dragster of Brian Bednar is No. 2 with a 3.878 at 184.67, while Chaz Silance is third with a 3.88 at 188.49 in his Buck-powered dragster.