Brad Waddle is set to make his debut in a brand-new 2013 Jerry Haas Race Cars Mustang. But it's what will be on the side of the car that has the Extreme Pro Stock (XPS) driver just as excited.
Waddle and his Innovators West race team are pleased to announce a partnership with Hurco, a leading machine tool supplier worldwide. The Hurco logo will be on the side of Waddle's new black Mustang, when it debuts June 7-8, at the American Drag Racing League (ADRL) U.S. Drags at Virginia Motorsports Park, near Richmond, Virginia.
"Hurco is a great group of people and we're really thrilled about this partnership," Waddle said. "They're coming into the racing scene, and having them on our car is only going to increase brand awareness to all these racers and fans.
"Our team is trying to show them what participating in drag racing can do for their business, and we're trying to focus on brand recognition. Their market is race fans and race teams, and their equipment is designed for a lot more hands-on use, making it really oriented to fans or hot rodders. I think this is going to work out really well."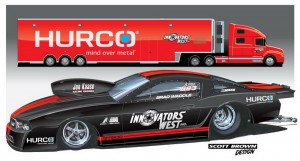 Waddle, a veteran in the ADRL's Extreme Pro Stock category, has been involved with Hurco for the past five years through Innovators West. The company has purchased five Hurco CNC Lathes and Mills from Hurco, significantly improving machining efficiency that has led to significant results.
"Their products have allowed us to take on even more business and really grow the company," Waddle said. "Hurco has an incredible line of machine tools that produce our parts and components with precision, quality and the speed we require. "Without question, they are essential to the continued growth of Innovators West."
The U.S. Drags marks the ADRL's annual visit to Virginia, and Waddle will have ample opportunity to showcase the Hurco name to the expected capacity crowd.
"It's really going to be a great opportunity to spread the Hurco name," Waddle said. "Virginia Motorsports Park is an outstanding facility and is a great location for us to debut our new car and our partnership with Hurco."
Waddle has plans to run the remainder of the 2013 ADRL schedule, taking the Hurco Mustang to Michigan, Memphis, Houston and several other locations. The Innovators West race team and Hurco will also attend the 2013 Performance Racing Industry (PRI) show at Indianapolis in December, hoping to draw even more drag racing interest to the growing machine tool supplier business.
A strong racing weekend in Richmond will keep eyes on Waddle and his Mustang right off the bat, and Waddle is already high on the potential of his new XPS car.
"I think the car will be good right out of the gate. The car looks amazing and Jon Kaase (Racing Engines) have done a great job building the engine," Waddle said. "I'm looking forward to a lot of power and a brand new car, and I think we should see some results pretty fast."