The largest single day payout in all of drag racing went to Jeff Verdi, who scored a $300,000 victory at the 21st annual CARS Protection Plus Million Dollar Drag Race. Driving his Pontiac Firebird, Verdi, of Glen Allen, Va., earned the title following a final round win over Tesz Powell of Morganton, N.C. High pressure final rounds are nothing new to Verdi, who won another major bracket racing event earlier this season in Las Vegas.
In the final, Verdi used a .016-second reaction time and a 5.783 on his 5.77 dial-in to secure the victory. Powell, in his Chevy S-10 pickup truck, was .011-second behind at the finish line with a 6.334 on his 6.32 dial.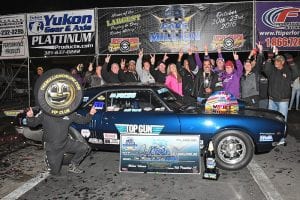 "This is unreal," said Verdi, who almost certainly has won more money this season than any other sportsman racer in history. "I just don't know what to say. I was praying before each round and when we got down to the last 14 cars I just felt that I was going to win this race. It wasn't even in my hands anymore. I don't know what comes next. I only won two races this year but they were both pretty big ones. I just try not to think about the money and focus on each round, one at a time."
Verdi's victory at the CARS Million should serve as inspiration to every "little guy" racer who's ever longed to compete at big money events. Verdi's Pontiac-powered Firebird is every bit a home-built race car and he still tows the car to the races using an open trailer and a pick-up truck.
"My car was perfect today," Verdi said. "In fact, all weekend we've never taken the hood off. I have to thank my engine builder, Jerry Loan. He builds a mean Pontiac and this car just runs the number every time; it doesn't let me down. This is proof that you don't need to have a fast dragster to be competitive or a big motorhome and a stacker trailer."
For the second-straight year, the CARS Protection Plus Million Dollar Race attracted a field of more than 300 entries which meant a top prize of $300,000 to the champion and a guaranteed $50,000 to the runner-up. Verdi opened the marathon event with a win over Cody Harrison and then recorded victories against Tommy Plott, Andrew Stirk, Thomas Dunford, Peeps Pennington, Clint Dishman, and Laramie Reid.
Once the field reached the sixth round of eliminations, the 14 remaining drivers paused to discuss and negotiate a split of the more than $400,000 remaining in the prize pool. With a potentially life-changing amount of money at stake in each passing round, nervous tension filled the air but most of the surviving drivers, and Verdi in particular, were able to maintain their composure.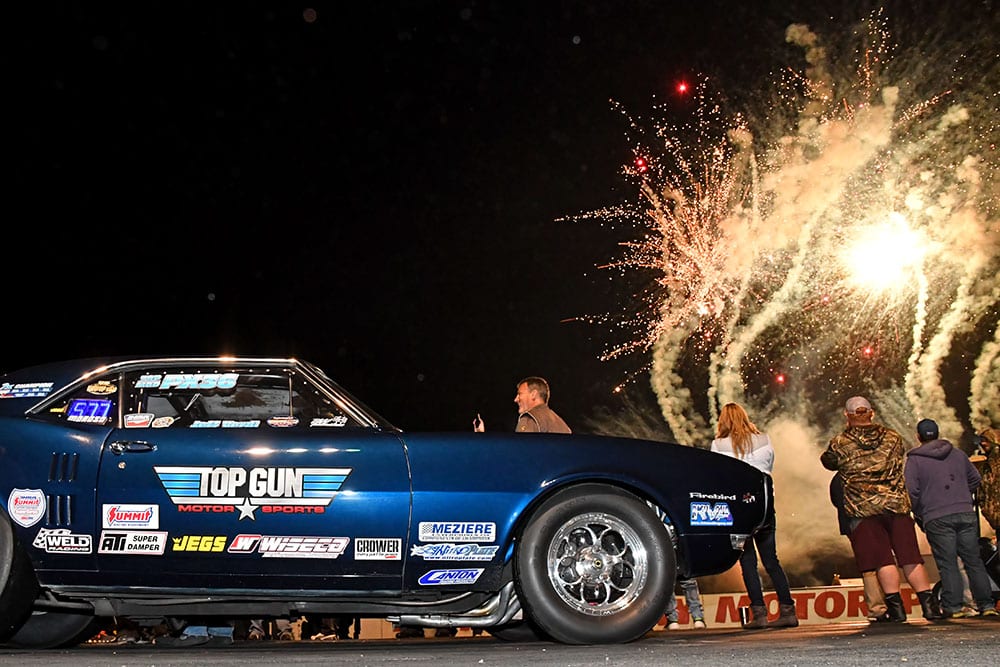 Verdi wasn't the only big winner of the CARS Protection Plus Million Dollar Race. The event also features the Mickey Thompson Triple 25's, three separate races that feature a huge $25,000 payday to the champion. On Thursday, Heath Davis defeated Scotty Richardson in the final round. On Friday, Brian Lampton defeated Brad Plourd. In Sunday's $25,000 final, reigning NHRA Super Comp champ Kevin Brannon earned the title when he stopped Aaron McCaulla in the final round. The event opened with a 32-car Shootout race that was won by Michael Pennington over Trey Bunner.
Throughout the Million Dollar main event, a festive atmosphere filled the pit area at Montgomery Motorsports Park. Racers and their crews were not only treated to a world class showing of bracket racing talent, but also a free steak dinner courtesy of event sponsor Lucas Oil Products and a post-race fireworks show. There was also a raffle for a free custom golf cart that was won by Wendell Kannard.
CARS Protection Plus Million Dollar Drag Race
Final Round
Driver –Hometown — Car — (Dial) — RT — ET
W: Jeff Verdi — Glen Allen, Va. — '67 Firebird — (5.77) — .016 — 5.873
L: Tesz Powell — Morganton, N.C. — '00 S-10 — (6.32) — .026 — 6.334