Jordan Vandergriff and Krista Baldwin will compete as teammates under the Bob Vandergriff Driver Development program for the Top Alcohol Dragster class at the NGK Spark Plugs 4-Wide Nationals. Anthony Dicero, team owner, will continue the crew chief duties on both cars with the assistance of Top Fuel crew chief Ron Douglas of Bob Vandergriff Racing. The two drivers will continue their branding of the Southern California manufacturers, the Hedman Performance Group and McLeod Racing. This weekend McLeod Racing will be hosting a Dealer of the Race sale with JEGS Performance.
Jordan Vandergriff, nephew of Top Fuel driver and team owner Bob Vandergriff Jr., will make his second national event appearance of his rookie year. Coming off a successful debut in Gainesville with a round one win, Vandergriff looks to succeed in Charlotte.
"I have the first race out of the way," says Vandergriff, a 23-year-old Southern California native. "Gainesville was a great experience and I just ran my career best ET of a 5.27 in qualifying for the Division 1 race in Richmond last week. I'm feeling more comfortable and confident in the seat. With this quick momentum, I'm anxious to see what will happen this weekend. I have to thank my uncle Bob (Vandergriff) for the chance to continue this journey in the driving seat."
Krista Baldwin, granddaughter of Chris "the Greek" Karamesines, will be returning to the seat of her McLeod Racing dragster. Baldwin has been a mentor to Vandergriff as he has been making passes in Anthony Dicero's A/Fuel dragsters.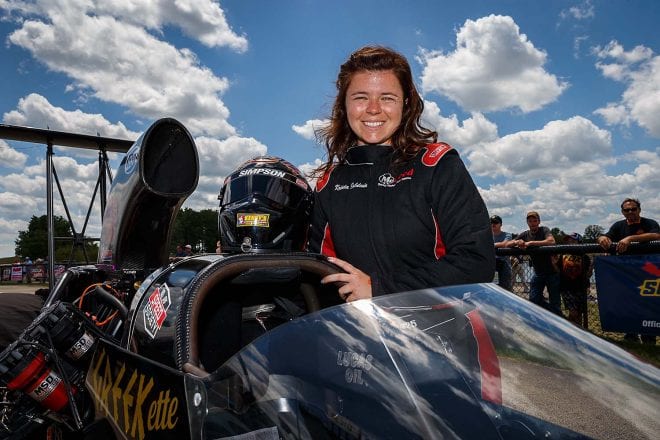 "It feels like it has been forever since I've hit the gas at the Winter Nationals in Pomona," says Baldwin, Creative Director of McLeod Racing. "I've been helping Jordan become comfortable in the car and have been teaching him the different duties of a driver. But now it's my turn to get back in the seat. This weekend will be action-packed with the two cars, but I'm excited to line up against Jordan, hopefully in the finals on Sunday. I have to thank Paul Lee of McLeod Racing for his continue support for my racing program."
This week starting Wednesday April 25th, customers will be given a 10% discount off all products from McLeod Racing through JEGS Performance. The sale will continue through May 5th, which is a perfect time to upgrade that hot rod in the garage. To visit the sale, visit www.jegs.com.
The Nitro University and Bob Vandergriff Driver Development program has continued assistance from CP-Carrillo, MAHLE/Clevite, Manton Push Rods, Boninfante Friction, XRP, PXP Racewear, Lucas Oil, Manley Performance, WELD Racing, and TBM Brakes.