There's something about that first race of the season. For many racers, it's been an offseason cooped up in the shop, rebuilding the car, re-rebuilding the car because it needs just that one little touch to make it better, getting parts ready, getting backup parts ready, and being a huge pain to the family because they've long since grown weary of hearing "Tired of football, when's race season start?"
For Pro Nitrous team owner Brian Shaw and driver James Hancock, the 2017 drag race season kicked off the best way it could have with their recent victory at the US Street Nationals in Bradenton, Fla. Hancock earned the victory from the fourth qualifying position over New York's George Williams by .06 seconds with a 3.839-second ET at 196.80 mph.
For Hancock, scheduled to race the full PDRA schedule with Shaw this season, the trip to the winner's circle was a fine way to start the year.
"It's got us pumped, big time!" he said. "We struggled all last year, and to come out for the first race of this year and win it, we've got a good chance to run with—or run as fast or as good as anybody else out there."
Despite the end result, the weekend at Bradenton Motorsports Park was pretty nightmarish throughout. According to Shaw, the team was forced to change out everything "but the paint job" over the course of the event. Fortunately, they had an ace up their sleeve.
"Wow, it was ridiculous," Shaw said. "I mean we just had a lot of trouble. They prep that track for radial tire. It wasn't one lane for one run after the other and then they switch you over, so, I mean, you still end up in all that glue with a big tire, and that's just really hard, taking a big-tire car down one of those…we done everything we could.
"I'm a clutch guy," he continued. "I've been doing this stuff forever, but I'm a clutch guy. These automatics I know very little about, so it was really throwing me for a loop. So, I called Rickie (Smith), and I told him I was lost and asked him if he could give me a hand. He didn't have to do it, but he gave us a jump start on what we needed to do and we went right out and did 3.99. So I called him back, told him what I'd done, we sent him a graph, and he told me, 'Well, I gave you something to look at. Now it's on you guys.'"
Even with three-time NHRA Pro Mod champion "Tricky" Rickie Smith providing assistance, the troubles weren't over. A broken wheelie bar in the semis, bad plugs, and a cracked nitrous bottle let them know the gremlins weren't finished with them yet.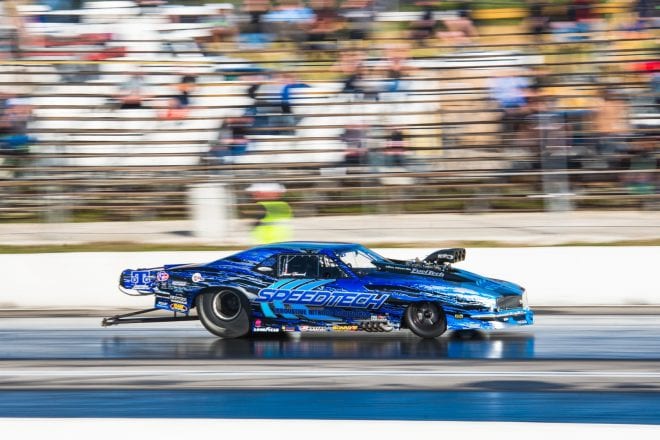 "We've changed rear-end ratios, type of tire we were running, every jet in the nitrous system," Shaw said. "We changed a lot of stuff in a couple days. It really paid off though. I mean, we were ecstatic. Car ran really good, and, you know, we've covered some really fast cars. There were some cars that ran quicker than we did, but, you know, you're gonna have some luck, too."
With the US Street Nats in the rearview, Hancock is now looking forward to kicking off the PDRA season at the PDRA Southern Extreme Nationals, March 9-11, in South Georgia.
"Well, you're racing the best of the best," he said of the PDRA's racers. "That's about the main thing, you know? We all race to try to be better, to show we're better than somebody else, and you're racing the best guys in the world in that class, and what other classes or other races that has that group of guys? I mean a lot of great guys, fast guys…it just makes it more attractive because you gotta do the best you got.
"You can't half step in that class."