Last fall the Professional Drag Racers Association (PDRA) was ready to put the exclamation point on its inaugural season with the World Finals at Virginia Motorsports Park (VMP). In the final round of the rain-delayed Dragstock XI from Rockingham, North Carolina, run during qualifying for the VMP event, Tommy Franklin was ready to turn some heads, too.
The businessman from Fredericksburg, Virginia, is a heavy hitter in Pro Nitrous, but at the time he was still sneaking up on the class' prominent frontrunners. As the evening air cooled Franklin knew conditions were right for someone to make a statement, and he wanted to be the one to do it. Taking full advantage of the opportunity, he tuned and drove his characteristic black-and-green '69 Camaro to a career-first win in 3.73 seconds over inaugural season champion Jason Harris in the final, resetting the Pro Nitrous elapsed time record in the process.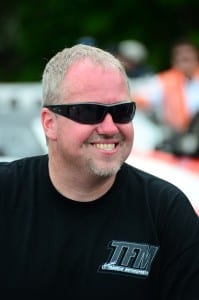 Franklin finished the 2014 season number two in points and it was clear his racing program was destined for continued success. At the 2015 PDRA season opener in Ennis, Texas, he indeed maintained the momentum, resetting his own record with a 3.71 pass before going on to win the event. That gave him the early points advantage in Pro Nitrous, which he held until halfway through the season. At the PDRA North-South Shootout at Maryland International Raceway in July, Franklin qualified number one but veteran 'Tricky' Rickie Smith took over the season points lead after winning the event, his second race victory of the season.
"We just have to go back out there and get after it." Franklin said later. "We really had a strong car; we just didn't get it done on race day. I feel like performance wise we're there, but we just had a bad day. So we're going to go back with the same thing that we had and just keep getting after it."
True to his new-found form, Franklin rebounded the next month at Memphis International Raceway, where he once again qualified in the number-one position, then raced to the event win and pulled to within less than a round's win worth of points from Smith in the lead.
"Pro Nitrous is terribly tough," he says. "Any of the 16 cars that qualify, plus some of the ones that don't qualify, are capable of winning on any given day. It doesn't matter, engine builder to car builder, everybody's a player right now. It's really, really competitive. It kind of reminds you of the Pro Stock days of old."
Alongside the father-and-son duo of Pro Extreme competitors Mitchell and Jason Scruggs, Franklin also is a member of the PDRA ownership group, which makes the all-eighth-mile organization his third successful business. After starting up an electrical service company in 1997, six years later he ventured forth with a low-voltage company. As a man who knows a thing or two about successful business startups, Franklin insists he has complete faith the PDRA will be a long-term fixture in drag racing.
"I think we're doing really well," he says of the PDRA, now in its second season. "With any business, it takes time to grow. We had eight races last year and in that first year I think we surpassed the goals of any first-time business. It just made us all that more hungry to build off of it.
"We really felt like we had something there. The racers really grabbed it. It just shows you that the racers want it just as bad as we do. Going into this year we probably haven't met the expectations, just because of weather. We've gotten really beat up by weather for the first five races, and even the sixth one had a threat around us. Everything is coming together, though. We've just got to get some races under our belt without any rain. I believe the racer and spectator counts are going to continue grow."
Franklin admits it's been a whirlwind of activity at times, but overall his involvement with the PDRA has been very satisfying.
"Everything has happened fast. Last year really took us all by surprise. In my opinion, it surpassed everything that we expected, to be the first year in a series," he says. "To be able to sit back and see it all come together and to see the racer support that we have, every race over and over to see the car counts go up, was amazing.
"Do we have the formula there yet? Nope. But we're trying different things every race to see what works. The one thing I am confident about is that we'll get there. Jason (Scruggs) and myself both have the mindset that we're going to make it happen. We just have to figure out what the right formula is to make it happen. And it's getting there. It's not like we're on life support. By no means.
"We've got a great group of racers, a great group of performance partners, and a pretty solid fan base. You look at our live feed numbers and they're just astronomical, the number of people watching and the number of countries involved. I feel like where we're at right now is we're in the middle of building our brand and it's going to continue to grow."
Still, after initial PDRA investors and Pro Extreme team owners Roger Henson and Gene Hector withdrew financial support for the PDRA mid-season this year, Franklin recognizes naysayers are going to let their opinions be known.
Again, though, he remains undaunted and stresses the organization's will to move forward.
"We're trying to do better promoting and internet marketing. Mike Hill came on to do some promoting in his area. Derrick Beach has been hired to do promoting with a strong focus on Internet marketing. That's something we haven't really been strong in—yet.
"We all have our haters out there that want things not to succeed, but between Jason and myself we're committed to making this thing work. And it's well on its way to making it work. It's not like we're floundering," Franklin stresses. "We hear those rumors, but the real truth is we want it to grow and we're going to continue to make it grow. Let's be honest, we're a season and a half into this. I think if you step back it's easy to see that this thing has already surpassed where we thought it would be."
While Franklin plays a large part in the PDRA success story, he strives to maintain his distance during events when wins and losses are on the line for both he and his daughter, Amber, who competes in Top Junior Dragster. "We have good people on the staff that take care of their jobs. I'm always one that says, 'Make your decision and we'll deal with it on Monday, right or wrong.' I try to stand behind the people making decisions."
That said, Franklin adds he's not always as successful at dividing his attention at the track as he'd like to be—at least not until he straps into his race car or heads for home.
"I think Jason and I are both guilty of wanting to know what's going on during the event, though. I kind of get wrapped up in wanting to know the car counts, how we're looking on spectators and wanting to make sure they're mentioning all the sponsors' names. I catch myself doing that, but not when I'm in the car. When it's time for us to go racing, I'm pretty good at being able to turn the switch off," he explains. "As a business owner I learned that a long time ago. My mind wouldn't shut off when I'd go home and I finally learned that when I go home I have to turn the switch off. I've gotten really good about that. I can go home and not worry about it until tomorrow morning. I think I'm more productive that way. If you question it all the time, you start second guessing yourself."
As tuner of his Pat Musi powerplant, as well as driver of his Bickel-built Camaro, Franklin is both commander and chief of his race team, but remains quick to point out it's a family-based operation—much like the PDRA itself.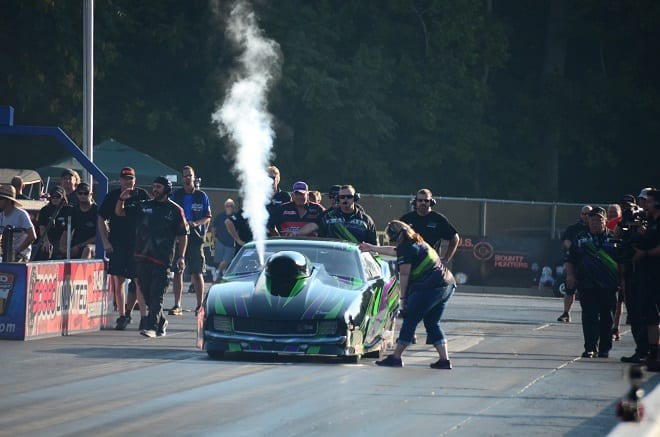 "I couldn't do this if my family didn't go. There's so much time away from work and home. Between running two businesses and the PDRA being a third business, there's no time anyway. So being able to take my family with me to the races is imperative," he emphasizes. "At every race we have my wife and my two kids. My youngest daughter Ashley doesn't race yet, but she's there to support us all the time. The girls miss a lot of school, but we make them keep their grades up. Amber was A/B honor roll last year even though she missed 16 days. Both kids are great in school. So I'm very fortunate."
In addition to taking care of family matters, Franklin explains his wife, Judy, is very hands-on with both his car and Amber's Jr. Dragster. He credits Chris Murray for keeping the team trailer going between races and with car maintenance with help from his young son, Chase, as well as part-time crew man Todd Wilcox at each event.
"It's cool to see the younger generation get interested in it," Franklin says. "My dad Roger and my mom Peggy come as much as they can, but they also stay at home when we're gone, too, to help with my businesses. So they're not at all of them. Those are our main crew, but we always have other friends that are always willing to jump in."
Despite being a high profile player in the racing industry, it's clear Franklin remains humble and focused as he pursues the 2015 PDRA Pro Nitrous championship.
"It would be huge to win the championship; just racing at this level is huge for me," he points out. "I've chased it for years, but to be able to win races against the racers we race against today is just a huge undertaking, and I'm thankful that God has blessed me and my family with the opportunity to do so. Winning a championship is definitely something I want to get taken care of in my career. It's always something that I've chased and to do it on a big stage like we have would mean a lot.
"We just have to make the right decisions and right calls. Right now I'm tuner and driver. It gives me a little bit of a different aspect. Sometimes I wish I could just get in and drive—but I really don't—I enjoy the tuning piece of it. It's a learning curve. I'll be the first to say I'm not the best tuner out there, but it's something that's live and learn. We try things. Sometimes they're wrong; sometimes they're right. This year has been pretty solid. It's nice to be able to do it and not have to act like you have no hand in it, because we're the ones making all the calls."
As the PDRA closes in on crowning its second round of champions, Franklin obviously is in the mix as a true contender. His determined approach to business and racing has aided his all-around success and will certainly keep him knocking on the door of veteran champions and world records.
"There are two things that I've always been firm on," he stresses. "One, you've got to be honest. If you're trying to take advantage, that's always going to come back out somewhere. I think that's just a core personality trait that everybody has to have.
"The other biggest thing I try to do is always be willing to learn and never act like I know it all. I never try to act like I'm better than anyone else. I always have my ears open, watching and seeing what's going on, just being willing to learn at all times. I always say we're dealt an issue every day, but it's how we respond to it that matters. A lot of that just comes into the faith that we're not really in control. I always say it's a test. That's what we get every day. It's a pass or fail question. We can always make the wrong decision—and a lot of time we probably do—but a lot of what happens next is determined by our response when that happens. We're not perfect by any means. I think that what makes you successful is how you deal with the problem. When you're not perfect and you make a mistake, there's always time to rectify the problem."
Perhaps it's this mindset that has given Franklin the ability to remain persistent and confident through the monstrous tasks of resurrecting professional eighth-mile drag racing through the PDRA and vying for a championship in one of the organization's toughest classes. Whatever it is that pushes him forward, Franklin remains undaunted, an indisputable force on several levels within the PDRA.
This story originally appeared in Drag Illustrated Issue No. 102, the State of Drag Issue, in August of 2015.