With hard launches, huge wheelies, and head-to-head racing, competitors settled right into the new home of the Scoggin Dickey Parts Center NMCA Muscle Car Mayhem presented by Holbrook Racing Engines, March 17-19, 2023 at Orlando Speed World Dragway in Florida.
They thrilled at every turn as they took aim at the NMCA Winner's Circle at this first of six events on this year's Red Line Oil NMCA Muscle Car Nationals tour, and along the way, they confirmed their commitment and courage.
"We saw some amazing racing at our highly anticipated NMCA season opener at Orlando Speed World Dragway," said Rollie Miller, NMCA General Manager and National Event Director. "On the well-prepped national stage, racers showed us what we can expect to see on this year's chase to the championships, and we are in for a wild ride."
Race after race, VP Racing Lubricants Xtreme Pro Mod competitors prove that they want more and are willing to work for it, and Ty Tutterow and Robert Abbott were certainly among them at this event. Tutterow, in his 1957 Buick-bodied Pro Mod, hammered the tree with an .014 and then hauled to a 3.634 to take a trip to the winner's circle over Abbott, who was right there with a 3.635 in his Camaro-bodied hot rod.
Dedicated Detroit-area racer Chuck Watson II, who is in the spotlight as the 2022 Holley EFI Factory Super Cars champion, sailed to a 7.69 to set the pace in qualifying. He had issues in eliminations, however, and AJ Berge and Ricky Hord hung on for the final round, where 13th qualifier Berge turned on the win light with a 7.63 over Hord's close 7.62.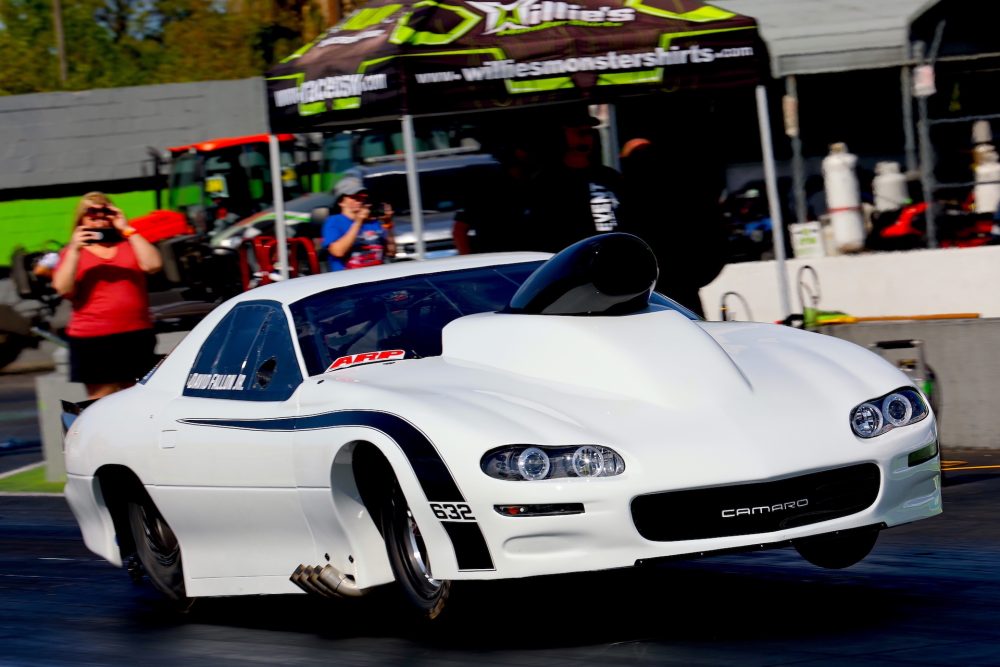 The 2022 ARP Nitrous Pro Street champion David Fallon Jr. stopped the clocks at a completely crazy 4.23 to set the pace in qualifying in the competitive class. He was on point all weekend and wound up in the final round of eliminations with Kyle Salminen in the other lane. Fallon Jr. won with a 4.28.
Martin Connelley is always one to watch in competition, and he proved that with a 4.53 to set the pace in qualifying in Edelbrock Xtreme Street. The Kentuckian kept his foot planted on the pedal to a 4.49 in his Mustang to pick up the win over Bill Trovato, who trapped a close 4.51.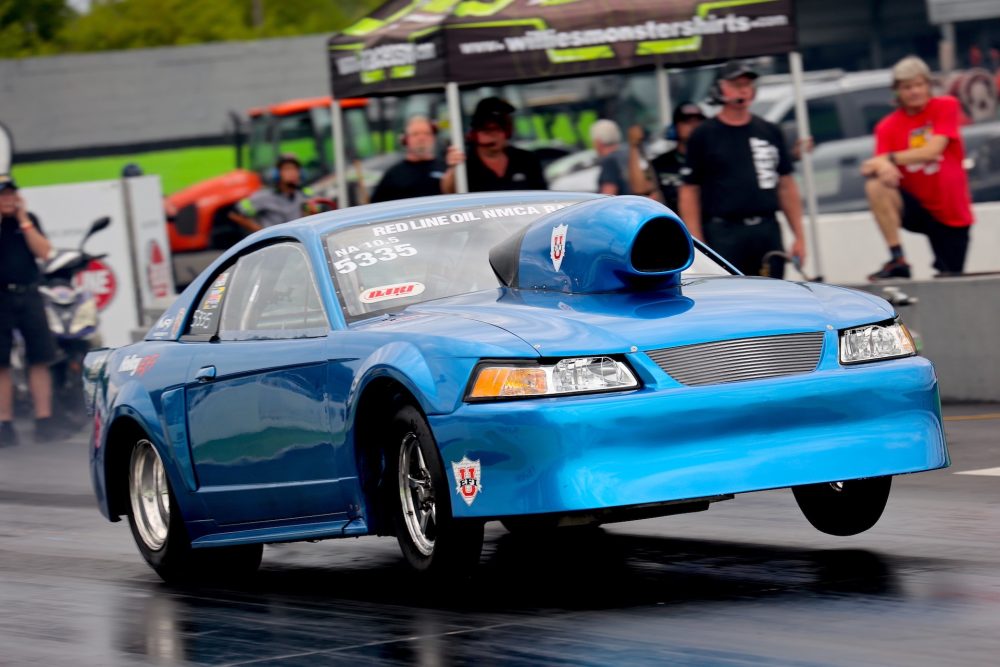 Powerful naturally aspirated engines performed at peak levels in Dart NA 10.5, especially those of Robbie Blankenship and Joe Clemente, who made it to the final round. Blankenship, a Floridian, flew to a 7.79 and the winner's circle after Clemente, who led qualifying with a 7.80, ran into trouble and couldn't complete his pass.
Kevin Lumsden enjoyed a successful weekend in Chevrolet Performance Stock presented by Scoggin Dickey Parts Center. The longtime racer led qualifying with a 5.77 in his Camaro, and later landed the win with a 9.62 over Keith Vaughn in his Corvette.
In Micro Strategies Stock Eliminator, Bruce Boyle and George Cox were close on the tree, and Boyle earned another win in the double-breakout bout with an 11.50 on an 11.51 in his Camaro IROC Z.
Meanwhile, familiar NMCA racer Joe Ewing parked his Dart right on his 10.53 dial in Micro Strategies Super Stock Eliminator to defeat Mark Nowicki, who was close to Ewing on the tree but slightly dipped under his dial.
The ever-competitive Doug Duell and Jim Netherland pulled into the water box, wound up the rpm, and went for it in Quick Fuel Technology Nostalgia Super Stock. Duell parked his beloved father's former Fury wagon right on his 9.00 index to defeat Netherland.
Racers in Erson Cams Nostalgia Muscle presented by World Products, which features fresh title and presenting sponsors this year, are popular at NMCA events across the country, and they showed why at this event. Among them was Michael Tagg, who trampled the tree to the tune of .000 in his Fairlane, and won with a 10.01 on a 10.00 index over reigning class champion Danny Towe.
MagnaFuel Open Comp racers were dialed in to get it done early in the weekend, but much cooler temperatures on the final day of eliminations made it more difficult for many of them to hit the number. That appeared to be the case for Scott Williams and Steve Satchell. Williams was ready at the hit, and hung the tires to a perfect .000 reaction time on the bottom end, followed by an 8.52 on an 8.66 dial on the big end, to upset Satchell, who broke out by a little more.
Cody Poston started his season on a high note by gunning to an 8.77 on an 8.75 index to lead qualifying in LME Street King presented by Chevrolet Performance. The reigning class champion kept his cool, as he always does, on the way to the winner's circle with an 8.67 over Bryan Williams, who was also on a breakout run.
"We had a tough start to the weekend," said Poston. "We broke some parts early on, but we were lucky to get replacements from Tony Scott and get everything fixed in time to go to number one on the last round of qualifying and then win the race. I would love to thank Jessie Coulter and Jessie's Garage for getting my car ready for the season."
The final round of Proform LSX Rumble presented by Chevrolet Performance eliminations put the focus on Keith Vaughn and Nicholas Massengale, and Vaughn earned the easy win when Massengale couldn't complete his pass.
TorqStorm Superchargers True Street racers completed a 30-mile cruise, with an eye on the gauges in their street-strip cars, before returning to Orlando Speed World Dragway to make three back-to-back passes down the quarter-mile in competition. The talented Jeff Smith took the overall win with a 9.38 average in a Mustang Cobra, while Deneen Segura was the runner-up with a 9.73 average in a Mustang. Robert Reilly raced to the 10-second win in a Challenger, Alan Hill arrived at the 11-second win in a Mustang GT, Michael Vanzile motored to the 12-second win in an F-150, Brett Veneman buckled in for the 13-second win, Mary Ann Mammen made it to the 14-second win in a Mustang Mach 1 and Ken Mason collected the 15-second win in a Mustang.
Challengers, Chargers, Durangos, and other muscular models were out in force for the Dodge // Mopar HEMI Shootout. When the dust settled, Thomas Falk flew to the win with a nice 8.79 average in his Challenger, while Scott Roegter took the runner-up with a 9.54 average in his Durango Hellcat. Others deserving recognition were Matt Martens (9-second winner in a Challenger), Bryce Rohrs (10-second winner in a Challenger), Joe Gomez (11-second winner in a Challenger), and Homero Lloro (12-second winner in a Challenger). Also standing out were Cindie Scott (13-second winner in a Durango SRT), Josie McClenaghan (14-second winner in a Challenger), and Brandon Barrett (15-second winner in a RAM 3500).
The eight quickest drivers in the Dodge // Mopar HEMI Shootout earned entry into the HHP Racing HEMI Quick 8 on the final day of the season opener, and Mike Clark and Zachan Davis lined up for the final round. They were close on the tree, but on the top end, Clark scored the win with a 9.38 on a 9.40 when Davis ran an off-pace pass.
In Bracket 1, Rick Perry paired a .006 reaction time with a 5.68 on a 5.67 to claim the victory over Shane Williams. Bracket 2 saw Cole Knieriem, who piloted a Liberscher Racing COPO Camaro for the first time this weekend, pull off the win with a 6.18 on a 6.19 over Jeff Ross, who dipped under his dial by more.
Larsen Motorsports added to all of the excitement at this event, as Zach Costello, in the Florida Tech jet engine-powered dragster, and Josette Roach, in the House of Kolor jet engine-powered dragster, blasted down track with flames bursting behind them.
The original BIGFOOT, driven by Bob Chandler and other fan-favorite drivers through the years, stood tall behind the grandstands at this event, with people posing for pictures in front of it.
Additional activities over the weekend included a sizable car show and manufacturers' midway.
The NMCA sincerely congratulates the winners, and thanks the fans and sponsors supporting this exciting event. The focus is now on the second stop on the tour, the Innovation Performance Technologies NMRA/NMCA All-Star Nationals Presented by MAHLE Motorsport, April 14-16 at Rockingham Dragway in North Carolina.
For stories, photos, results, and more content throughout the year, check out NMCADigital.com and RacePagesDigital.com.