Two-time PDRA Pro 632 world champion Wes Distefano has been noticeably absent at the first two races of the PDRA's 10th season. He sold off most of the $hameless Racing operation over the offseason in a step back from racing to spend more time with his family. But a partnership with Keith Engling, owner of the fan-favorite '72 Hursts Oldsmobile Pro Mod, has Distefano preparing to make his Pro Boost debut this weekend at the DeCerbo Construction PDRA AMerican Doorslammer Challenge presented by Callies at Summit Motorsports Park.
Distefano was admittedly looking at stepping away from racing entirely when he sold the Pro Nitrous Camaro that he raced last season, as well as his championship-winning Pro 632 Camaro that Walter Lannigan Jr. drove for the team last year. Conversations with Engling and the Oldsmobile's previous driver, Jimmy Detrick, led to Distefano making plans to run a limited schedule with the Skinny Kid Oldsmobile this season.
"My dad and I were talking about my young family last season," Distefano said. "I have a 5-year-old and a 3-year-old, and we've been talking about it since they were born: at some point, we're going to have to rebalance our time. We found a buyer pretty quickly for the Pro Nitrous car, then Doug Nicholl jumped on the 632 car. After talking with [Engling], we met, we talked and agreed on some numbers and a schedule. For different reasons, we both have the same goal with how we spend our time. Me, it's for my kids. Him, he's in retirement."
With an agreement in place, Distefano got fitted in the screw-blown, Skinny Kid Race Cars-built '72 Oldsmobile. The team has since been out around three times with the car, most recently at Jimmy Bradshaw's Michigan Mayhem at U.S. 131 Motorsports Park in Martin.
"We were able to put together some good short times, some good back halves, and other than that, we found that we had some parts issues that were fighting us and that were probably the root of all the struggles," Distefano said of their early outings. "We were able to put together a pretty decent run. Not anything to write home about in PDRA Pro Boost terms, but enough to show us potential that, hey, it can run."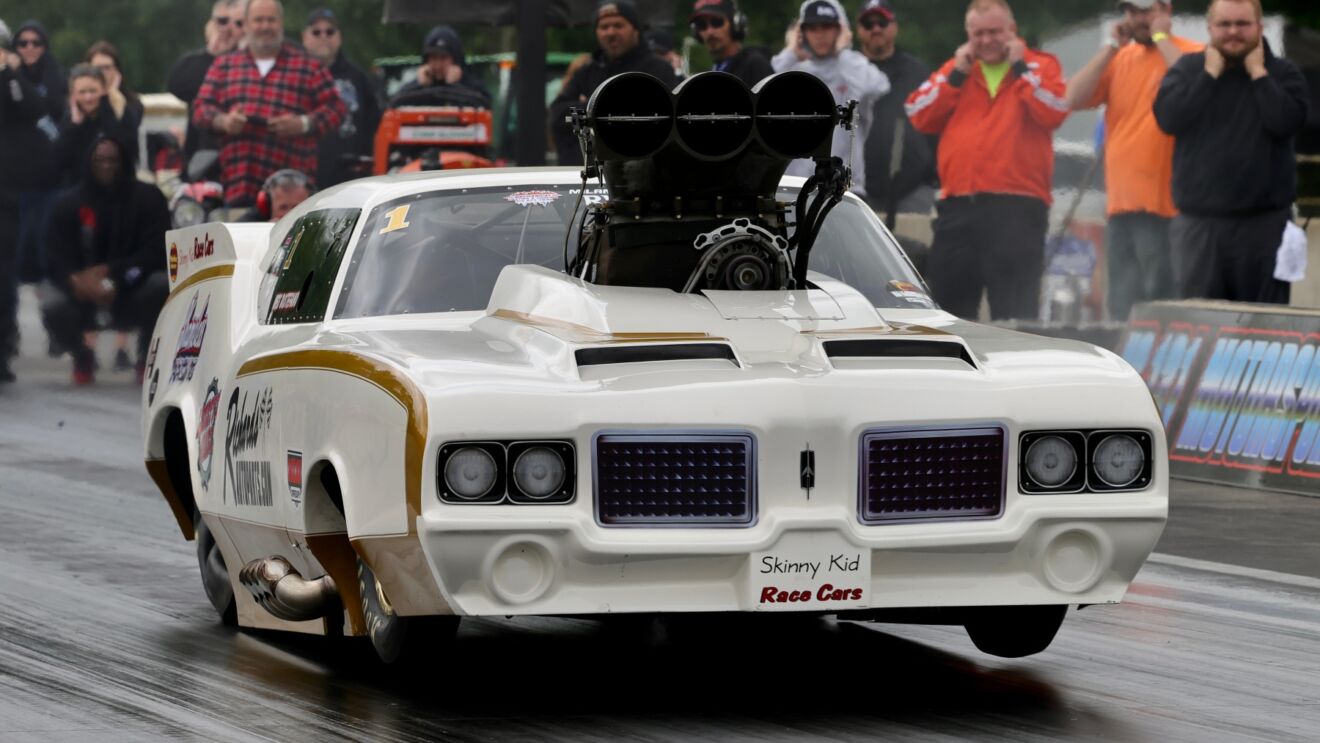 As the team worked out some early-season gremlins with the car, Distefano was able to get a good idea of what to expect from the screw-blown monster.
"Some of the woes with the car were a good thing because the thing was getting out of shape and nasty," Distefano said. "So I got to experience that side of the car first, which isn't always a bad thing. If you get in a car and everything's going great all the time and you never get to experience that stuff, it's kind of a surprise when it does get to you. So I've already had a lot of interesting experiences in the car, and I'm looking for more 'boring' runs."
The adjustment has been anything but boring for Distefano, who has primarily raced nitrous-assisted doorslammers.
"The RPM level on a screw blower motor is just insane," Distefano said. "The thing runs at 10 grand the whole time. With a nitrous motor, when you hear your engine zing to 10 grand, you get out of the pedal because you're spinning the tires. So there's been a few times the car tricked me like that."
On one run, Engling had Distefano leave in second gear because they were having trouble getting down the track. They later realized the issue wasn't the track, but a bad ring gear. With a new ring gear in place, Distefano made a normal run leaving in first gear, and he was quickly educated yet again as to the power of the screw blower.
"About half track, all the lean-outs came out and all the timing came in and I had my hands full," Distefano said. "I grabbed a hold of a bunch of wheel and I said, 'holy crap.' I even lifted a little early. So, the difference is the screw blower feels like the Pro Nitrous car felt off the line all the way through the run. It is just insane. It is pulling and screaming and violent the whole entire time.
"And, you know, I still have a place in my heart for nitrous," Distefano continued. "I'll never say I'll never go back. But that was part of the intrigue about getting into this deal. It was something new for me. It was just something I always like to look for. And, yeah, I'm pretty intrigued at this point. I 'm looking forward to seeing what we can really do now that we seem to have it sorted out."
So with a handful of strong eighth-mile passes under his belt, Distefano will head a couple hours south this weekend to Summit Motorsports Park to make his debut in Pro Boost. It will be his third different PDRA pro category, adding to his Pro 632 and Pro Nitrous resume.
"Not that I ever had a goal to run all these different classes, but if I got to wave my magic wand and [pick] what I want to run, that's Pro Mod," Distefano said. "This was an opportunity to stay in Pro Mod and get to go into Pro Boost, which is a little more exciting."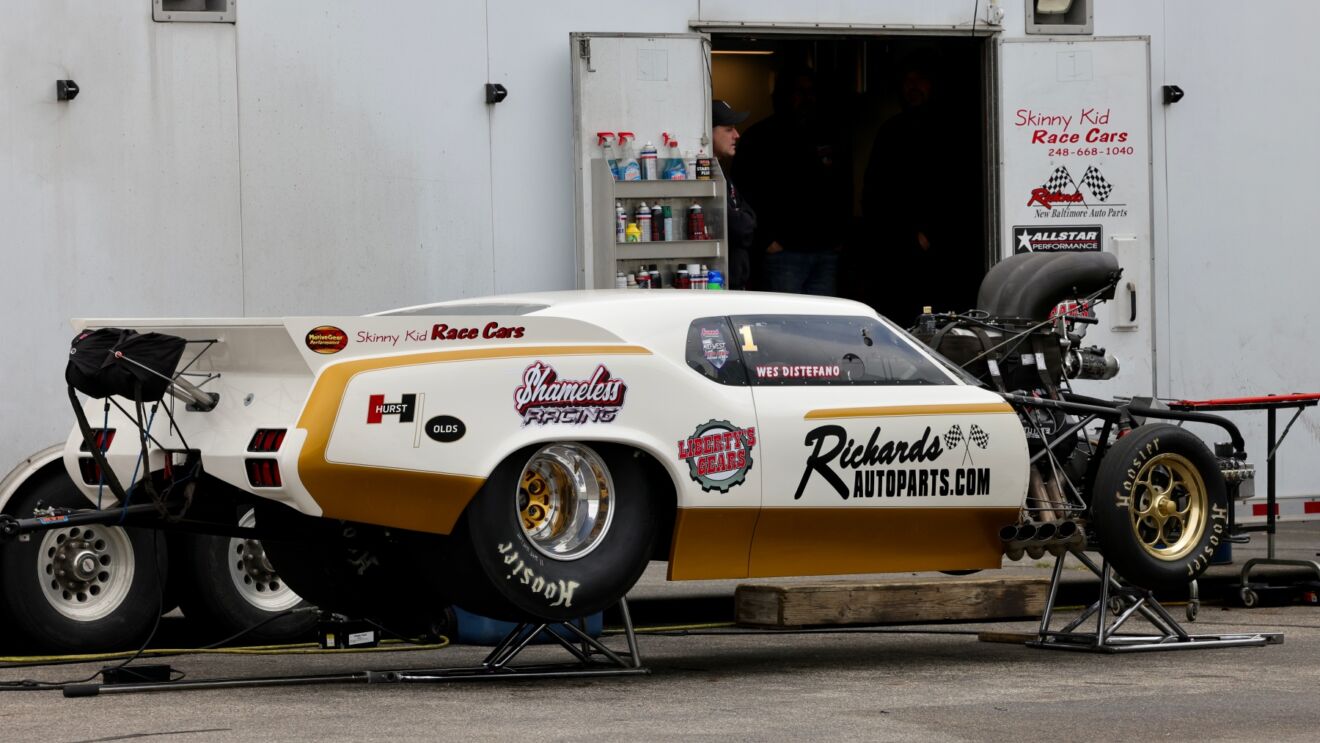 Distefano realizes he's jumping into shark-infested waters, as Pro Boost competition has been at an all-time high just two races into the season. Therefore, the Michigan native has modest goals for his Pro Boost debut.
"As far as the competition being close, any class you run in the PDRA is gonna be tight," Distefano said. "It doesn't matter what class, from Jr. Dragster all the way up. We have no illusions…Just like last year in Pro Nitrous, we wanted to go out there and run the car the best we could. It didn't necessarily matter what we were able to do. But of course, in the back of your head, you always want to compete. So, going into this and knowing how tight that Pro Boost deal is right now, I think it would be an extremely good weekend for us if we're able to qualify. But first off, if we can string together a bunch of consistent A-to-B runs, that's gonna be a great step for us."
The Norwalk race will likely be Distefano's only PDRA appearance of the season, though, as the team's limited schedule will keep them close to home in Michigan. They also have a schedule conflict when the PDRA returns to U.S. 131 Motorsports Park in September for the first time since 2018, so Distefano is hoping to make the most of his time at Norwalk.
"We're gonna have a ton of people there," Distefano said. "That car always gets a lot of support. That car is just different, and that's part of the lure of bringing it out. It's not another Camaro, and I love Camaros – that's my favorite car. So I'm excited to see a lot of people out there checking out the car. A lot of our family and friends are gonna come. Norwalk's a great facility. They have full hookups for RVs, so we'll bring our camper down there and we'll have a good time."