Despite not receiving the same amount of attention and notoriety as some of the larger or more popular drag racing classes, Stock Eliminator and Super Stock competition is still alive and well. Jimmy Hidalgo, Jr., is one of the ones who is doing it right, and doing it well.
Known to his friends as "Cooter," a nickname bestowed upon him by his grandmother for his similarities to the Dukes of Hazzard character of the same name, the Donalsonville, Louisiana-based driver has already accomplished quite a bit at just 28 years of age.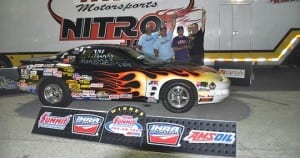 Although he's young, Hidalgo has been involved with racing his entire life. His father, Jimmy Sr., started racing with the NHRA in the early 1980s and Hidalgo grew up around the sport. "I was at the track when I wasn't even a month old, and started with the Junior Dragster program when I was eight or nine," he recalls. Hidalgo raced only a few times a year and found moderate success before transitioning into a '98 Camaro when he turned 16. He raced that car locally until 2006, at which point he began building his notorious 1999 Pontiac Firebird.
Hidalgo's Firebird originally began as a Stock entry, and with it he was named the 2012 IHRA Division 4 Renegades Stock champion. Both car and driver developed reputations for being extremely competitive and at the conclusion of the season Hidalgo decided it was time to take things a step further.
With Super Stock now the focus, an LS1 engine, complete with a Bullet Racing cam, was purchased from Joe Garbarine and swapped into the car for the 2013 season. Trumble Racing has been tasked with freshening it up over the years to help keep Hidalgo competitive. "The car's basically still a Stocker. I haven't really done a whole lot to convert it to typical Super Stock form," Hidalgo says. "It has a Turbo Action Racing and Performance transmission, as do all of our cars, and Paul Forte helps us out a lot."
A Moser rear end can be found out back, Randy Mann at Fastmann Racing lends a hand with suspension details, and Goodyear tires keep the car hooked to the ground. "I do the wiring and we pretty much do the vast majority of the builds with the exception of the paintwork and welding," adds Hidalgo, proud of how heavily involved he and his team are in the car's day-to-day maintenance.
Still, despite the new-found focus on Super Stock, Hidalgo didn't give up on Stock entirely as he added a second car to his fleet in 2012 so he could still continue Stock Eliminator racing. His 2004 Pontiac GTO, which was an "insurance repo street car" when purchased, now features a built LS1 motor. Hidalgo says the car is "practically identical to the Firebird as far as build components go" and he began racing the GTO in 2013.
Armed with two highly competitive cars, Hidalgo had a spectacular 2013 season. He visited seven finals on the Summit Racing Equipment Pro-Am tour and picked up three wins along the way. His consistency was on point as he campaigned the Firebird and GTO simultaneously in Super Stock and Stock, respectively. Furthermore, Hidalgo qualified for the IHRA Summit Tournament of Champions in both classes.
Hidalgo's skill as a driver yielded huge dividends for him in 2014 as well, as he went on to make eight final rounds in IHRA competition with five event wins. "Last year was the first time I won a divisional championship in NHRA," the young man said in his laid-back Louisianan drawl. "I won both NHRA and IHRA Division 4 championships for Stock and Super Stock. I don't think anyone's ever done that before in both sanctioning bodies."
His success isn't luck, though. It's the product of countless hours of hard work and practice. "We run anywhere from 16
to 20 weeks out of the year, not including a few days of testing thrown in here and there now and then. It takes a lot of focus, and you have to really be concentrating on the track," explains Hidalgo, who notes that win or lose he tries to learn as much as possible from the experience so he can better himself for the next race.
"Maybe I could make it a little closer at the finish line, or at the tree. If I had a bad light, I try to figure out what caused it and pinpoint that cause to prevent it from happening again in the future," he says. "Knowing your opponent helps a lot, too, although you can never take anyone lightly because anyone can win on any given day."
As the 2015 season begins to draw to a close and daylight begins to dwindle, Hidalgo's still hell-bent on racking up the wins. He's holding steady in the lead for NHRA Division 4 Super Stock championship points, and is second in Stock (with his father sixth). Within IHRA competition, Hidalgo is the frontrunner for Super Stock points and third in Stock. A family-focused man, he credits much of his success to the support he receives from his parents, wife Krista, and son Brayden.
Sportsman racing has been good to Hidalgo and he believes the future of Stock and Super Stock competition is bright. "I think it's on an upswing now. A lot has to do with the new cars coming out that have sparked a lot of interest and brought a lot of new blood into the sport. We have a few new, young drivers coming in, and I'd like to see more of that," he says, though acknowledging it's "very difficult for young people without any help to get involved."
Ideally, Hidalgo would like to see more incentive for Stock and Super Stock racers to qualify high up in their classes with regards to championship points. "They're both performance-based categories, so if there's more incentive to work on your cars and make 'em faster, I think a lot of racers would appreciate that and it would put more performance back into the sport," states the champ.
As Ford, Chevy, and Mopar continue their commitment to the Stock and Super Stock categories, the classes will hopefully attract more entries and foster higher levels of competition. Hidalgo is excited about the prospect of a more challenging future, and looks forward to stepping up his game even further to ensure he stays on top.