With three of four qualifying rounds completed at the Professional Drag Racers Association (PDRA) Texas Nationals, Todd Tutterow and GALOT Motorsports teammate John Strickland currently lead the qualifying fields in NAS Racing Pro Extreme and GALOT Motorsports Park Pro Boost, respectively. Second-generation driver Lizzy Musi leads Switzer Dynamics Pro Nitrous into Saturday's final qualifying session, while Chris Garner-Jones holds the number one spot in Drag 965 Pro Extreme Motorcycle.
In the PDRA's sportsman ranks, John Benoit is first in Ronnie Davis Top Sportsman presented by Magnafuel and Arizona's Jon Bradford leads Lucas Oil Top Dragster qualifying. Texas hitter Kendal Little is number one in Talbert Pro Junior Dragster with his perfect 7.900 elapsed time and Mia Schult's .001 reaction time gave her the top spot in MegaCorp Top Junior Dragster.
Pro Extreme
GALOT Motorsports driver Todd Tutterow started and ended Friday's qualifying action as the number one qualifier, first recording a 3.601 et at 213.40 mph in the opening session then bettering the mark with a 3.599 et on the day's final run. The North Carolina native was glad to start the weekend so strong considering none of the teams had the chance to test on Thursday.
"With no testing at this race because of the rain, making good runs right off the bat in qualifying makes it easy (to improve). Any time you get behind the eight ball, you're behind it the whole time. There are some cars that haven't even been down the racetrack yet in three runs, so they'll have to back it way down to get a good feel for the racetrack. We have a good advantage here right now."
Tutterow also tuned teammate John Strickland to the number one position in GALOT Motorsports Park Pro Boost. GALOT's other Pro Boost driver, Kevin Rivenbark, is currently third. Citing the contributions of team owners Earl and Peggy Wells, Tutterow says the three-car team expects nothing less than number one.
"We're supposed to qualify number one and two. With the equipment Mr. Wells and Miss Peggy give us, the tracks we get to test on, including their own facility [GALOT Motorsports Park], qualifying number one is what we expect. I hope we get Kevin's car straightened out so we can be number one [in Pro Extreme] and number one and two [in Pro Boost]. That's the whole goal – and to win the race."
Fourteen other Pro Extreme drivers will be fighting Tutterow for that win on Saturday, including PX record holder Brandon Snider, Texans Randell Reid and Frankie "Mad Man" Taylor, and Jose Gonzalez, who make up the other top five qualifiers.
Pro Nitrous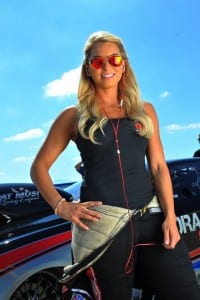 Pro Nitrous number one qualifier Lizzy Musi has been the comeback story of the weekend, as her 2015 Dodge Dart last left Texas Motorplex on a rollback tow truck after a violent crash during last year's Texas Nationals. Father and engine builder Pat Musi, along with defending Pro Nitrous world champion Rickie Smith, have been working out the details on the Frank Brandao-owned car since that day. The reward of those efforts came on Friday when Musi recorded a 3.726 et during the third session. Musi's speed on that run, 204.98, eclipsed her own PN national-record 204.01 mph.
"It feels pretty darned good," Musi said of the performance. "I left here last year on a bad note. To go up and down the racetrack, A-to-B, that was really my goal – and to go fast. I have Rickie and my dad working together to get this car running consistent. It's really showing on the racetrack. We just keep nitpicking at it and racing the racetrack. I'm happy because Tommy [Franklin] is number two. He's a Musi Racing Engines customer and he's been running really well lately, so we couldn't be happier. I'm actually feeling relieved right now."
Joining Musi and Franklin (3.760) in the Pro Nitrous top five are Steve Jackson (3.773), Jay Cox (3.786), and Keith Haney (3.81). New York's Chris Rini returned this weekend from a harsh early-season crash in Florida. He sits sixth with a 3.838 et going into Saturday.
Pro Boost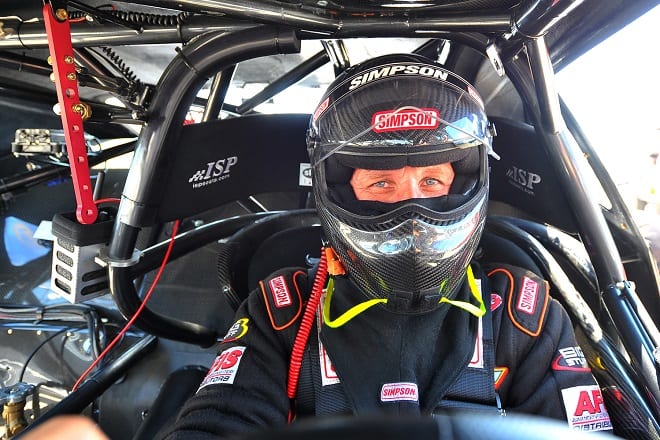 The dominant GALOT Motorsports team continued their reign on the GALOT Motorsports Park Pro Boost class this year, but this time it was John Strickland claiming the headlines courtesy of his 3.84 at 196.73 mph number one qualifying effort. Teammate Kevin Rivenbark, who won the first two races of the year, is third with a 3.939 at 196.73 mph.
"I'm just tickled to be the number one qualifier. It just shows that I have some really good guys making the car down. The weak link in this team is probably the driver. I just hope they can keep me going fast and make up for some of my lack of driving performance," Strickland laughed.
Unlike many of his peers, Strickland is fairly new to the world of eighth-mile doorslammer racing. Before stepping into a Pro Mod in 2014, Strickland spent about a decade competing in the National Tractor Pullers Association, where he also drove for GALOT. He plans to continue tractor pulling in addition to the full PDRA schedule, even though the two sports are very different.
"The tractor has a lot of power, but you have 50,000 pounds behind you holding you back. It's more of a driver thing with the tractor, more so than the car. A lot of the car's performance is the tuner and the guys working on it. The tuner is also important with the tractor, but it takes the driver's feel to make it a successful run from the start. I guess a good start in tractor pulling or drag racing is the key to it all."
South Carolina's Ric Fleck is number two with his wild '41 Willys at 3.904 seconds at 189.98 mph. Melanie Salemi and Jeremy Ray are close behind with their 3.941 and 3.947, respectively.
Pro Extreme Motorcycle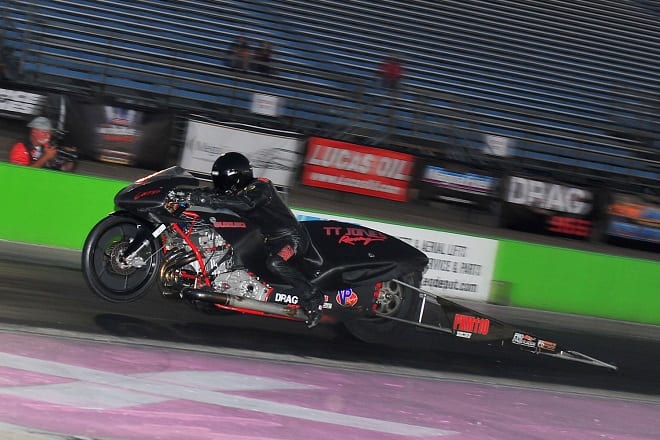 Chris Garner-Jones, who won the PDRA's first race of the season in Tulsa, went 4.065 to grab the number one spot in Drag 965 Pro Extreme Motorcycle during the first session and held on to the position despite the improving efforts of the 13 other bikes. Two-time PDRA world champion Eric McKinney was the next closest behind Garner-Jones with a 4.101 et. Brad McCoy's Hayabusa sits third with a 4.119, Alabama's Chuck Wilburn is fourth at 4.134, and Canadian dairy farmer Terry Schweigert follows closely behind in fifth with his 4.137.
Top Sportsman/Top Dragster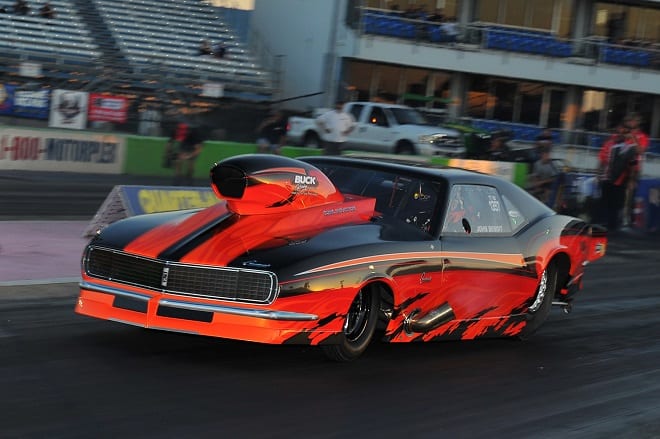 Vermont's John Benoit was the only competitor to dip into the three-second zone with his 3.920 elapsed time to claim the provisional number one spot in Ronnie Davis Top Sportsman presented by Magnafuel. Dan Ferguson's Musi-powered '63 Corvette was number two with a 4.016. Rounding out Friday's top five Top Sportsman were the Billy Albert-powered trio of Henry Dogay, Buddy Perkinson and Albert himself.
Lucas Oil Top Dragster saw a strong list of 29 different contestants come to the line on Friday. Jon Bradford and his 3.880 et currently top the list after three sessions, followed by Bob Button, Michael Kile, Jenifer White, and Justin Kirk.
The 2016 PDRA Texas Nationals will resume with a fourth and final qualifying session for all classes at 10:30 AM on Saturday, May 21. The session will be bookended by a pair of time trials for the Bracket Bash competitors. Pre-race ceremonies begin at 2:30 PM, followed by first round of eliminations.