It certainly doesn't look like anything in the two wheel drag racing community right now.
And that is exactly the way Jay Turner likes it.
When Turner created the nitro-powered bike now known as the "big pig" last year, he was told it was too big and too different to be successful. But after three months of racing, four consecutive Nitro Jam victories and lap-after-lap of consistent runs, it seems Turner is the one laughing now.
Jay Turner's innovative 'big pig' Nitro Harley has been dominating the class.
"It has been quite a learning curve, but it is running great right now," Turner said. "At first we were out there trying to set the world on fire, but we tuned it back a bit to get nice consistent passes and right now we are really happy with where we are at. Once we get this thing where it needs to be we will turn it back up and really make some noise."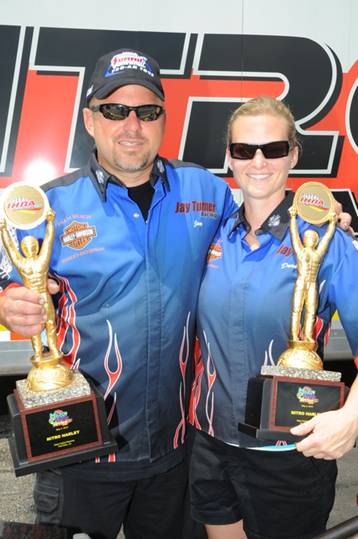 The seemingly bulky ride, with its considerably wider wheelbase and lengthy frame, has proven itself on the track with quick, consistent laps and a nice, smooth ride. And after two stops in San Antonio and Baton Rouge, Turner also has four shiny new trophies to attribute to his new ride as he currently sits first in points with an 8-0 win-loss record.
"The biggest difference is the wheelbase. It is a foot longer and it is completely different than anything we have ever had," Turner said. "But we built it to be different. We wanted to stick our necks out and build something that is going to be much better or much worse. At first we really thought we had built something worse, especially with the way people were putting it down, but right now we are starting to think this thing is the way of the future. Suddenly everyone is admiring this thing and asking questions.
Turner is undefeated in Nitro Jam competition in 2012 with four wins
Turner, of Julian, N.C., will admit that at first it was a completely different animal as he got used to a completely different routine, one that involved lengthy burnouts and a "pusher" to roll him back into position, but now he says it is like riding a bike – or in this case a motorcycle.
"When I first got on it it was completely different," Turner said. "There are lots of bells and whistles that keep me pretty busy and it has pipes on both sides which also gives it a different feel. Being bigger and heavier we also do a burnout past the tree and it has to be pushed back into place. But once it goes it goes. It doesn't spin the tires and our 60 foot times are awesome. And above all else, the fans like it with the big burnouts and fire coming out both sides."
So far in 2012 Turner's best pass in Nitro Jam competition has been a respectable 6.470, 211.01, but that, he says, will soon change.
The current IHRA Nitro Harley world record is 6.278 seconds set by Doug Vancil in 2002. The speed record sits at 221.85 mph, also set by Vancil in 2001. But if Turner has it his way, that record will be his by the end of the year.
Turner will look to continue his winning ways at the Pittsburgh Nitro Jam June 1-2
"We are excited to turn this thing loose and get after it," Turner said. "It has plenty left in the motor and when we turn it up we are going to shoot for a five second pass. That is our ultimate goal."
Next up for Turner and the Nitro Harley gang is a trip to Pittsburgh Raceway Park for the Pittsburgh Nitro Jam June 1-2, followed by the IHRA western swing in Salt Lake City, Utah and Edmonton, Alberta in late June and early July. During that stretch Turner hopes to slowly tune the bike toward a record pass and hopefully by the end of the summer have his name added to the record books.
Until then he is happy with his role as a pioneer in the fan-favorite class and looks forward to continuing to reinvent the already thrilling class.
"People really thought that it was too big and that it would not run. Now everyone is pretty much blown away that we got it running as quick and fast as we have," Turner said. "This thing has opened up new avenues and if the economy ever turns around I think you will see more like this being built. We already have plans to build a second one ourselves.
"This is the first in a line. We can improve this and make this the baddest bike on the block."