Al Tucci has one of the longest-running commentator careers in drag racing and provides a unique, personable style of entertainment. After a one-year hiatus from the PDRA, Tucci will join the 2016 tour to bring fans and racers a fresh, engaging, high-energy address of each event. He will join current announcing team Carl Robinson and Lee Sebring to cover events from the tower, the top end, and in the pits. The PDRA will also continue its coverage through the live online feed by Motor Mania TV.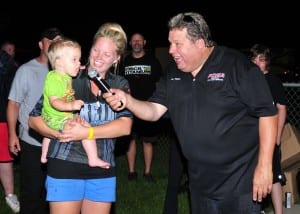 Tucci got his start announcing for track operators Broadway Bob and Jim Ledford and has announced both in the U.S. and internationally. In 2015, Tucci continued his presence at major radial tire events, including the Radial Tire Racing Association, as well as many other high-profile drag racing events.
"The PDRA has all the right ingredients," Tucci said. "They've got the best of the best. They are onto something very positive for spectators, sponsors and racers. They have the best names, utilizing the best equipment on some of the best tracks in the country. I'm just glad to be a part of it again. I'm excited to help it grow."
Tucci will be heard over the PDRA trackside public address system and Motor Mania Live Feed beginning Mar. 11-12, at the 2016 season opener at Osage Casino Tulsa Raceway Park. The live feed will continue to provide the Quarter-Max Starting Line and Top End Zones online fans are already familiar with, plus new features are in store.
"I like to entertain and I like to make people want to come back, to go home and say 'Wow, was that a great time,' and bring more people back with them next year," Tucci emphasized. "I'm excited to be back with the PDRA again and be a part of something great."