From a confidence level that admittedly was a zero at the tail end of last season, Troy Coughlin Jr. is in a far different place in 2018. His confidence is back, his focus has returned and, perhaps most importantly, the 27-year-old standout is having fun and enjoying success again.
Troy Jr., son of three-time NHRA Pro Mod champion Troy Coughlin, made his Top Alcohol Dragster debut earlier this year with Rich McPhillips Racing, and has also jumped back in his JEGS.com Super Comp dragster. He's found success in both, winning $20,000 at the SFG Powerball of Bracket Racing at Carolina Dragway in his Super Comp dragster, and advancing to the semifinals in Top Alcohol Dragster at zMAX Dragway in Charlotte.
It's a far cry from where Coughlin was last August when he left his Top Fuel ride with Kalitta Motorsports after a challenge-filled rookie campaign.
"It's been nice. Bracket racing has helped me regain my focus on winning races and putting my best foot forward," Coughlin says. "It's really getting back into my old habits of having to drive to win, knowing what my car is going to run, knowing how to get that focus and get in the zone.
"The car was great, I kept my focus and we got a few healthy breaks. It's a tough sport and it's the ability to get focused and get yourself under control that makes the difference. I was confident and I felt good."
It was a tough decision to step away from his first Top Fuel ride after 17 events last year, especially considering how much he valued the opportunity to work with the Kalitta team, but it is also one that Coughlin believed was the right move.
Racing in Top Alcohol Dragster allows the successful sportsman racer to grab not only experience with a talented tuner like McPhillips, but it also enables the former Drag Illustrated 30 Under 30 honoree an opportunity to regain his confidence competing a high level in a powerful dragster. The goal to drive a Top Fuel car remains, but Coughlin is patient and more than willing to put in the work to further improve his skills.
"Making consistent laps in the Top Fuel cars is so challenging," Coughlin freely admits "It was a hard decision, but there were small things I didn't have right. You really have to get good experience and make a lot of runs in those cars. They drive you and you're trying to keep it out of trouble. I think I could have done a much better job, asking drivers better questions and making better moves. I felt it was best to make that decision and come back to it eventually.
"I just want to keep learning. My confidence is definitely gaining and going in the right direction."
A strong start in Top Alcohol Dragster has provided a huge mental boost for Coughlin, who has five NHRA national event wins in Super Gas and Super Comp, and he has meshed quickly with McPhillips and his team. His reaction times continue to improve and the team has posted solid numbers all year, qualifying No. 4 in Charlotte with a 5.248 at 276.80 mph. Coughlin, who also raced NHRA Pro Mod with his dad in 2015, fell to eventual winner Megan Meyer in a duel between two rising stars in the semifinals, taking plenty of positives away from the weekend.
"We're in a great place and Rich and the boys are a blast to race with," Coughlin says. "They're all competitors and they all want to win as bad as I want to. I love the way they race. They want to win worse than they want to go 280 or 290 (mph)."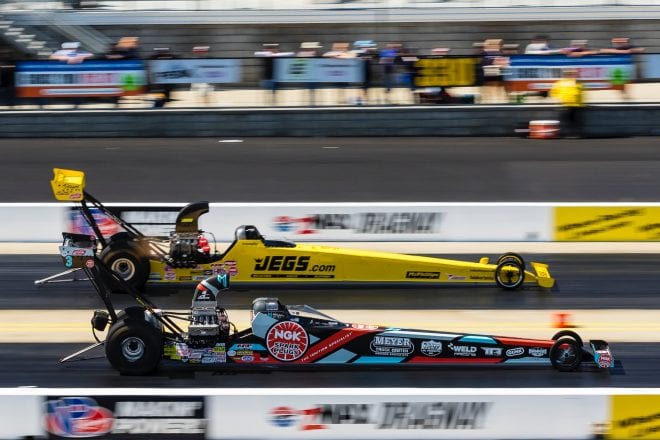 Coughlin continues to work on the simulator to improve on the starting line, also relying on a few tips legendary team owner and former driver Connie Kalitta shared with him a season ago. In fact, Coughlin has plenty of places to seek out advice on a given race week, patterning as much as he can from his uncle, five-time Pro Stock world champion Jeg Coughlin Jr., when it comes to mindset and preparation. McPhillips' mindset has also allowed Coughlin to take several steps forward as a driver.
"I like the approach and everybody has a role that's defined on the team," Coughlin says. "They know the track, know the conditions and it's quite impressive. He goes up there trying to win the round and it makes my job so much easier, and it's easier to focus. It's definitely all meshing together."
It's an encouraging sign for Coughlin, who also finds himself in the position of being a teacher this season. Just like he learned from his dad and Jeg, he's teaching his sister, Paige, who made her NHRA national event debut in Super Comp at zMAX Dragway. In that sense, it's almost already come full circle for Troy Jr., a matter that seems impossible considering he won't turn 30 until 2020.
But while he's offering tips to his sister, Troy Jr. continues to chase his lofty aspirations with a vengeance. The goal this season is to run 15-16 Top Alcohol Dragster events and compete for Lucas Oil world and regional championships, while also racing in 5-10 high-dollar bracket races.
It all makes for a busy and adventurous 2018 season for Coughlin, but it speaks to his passion for the sport, his competitiveness and willingness to improve.
He views 2018 as a chance to take a major step forward, focused solely on success in the sportsman ranks this year. But Coughlin also knows that success this year can pay tremendous dividends down the road when it comes to future goals.
"I do enjoy bracket racing and I do like the Top Alcohol Dragster class," Coughlin says. "I've got some big, lofty goals this year and beyond. I strive to get back in a Top Fuel car someday when the time is right and when the stars align marketing-wise. It could be a year, it could be two or three years, but the goal is to get back, win races and compete for a championship."
This story originally appeared in DI #133, the Sportsman Special Issue, in June of 2018.