"Tricky" Rickie Smith, who is considered one of the greatest doorslammer drag racers of all time, lit up the night at the PDRA Pro Stars in collaboration with the Night of Fire event Friday at Virginia Motorsports Park with a historic first-ever pass in Scott Palmer's Top Fuel dragster. Celebrating his 50th year in the sport, Smith's foray into the 11,000 horsepower beast was as momentous as it was thrilling.
Smith helped Palmer with his Pro Modified car in preparation for the Drag Illustrated World Series of Pro Mod, reciprocating the favor, Palmer offered Smith a chance to make a historic hit in one of his Top Fuel dragsters.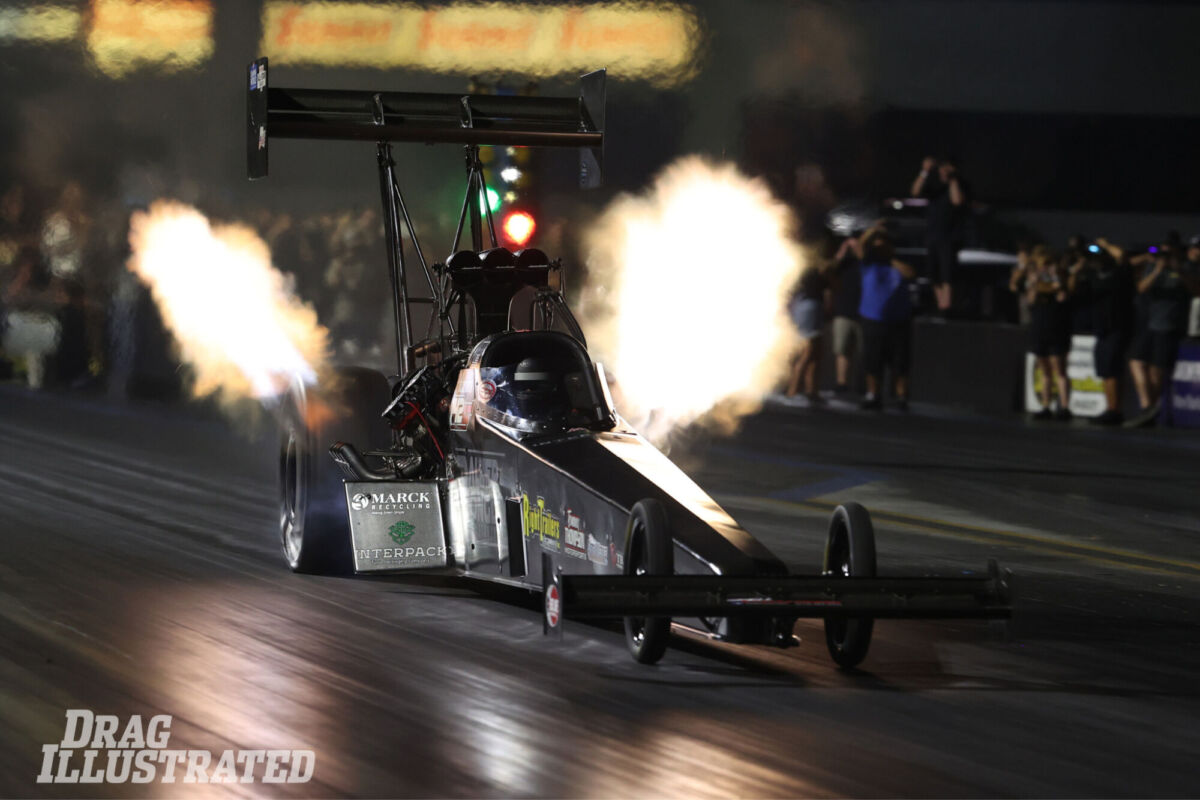 With a career marked by numerous victories, Smith is regarded as one of the most successful NHRA Pro Mod drivers. His test run in Palmer's Top Fuel Dragster brought a fresh wave of excitement as spectators watched him notch a 3.365-second eighth-mile elapsed time at a speed of 197.65 mph.
"Like I said, that's badass. For everything to work in those things, sometimes the clutch doesn't release right, and you can't get it in and out of gear. Everything went smooth as hell," Smith reflected on his experience. He spoke with palpable excitement and deep appreciation for Palmer, acknowledging the costs involved and the trust extended to him.
"If it had been daylight, I probably would've carried it to the eighth mile, but it was getting dark," continued Smith. "What happened was I knew the car was trying to go a little left out there, but we didn't get my chin strap tight enough, and when that clutch started coming in about 300 feet, it got my head against the roll cage. They said if it ever got your head against the roll cage, what it is is like a paint shaker. Everything started doing that, and I couldn't tell for sure – I knew I was going a little left, and I said, 'That's it. That's enough.' But if hadn't got that head back against that roll cage, I probably would've run it right onto the eighth. That was awesome."
"I told 'em, I said I'm comfortable now. I'll get in that [car] tomorrow and run it right to the finish line," said Smith. "The intimidation's over. I think I could do it."
Palmer, known for his generosity, demonstrated once again his passion for the sport and the importance of shared experiences. Last year, he and Alex Laughlin offered a similar opportunity to adrenaline junkie Travis Pastrana while Laughlin was working with Palmer to fulfill his sponsorships.
Palmer praised the legend's preparedness and focus. "Rickie did unbelievable. He's a very serious racer. He wasn't going to mess up. He also did his homework. He's like a kid in school – he studies stuff. When we got here this weekend, he had been watching videos of us from a match race we did at Mo-Kan."
"He did an unbelievable job. It's one of the most impressive first runs I believe I've ever seen," continued Palmer.
The whole scenario came about as a casual conversation between the two drag racing icons, turning into one of the most unforgettable moments in recent drag racing history. Palmer admired Smith's dedication to the sport, recalling, "Rickie took the time to make sure my [Pro Mod] car wheelied like I wanted and went straight. He did that with no chance of getting anything by helping me."
This pass highlighted the camaraderie that binds the drag racing community together. Smith's first-ever run in a Top Fuel dragster was a triumphant homage to his decorated career and an exciting prospect for future collaborations.