Jim Jacob, a loving husband, father, grandfather, businessman and motorsports aficionado, died suddenly November 15, 2018 at the age of 69.
He was a no-nonsense type of guy with a signature smile and deep, raspy voice that one knew could only be him. He had a way of telling you that you were doing something wrong in no uncertain terms, and then take what you were working on in his own hands, take over the project and show you the right way to do it. He would lend money, tools and parts on a handshake, and sometimes that would be the last time he would see those assets, but it didn't stop him from doing it again. Yes, Jim was guilty to a fault. More admirable was the time and expertise he would lend to friends, relatives and even strangers when they were in need.
Jim was a successful businessman running Jacob Pattern Works, as well as Knopp's Performance, a shop that put Pottstown, Pennsylvania, on the horsepower road map long before the advent of a GPS. He was a tireless worker in support of his family and his passion for competitive motorsports. He had locally at his disposal some of the best in the business. He tasked Doug Kline and Jimmy Carl at Precision Chassis to build and modify his cars, Todd Kulp and Carlos Lopez in the paint booth and Doug Meyers, who provided the foundation for his high-horsepower heroics.
Jim was always pushing the envelope as any driven racer would. From nitrous to turbos, he melted pistons, exploded transmissions, blew off hood scoops, caught on fire and scraped walls, but he always came back with a passion to compete and win. His office walls are a cross between a museum and a time capsule. They are decorated with pictures and magazine articles from a time when the printed page was the medium of choice. Inclusion into such periodicals was earned and an honor!
Jim dabbled in drag racing early on then tried his hand on the dirt track, turning left locally at Grandview Speedway. His career turning corners garnered him several trips to the Winner's Circle. One such evening was punctuated on his birthday, several hours after his daughter Kelly was born, when he won the heat race, the feature event and even a scale model contest!
He jumped back into drag racing shortly thereafter and never left again. His last victory was once again on his birthday, October 6, 2018, at Cecil County Dragway in the ultra-competitive 10.0 Index class in his 1998 Chevy S-10.
In the '90s, Jim was campaigning a 1959 Corvette nicknamed Old Faithful in local bracket races and some Super Chevy events. In the late '90s, his attention turned to a 1966 Chevy II that he purchased. It had an S&W back-half and it came with a marginally unstable Mustang II front suspension. Jimmy Carl at Precision Chassis quickly replaced that with a new strut front suspension and framework from the crossmember forward. The little Deuce went through some engines over the years and it was always exciting to watch.
Jim then set his sights on a 1994 Chevy S-10 somewhere around 2000 and procured a Jerry Bickel prefabricated chassis. It was the same kind that was the foundation of many NHRA Pro Stock trucks of that era. Countless hours were spent handcrafting the metal panels inside and outside the truck. The truck used a 707-cubic-inch motor for early motivation. Small by today's standards, it was huge back then. That was put in the shelf for a more reliable 632 with three stages of nitrous for extra motivation. The 707 was then sold and a 414-cubic-inch small-block, twin-turbo combination found its way between the frame rails.
The S-10 never showed the true capability of the power under the hood because of the weight it was carrying. Jim had his eye on a 1963 Corvette that was originally built by Kline and Carl at Precision that met an untimely demise on its roof one day at Atco Raceway. Jim put a plan in motion to acquire it. Originally it had a Hairy Glass carbon fiber body with a Jerry Bickel 4-link and Strange struts. The Vette was super light and boasted twin-turbo power as well, but it was a handful to say the least, and it too was eventually parted with.
Eventually Jim decided to reel things in a bit a few years ago and was racing the aforementioned '98 S-10 in 10.0 Index until the end of the 2018 season. Early in the year he also drove down to Tennessee after seeing his old '94 Pro Stock truck for sale. Jim brought it back home with a plan to return it to the track in Top Sportsman trim with a naturally aspirated 632, just when you thought he was slowing down.
Jim raced at hallowed racing venues like Memphis Motorsports Park and Orlando Speed World Dragway. He raced down 1320' of concrete and asphalt with traveling series' named NMCA, NOPI, Super Chevy, Power Festival and Popular Hot Rodding Super Street Shootout. His cars were always clean and show quality even in race trim.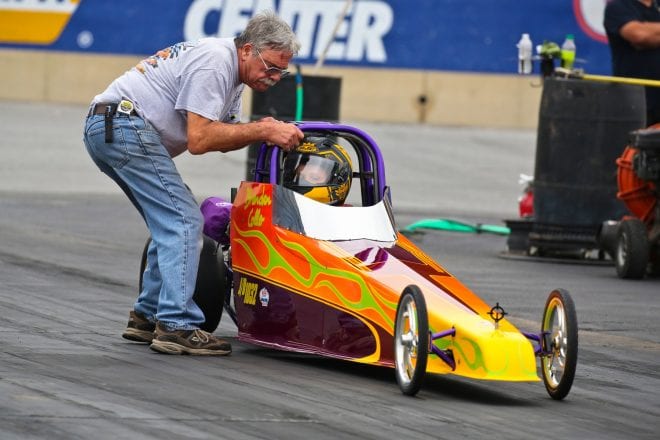 The pride he took in his cars was only surpassed by the pride he had in his family. His family included his supportive and loving wife, Georgeen, beautiful daughters, Stacey, Kelly and Jamie, and his grandchildren, who were his most prized possessions. He was proud of them all, from Jayden excelling on the field to Brendan in the hockey rink. Some of his proudest moments were when the boys began Jr. drag racing and started turning on win lights of their own. One of the most significant was when Brendan won an NHRA Wally in 2017 in a dragster painted in Jim's trademark yellow, purple and orange paint scheme. "Poppy" had passed the torch!
There are many so-called "larger than life" people that some acquaint themselves with. They might know their name and see them around town or at a race track, but their lives aren't really affected by them. Then there are those few people who go about their daily lives in a humble blue-collar manner and have the ability to personally impact and touch the lives of scores more. Jim Jacob was in that elite category and his passing leaves a gaping hole in everyone that he touched, but we are all better humans for knowing him.
Story by Marc Schankweiler
Photographs by Tara Bowker