As most followers of fast doorslammer racing know, there have been only two individuals able to win two of the porcelain dogs that are so famous as trophies for winning a Big Dog event at historic Piedmont Dragway. The first was Chris Rini several seasons back, and more recently, young Cam Clark was able to do the deed and pick up two wins in the same day. To explain, the Big Dog Shootout is a one-day event contested on the first Thursday of the month, but with a curfew of 11:00 PM. Between curfew and the weather, and possibly things such as oildowns and accidents, the curfew was in play for the July event.
As it turns out, Travis Harvey met Jason Harris in the second round of qualifying on that hot July night. Harvey got there by defeating Robbie Keziah and Clark. Likewise, Harris defeated Mike Graham and Todd Tutterow for the opportunity to claim the patriotic "Dog" trophy. With time running out, the decision was made to complete this event on August 10. The result was a 3.86 for Harvey defeating Harris, who, unfortunately rolled the light to lose.
With qualifying completed, a very familiar cast of characters formed the qualified field for the August event. The top four consisted of Tutterow in the Barry Mitchell-owned "Cuda Time" at 3.77, Harvey in the Vaughn Myles-owned Corvette with a 3.75, Harris in the Jack Gaddy-owned Camaro with a 3.79, and Clark at a 3.81. The rest of the qualified field included Keziah at 3.867, Michael Dawkins with a career-best of 3.985, and Ron Whitlock at 4.55 with a brand-new combination.
First round saw Harris, Harvey, Tutterow, and Keziah all advancing. The semis were highlighted by a side-by-side record run for Harris with a new track record of 3.72 at 203.94 MPH, only to lose to Harvey's 3.75. Both carried the front wheels to half-track, highlighting the level of competition that is present at every Big Dog event. The other pair resulted in a win for Tutterow at a 3.75 over Keziah.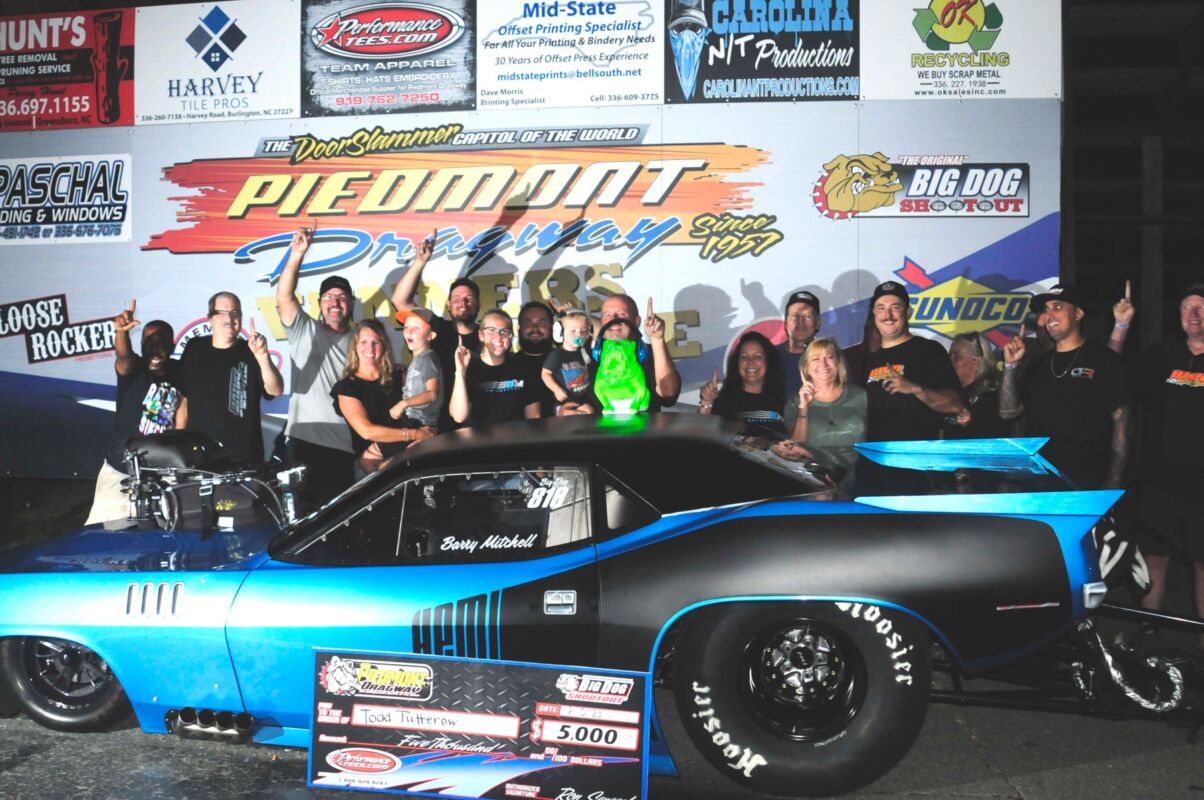 The finals were worth the price of admission as both cars left as one, but with Tutterow having a .003 light to Harvey's .018. "Cuda Time" put down a 3.76 pass at 198 and the "Carolina Kid" used a 3.74 at 200 mph. But the holeshot held as the Ty Tutterow-tuned, Barry Mitchell-owned 'Cuda won. If you missed this, you can see these cars again in September and possibly in October. Stay tuned.
These first five races have the points as follows: Harvey at 146 points over Harris with 129 and Tutterow with 120. This can all change during the September event and should result in a huge event. If you are a fan of fast doorslammer racing, be there.
Other winners for the night included Mark Dudley Jr. in 7.49, Randall Cantrell in Outlaw DoorSlammer, and Johnathan McCandless in Mean 15. See you on September 7 for the season finale. It will be EPIC.