Top Fuel driver Steve Torrence powered to a national record time and moved into position to claim his eighth No. 1 qualifying position of the season Friday at the Toyota NHRA Sonoma Nationals.
Del Worsham (Funny Car), Bo Butner (Pro Stock), and Jerry Savoie (Pro Stock Motorcycle) also were qualifying leaders at the NHRA Mello Yello Drag Racing Series event near San Francisco, the second of three consecutive weeks of racing known on the circuit as the Western Swing. Sunday's finals will be televised live on FOX.
Torrence covered the Sonoma Raceway dragstrip in 3.671 seconds at 325.69 mph in his Capco Contractors dragster. The time bettered Brittany Force's previous national mark by five-thousandths of a second and was also a track record, one of three set during the fast evening of nitro class qualifying.
It will be Torrence's fourth No. 1 in the last five races if the time holds through Saturday's two rounds of qualifying (1:10 and 4:15 p.m.).
"You gotta really hit the nail on the head to make a run like that," Torrence said. "When conditions get tight like this, you can go out there and miss it just a little bit. When it made it through [half track] I did the best I could to keep it in the groove. When I looked up going through the lights and pulled the chutes and saw that sixty-something come on the board, I just started hollering because I knew it was fast. It was the quickest I've ever been. I jumped out of the car and I don't even know what I said down there."
With nine races left in the season, should Torrence grab his eighth No. 1 tomorrow, Tony Schumacher's record of 13 in a single season (2006) will be well within reach.
"Seven number ones in one season has surpassed what I had done in the rest of my career," Torrence said. "We're still a one car team and we're standing toe-to-toe with the big dogs and I don't think they are liking it too much. The way these Capco guys have prepared this car and stuck together as a team and just the unity the way they are working together is second to none. It takes that caliber of a team to produce what they are doing. This is just the fruits of their labor. We are going to try and continue to march forward and not count what we've accomplished until the end of the year and we'll see where we stand then."
Five-time Sonoma winner Doug Kalitta is second in his Mac Tools dragster with a 3.711 at 325.77 while two-time season winner Shawn Langdon is third with a 3.714 at 325.14 in his Red Fuel dragster. Lucas Oil dragster driver Richie Crampton is fourth, also with a 3.714 at a slower speed of 322.65. Series points leader Antron Brown is seventh in the order, posting a Friday best of 3.754 at 315.86 in his Matco Tools dragster.
Defending Funny Car world champ Worsham sped to a track record time of 3.868 at 327.43 in his DHL Toyota Camry, also the fourth quickest run in NHRA history. Meanwhile, two-time world champ Matt Hagan also took advantage of the cool Bay Area weather conditions in his Mopar Express Lane Dodge Charger and set the track speed record in Funny Car, a 330.15 mph blast at a time of 3.875, good enough for fourth in the order.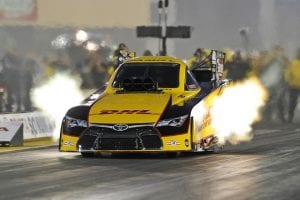 "That was a pretty good run," Worsham said. "We were trying to run our best run as a team and we definitely achieved that. It's a cool weekend and we are sponsored by Toyota and this is their race. To come out here and qualify No. 1 for them is exciting. For our entire team it was a great run and we are looking forward to Sunday."
Six Funny Cars bettered the 3.921 'jaw-dropping' national record time that Jack Beckman posted here one year ago and five of the runs were in the 3.8-second zone. Worsham said with warmer temps called for tomorrow he doesn't expect his time to be challenged, but at the same time he's learned that every team in the pits have to wait until the final car runs before it's a lock for anybody.
"The last 12 months, starting at this race a year ago, in Funny Car have been amazing and crazy and have surprised me a million times with quick E.T.s," Worsham said. "We'll have to wait and see. You don't know how late we will be running tomorrow and what kind of delays we might have. But I definitely feel good about our chances of holding on to it."
Denver runner-up Courtney Force clocked a career-best time of 3.871 at 322.50 in the Traxxas Chevy Camaro to take second in the 16-car order, and her teammate, Auto Club Chevy driver Robert Hight, posted a 3.874 at 327.03 to anchor the third spot. Points leader Ron Capps sits fifth in the NAPA Auto Parts Dodge Charger with a 3.877 at 326.71.
Butner, who drives the third team car for the KB Racing team, was quickest in Pro Stock, clocking a 6.553 at 210.28 in his Jim Butner Auto Chevy Camaro.
"We are still testing, trying new things and getting ready for the Countdown," Butner said. "We have a great crew and I have yet to see another team work as hard as our guys."
The second year pro has excelled on qualifying days, as he hasn't qualified outside the top five all season. However, he's feeling heavy expectations for when he might grab that elusive first victory. He's posted three runner-up finishes this season and four in his career.
"Every race I have one of the fastest cars on race day and I just pull up against someone who hammers me [on the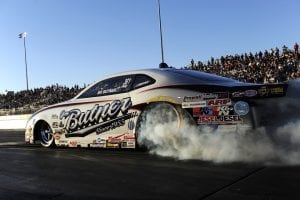 Christmas Tree]," Butner said. "It's a right place, right time kinda sport. I definitely have the car. I've been trying some things on the reaction time. I think it's coming. I would just as soon wait till the Countdown to do it though."
Greg Anderson is second in the qualifying order with a 6.567 at 210.14 in his Summit Racing Camaro and is followed by Shane Gray, who ran 6.576 at 210.14 in his Valvoline/Nova Services Camaro. Recent Denver winner Allen Johnson is fourth in his Marathon Petroleum Dodge Dart with a 6.588 at 209.95. Points leader Jason Line sits in the fifth spot with a 6.594 at 209.62 in his Summit Racing Camaro.
In Pro Stock Motorcycle, Louisiana alligator farmer Savoie led the 16-bike field with a 6.839 at 194.46 on his White Alligator Racing Suzuki. The effort continues Savoie's strong performance history at Sonoma, where he has been runner-up the last two years and No. 1 qualifier in 2014.
"I don't know if it is a confidence thing or the crew chief has a handle on the tune-up," Savoie said about his success at this track. "The Suzukis run well at sea level. We don't run that good at Denver because of the altitude. When you hit that home run at sea level [the Suzukis] really run good. We missed it on the first run really bad, but the second one was right where we needed to be. Looking at all the data, we thought we could run an .81 to be honest with you."
Savoie says his team is trending much like last year, when they got hot near the end of the season and contended for the series crown, but eventually finished third.
"This is the time of the year when we usually turn it on," Savoie said. "Tim (Kulungian, crew chief) is really good and he's the smudge king. I am feeling confident that we will be good the rest of the season."
Three-time world champ Angelle Sampey is second on her Precision Service Equipment Buell with a 6.854 at 193.96 and is followed by 2010 world champ LE Tonglet, who posted a 6.866 at 194.60 on his Nitro FishSuzuki. Andrew Hines, who qualified fourth on his Screamin' Eagle Vance & Hines Harley-Davidson with a 6.862 at 192.99, is attempting to win his third consecutive race and advance to his fourth straight final this weekend.
Points leader Eddie Krawiec, who is qualified fifth with a 6.867 at 192.11 on his Screamin' Eagle Vance & Hines Harley-Davidson, will lead eight qualified riders into bonus competition Saturday in the all-star NHRA Pro Bike Battle as the top seed. Krawiec is the defending winner of the specialty race.