The Top Sportsman and Top Dragster categories provide some of the tightest and toughest competition in drag racing. As the fastest and quickest sportsman level categories, these bad boys of bracket racing judge times dialed in to a hundredth of a second at speeds over 200 MPH. The ability of the drivers and crew to predict their cars performance and then gauge the finish line at those speeds is mind boggling.
Don't be fooled by the 'sportsman' title of these classes. Racing at speeds at or above 200 MPH, these guys and gals let it all hang out to make the field each event, and then turn right around and provide some of the best side-by-side racing in eliminations.
These classes are now hotter than ever with the prestige and challenge of PDRA competition drawing in more teams and demanding everyone continually push the limits of their machines. To top the leaderboard in TS qualifying, you're looking at a sub four second run. At the PDRA Summer Drags just a few weeks ago, Tricia Musi set a national ET record, running 3.947 at 191.16 MPH. There were 28 cars vying for the 16 car field at that event, pushing the bump to an incredible 4.149, held by Aaron Glaser.
There were 34 dragsters hoping to race with the PDRA at the Summer Drags in Martin, Michigan, traveling from as far as Texas, creating an even tighter qualified field for Top Dragster, with less than 0.15 separating #1 from #16 qualifiers. Indiana native, Craig Sullivan, held the top spot at a 3.908 while Laramie Reid closed out the field at a 4.045.
After undertaking such superhero feats just to qualify, drivers often then need .00 reaction times and run dead on or just one or two off their dial to make their way through the ultra-tough competition. At the Summer Drags, Tricia Musi continued to be one to watch. Red light starts by Bruce Thrift and Ryan Hill gave her a pass through rounds one and two. In the semi finals she used an .015 light to defeat Cheyenne Stanley on a hole shot.
On the other side of the ladder, West Virginian Tim Lawrence had his work cut out for him. He had to oust points leader Dan Ferguson in round one. Then lucked up when his competition red lighted in rounds two and three. Each time Lawrence had a respectable .02 light and went dead on his dial, however. In the finals against Musi, Lawrence pulled out his best light of the day (.005) to get a massive lead off the starting line. Musi slowed early and Lawrence cruised to his first PDRA Top Sportsman victory.
Last year's Rookie of the Year, Kyle Dvorak, made it all the way to the semis of the Summer Drags, but it was Joe Hessling and Jim Prevo who would travel through three rounds of competition to meet in the finals. Prevo took out the number one qualifier in round one and Dvorak in round three, but encountered trouble in the final round allowing Hessling, who had also been putting together incredible runs all day, to claim the Summer Drags trophy.
Currently, a couple of young guns are topping the points for these nearly-pro categories. Less than 200 points separate the top five in Top Dragster. While Dvorak is just 20 years old, he drives like a competitor with decades of experience. His promising career is just beginning, but already he is sitting in good position for the Top Dragster Championship, currently leading the points with 970. Justin Melton trails just behind at 925. Laramie Reid (845), Derrick Sholar (824) and Craig Sullivan (758) sit in three through five respectively.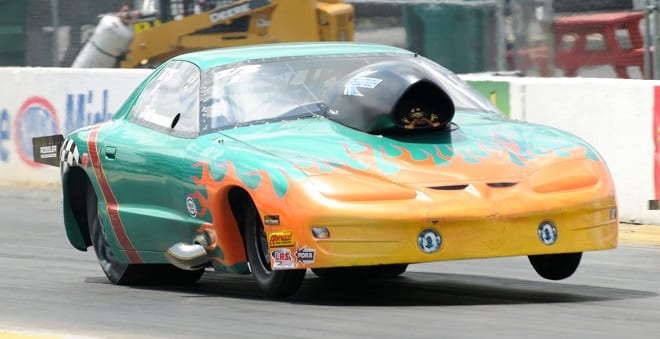 Last year's Top Sportsman Champion and Sportsman Driver of the Year, Dan Ferguson, is continuing his domination, now having led the points for 12 of the 13 events held by the PDRA. Right behind him is veteran Ronnie Davis, who would like nothing more than to add another Championship to his repertoire. Newcomer Tricia Musi is already showing that she's not to be taken lightly, sitting fourth in points behind Texan Bob Gulitti. The always-consistent Bruce Thrift rounds out the TS top five. With the PDRA now halfway through their sophomore season, these drivers know every round is going to be crucial.
To be competitive at this level takes dedication not unlike that of professional teams. In fact, many TS and TD racers run somewhere two or three times a month, honing their skills on a weekly basis. Because they often push their machines to the limit just to qualify, they require a great deal of maintenance and attention, both between rounds and between races. The time and financial investment of both categories often require great sacrifice.
But with great sacrifice comes great honor and it's easy to see the PDRA is home to some of the best Top Sportsman and Top Dragster competitors in the world. With just five events left in the 2015 season, it's still anyone's game. Each round will be crucial in the PDRA points chase. Will Ferguson be able to continue his domination over the veterans? Will Dvorak become the next big star? The story will unfold round by round through the last half of the season.