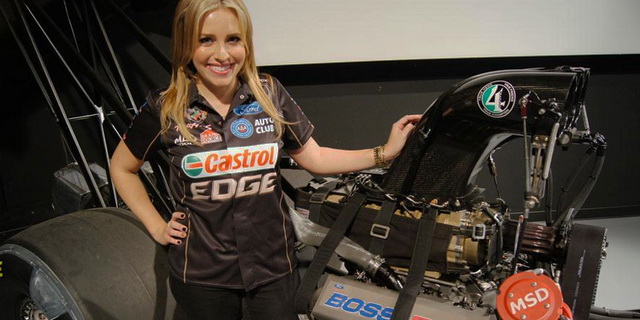 As the NHRA Mello Yello Drag Racing Series kicks off the 2013 season at Auto Club Raceway at Pomona for the 53rd annual O'Reilly Auto Parts NHRA Winternationals presented by Super Start Batteries, Feb. 14-17, rookie driver Brittany Force is ready to hit the dragstrip for the first time in a Top Fuel dragster in front of her hometown crowd.
A native of nearby Yorba Linda, she is the first member of the Force family to compete in the Top Fuel category. Force will be racing against many of NHRA's best drivers following what was one of the most competitive Top Fuel seasons in the sport's history. She will face 2012 world champion Antron Brown, seven-time champion Tony Schumacher, national record speed holder and defending Winternationals winner Spencer Massey and reaction-time expert Shawn Langdon, among many others.
"I'm excited to be out there," Force said. "I'm going to be running against these guys I grew up watching. A lot have come over during testing, given me tips, advice, asked if I had any questions about things. They've all been really great. I'm anxious to get out there and be in the other lane next to them.
"I also have a lot of goals coming into the next season. I'm working with (crew chiefs) Dean Antonelli and Eric Lane. I think we have a really strong team. I would love to qualify at every national event. I would really like to go after my first win. I'm really going to go after it this week."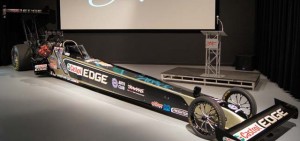 With the support of a great team, put together and owned by her father, 15-time Funny Car champion John Force, Brittany feels confident making strong runs and feels safe in the equipment she will be competing in.
"For me, I know my dad has put together a great team behind me," said the 26-year-old. "It is the same with Robert and Courtney and all of us. We have great teams behind us. I know they all support us. I know that they're a really strong team and are going to build a fast car, but also a safe car, to take us down the track."
In racing, not everyone has the same goals. Brittany's older sister Ashley Force Hood had her own goals set when she began racing on the NHRA circuit, as does her younger sister Courtney in Funny Car. Brittany feels she doesn't need to compare herself to others because everyone is different.
"For me, all my sisters, yeah, we're all involved in the sport," Force said. "We all love it. But when Ashley came out, she had her own set of goals, things she wanted to achieve. It was the same with Courtney. And it is the same with me. I'm going down my own path.
"I'm still involved in racing; it's a Top Fuel car, a little different. For me, I have my own goals set. I don't need to compare them to Courtney and try to beat her, her first win, whatever it is. For me, it's about setting my own goals and achieving them myself in my time."
(Photos courtesy JFR)