Just about every top-level NHRA nitro racing crew chief has a hobby away from the racetrack: Alan Johnson likes to play golf, Jim Head flies classic airplanes, and David Grubnic often takes his dirt bikes out for a ride through the Montana wilderness. Then there's Brian Corradi, who, along with co-crew chief Mark Oswald, tuned Antron Brown to the 2012 and 2015 NHRA Top Fuel world championships. And when Corradi is not at the race track he's selling pizza. A lot of pizza. Really good pizza.
[Editor's note: Brown and the Matco Tools team secured their third NHRA Top Fuel world championship just a few weeks after this story went to print.]
Corradi entered pizza store ownership in 2011 as a back-up plan to his drag racing career. His two sons, Nick and Sean, also wanted to get into the restaurant industry and since Corradi had prior experience in the pizza business he started with one branch of Master Pizza, a successful franchise located in the Cleveland, Ohio, area. Corradi's first location proved to be so rewarding that he went on to add another three stores, with a fifth location set to open at the end of this year.
"It's a tough business. There are a lot of competitors out there vying to get the same dollars out of these people," Corradi says. "So far, it's been really good to us. My sons enjoy it. My wife Jackie enjoys it. She retired from her job. My particular situation at Don Schumacher Racing (DSR) allows me to have some time to put the stores together. We opened two stores this year, and one of those just recently opened so I've been busy with that. Other than that, all of my other time is devoted to what do I have to do to win races at DSR."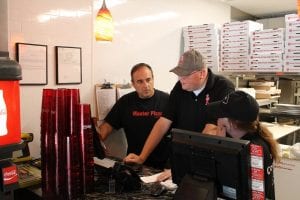 It's the Wednesday going into a race weekend and Corradi is working at the most recent Master Pizza location in Strongsville, Ohio. Over the course of about an hour he answers a call for a takeout order, prepares an order of cherrywood barbecue wings, confirms a last-minute decision with a contractor, and looks over price increases on the blocks of mozzarella cheese that his stores buy by the thousands. Corradi will switch back to full-time racing mode the next day when he heads to Cleveland Hopkins International Airport to catch a flight to Minneapolis for the Lucas Oil NHRA Nationals in Brainerd, Minnesota.
Running five pizza shops might seem like more of a real job than tuning a race car, but Corradi is quick to assert that his main responsibility is tuning Brown's Matco Tools dragster, even if he isn't at the massive DSR shop every week.
"Racing got me here. So I think about racing a lot, but pizza is a back seat to that. My job takes precedence. If I have to be at the shop in Brownsburg, (IN), I'll be there. Right now, I have such a good team of Brad (Mason, assistant crew chief) and Mark (Oswald) and all the guys on the team. They handle everything. This week they replaced the front half and back half on the car. It's done. I didn't have to worry about it. I go to the race, I tune the car, I concentrate on how to make the car as fast as I possibly can and win rounds. That's it. And I think there's a lot to be said about that, not having to worry about all the other aspects."
Corradi found himself at the helm of the Matco Tools Top Fuel team in 2009 after a decade in the nitro ranks beginning as a crew member for fellow Ohioan and former high school classmate Dean Skuza. Serving as an apprentice to Lance Larsen, Corradi worked his way to the tuner position in 2003 before Skuza ultimately sold the Funny Car operation. He tuned Frank Pedregon to a couple late-season final rounds in 2005, then entered a whirlwind period of his career that led to his current position. Don Schumacher hired Corradi to tune the Matco Tools Funny Car in 2006, then switched him over to a fuel flopper driven by Mike Ashley, who then formed his own team with Oswald as the co-crew chief. The trio won three races together.
After tuning Melanie Troxel to her first win in the Roger Burgess-owned Pro Care Rx Funny Car, Corradi began his Top Fuel tuning career when Ashley purchased David Powers' Matco Tools dragster team with former Pro Stock Motorcycle star Antron Brown behind the wheel. The group was immediately successful, but their true potential was unleashed when Schumacher took over ownership of the team. The nitro kingpin realized the powerful combination of Brown, Oswald and Corradi, and has kept the trio together since they joined the DSR fold near the end of the 2009 season.
"I needed a three-year contract when I first came back with Don. I needed stability. I don't have a contract with Don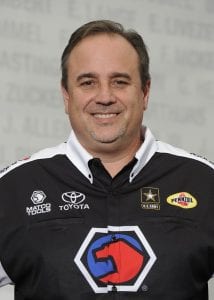 anymore; we go year to year. I've proven myself in his eyes, I think. We're here to win and he doesn't worry about us. He'll tell you that and I've heard that before. The one team you don't worry about is ours. If we don't have any luck in qualifying, he's like, "It doesn't matter; they'll probably win the race tomorrow." That's his thought with us. That's what we want. That makes us perform better as a team. Having the confidence of the owner, having the confidence of the crew chief makes my guys better, makes Antron better."
The stability offered by a consistent, proven level of performance is comforting, but that doesn't mean Corradi will take it easy or rest on his team's accomplishments. If the Matco car isn't qualified going into a race, Corradi says he still gets the same feelings he experienced when trying to earn the respect of team owners and fellow crew chiefs as he was coming up the ranks. "Your gut is wrenching, and mine still does if my car is not running right. If there's something wrong with that car—it ain't performing right—I'm sick. I get a stomach ache and I don't feel right. I've been with it for so long and such a part of it that it's eerie. It's an eerie feeling."
Once at the track, Corradi takes his place behind the keyboard in the team's transporter. He'll come up with a baseline tune-up for the weekend, which he and Oswald will fine-tune through qualifying. Oswald, an International Drag Racing Hall of Famer with an NHRA Funny Car world championship to his name, focuses on the mechanical duties involved with tuning and leading a Top Fuel team. Together, Corradi and Oswald have used their respective talents to lead Brown and the Matco/U.S. Army team to two NHRA Mello Yello Series world championships over the last four years.
"I do all the tuning up. I worry about the numbers. I take care of the database. I put the numbers in. Mark goes out and looks at the parts or we look at the parts together. He's the mechanical side of it. He's like between me and the car, and then you've got Brad between the car and the guys. If I take a look at the computer and find something wrong, he'll go out and find it. If we need something made, he'll go back to his machine shop in Louisiana and make it. As we're going through the weekend, we just talk back and forth. That's how it works," Corradi explains.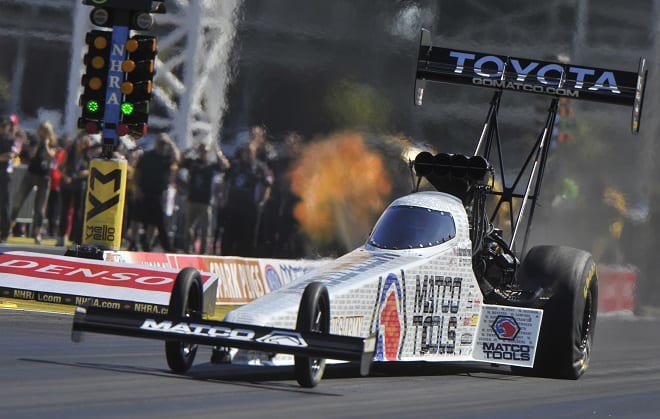 As for his driver, Corradi couldn't be happier with Brown, who entered the 2016 NHRA Countdown as the points leader with four event wins. "Antron is a star. He's a blessing to work with. Very, very good at what he does. Good with people. Matco loves him. Toyota loves him. U.S. Army loves him. Everybody loves him. All the fans love him. We love him. He's like my brother."
Corradi says the final ingredient in his recipe for a rewarding career in racing can be found back at home. "Family is important, obviously. My wife is like the molasses that keeps it all together. She's the flour in the dough because she raised the kids and she put up with the going out to the races. In the beginning I was like a single guy. I was never around. I was racing. I was traveling. I had to drive everywhere. And she stuck there. The kids, they missed a lot of stuff."
Having lived the crew member life and knowing the grind of driving from race to race and spending long days at the shop, Corradi makes certain the young men who work under his direction don't miss out on what really matters, too.
"I make sure that my guys, if they have something going on with their family, they can go. If you can't be here because your kid is graduating or your brother is getting married, go. Don't worry about it. We'll figure it out. That's what having a good team is all about," he insists. "That's one thing I like about our team, and it's always been because I was a crew guy more than I was a crew chief. I was in their shoes and I missed a lot of stuff, so I'm trying to make it so they don't have to miss a lot of stuff. That's important."
This story originally appeared in Drag Illustrated Issue No. 113, the Crew Chief Issue, in September of 2016.
Photographs by Joe McHugh, Nate Van Wagnen, and NHRA/National Dragster.