It wasn't exactly the news you want to hear heading into a new season – one of the biggest stars in the sport stepping away.
Courtney Force, the winningest female in Funny Car history, walking away from drag racing leaves a sizeable impact, as any superstar leaving their sport would. Some will argue it's too soon for a driver who came into their own, but in Force's eyes it was the perfect time, so how can we argue with that?
The heartfelt thanks and well wishes came rolling in on social media, which also told a great deal about how Force carried herself as an ambassador in the sport.
I couldnt be more proud of @courtneyforce for what she's accomplished on track, but I'm more proud of the person she is. She carried herself w/ class, dignity & treated everyone with compassion & care. C, I look up to you everyday & cant wait to see what goal you accomplish next! pic.twitter.com/PoPy6yrSIO

— Graham Rahal (@GrahamRahal) January 24, 2019
She was universally beloved across the wide spectrum of young and older drag racing fans in the sport, and that is not something that is easy to do. With a magnetic smile, as well as unquestioned enthusiasm for the sport, Force was destined for success. But she far exceeded whatever was expected.
When saw some extra emotion – like when she lost to Robert Hight in the final round at Atlanta with the 100th female win on the line or not qualifying two years ago in Norwalk – it made Force resonate with everyone that much more.
Of course, Force always responded in style on the track. The race after she fell to Hight, Force came through in Topeka for the historic 100th victory by a female, and she finished a career-best third in points in 2017. But in 2018, we saw an even better side of Force on the track and it was a thrill to take in.
For any of the remaining inept few that thought she was only there because of her name, she just simply continued to kick that door down. Force had an incredible 2018, winning four races and taking the points lead into the Countdown to the Championship.
She formed an incredible combo with crew chief Brian Corradi and it was impressive to see the respect she had earned within the sport as well. Force's improvements behind the wheel over the past few years were evident and it wasn't just my untrained eye that saw it.
I remember Matt Hagan telling me how Force kicked his butt on the track a few times last season, something he echoed when he edged past Force in the final round in Norwalk last summer. It was a common sentiment among all drivers a year ago as Force qualified No. 1 11 times and was just as impressive on the starting line.
She had their respect, she had their attention and maybe most importantly, not one competitor could say a bad word about her.
Thank you @courtneyforce for making our sport, the Funny Car class, and the rest us #NHRA drivers better on and off the track. Your courage & charisma took our sport to new places & people and
lining up next to your racecar always brought out the best in my team & I 🙏 https://t.co/svR8Stnd6L

— Ron Capps (@RonCapps28) January 24, 2019
And that is where it will arguably be most difficult to see Force go.
She clearly had come into her own a year ago and one can only imagine what was possible when that full potential with Corradi and her team was unleashed. After watching her in 2018, you got the feeling the best was still to come.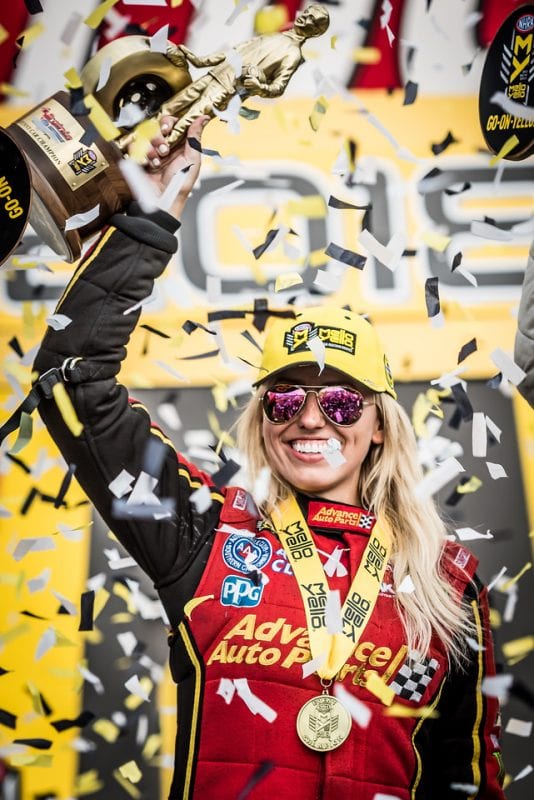 Alas, it won't happen, but there should be no sour feelings in that, either.
Going out like she did with a fantastic season was surely satisfying for her and it should be us as fans as well.
It's always easy to wonder "what if," especially as it relates to a talented racer who so easily grabbed the spotlight and thrived in it. The Force name gave her a pedestal, but she didn't run from it. She embraced the attention, brought extra fanfare to the sport and built her own brand and identity in the process.
She wasn't afraid to take risks – the ESPN The Magazine photo shoot, as an example – and didn't let anything get her down. It worked, too, and it wasn't out of the ordinary to see Courtney grab the biggest spotlight out of any of the Force family at an event.
I can remember as far back as 2013 when she beat her legendary father, John, in the final round at Epping and the impressive ovation that followed. It was a common theme, including when she topped John again in the final round this year at Richmond. Fans flocked to her and she welcomed that, taking the task of being a role model – especially to female fans – seriously.
She was remarkably popular and Force carried herself the way we would want any superstar to conduct themselves, both on and off the track. Which, of course, is why it pains me – and thousands more – to see her go.
But after seven years, Force was ready to chase another dream and we should celebrate that. Her relationship with sister, Brittany, is special and now is the perfect time for Brittany's starpower to reach another level.
She won the 2017 Top Fuel championship and has a distinct, unique personality of her own being the only Force to tackle the Top Fuel ranks. Now is the time for her to go to another level, something that started immediately when she took over the Advance Auto Parts sponsorship on her dragster. The Funny Car duo of Robert Hight and John Force remain strong, and there's plenty excitement brewing about the potential of future star Austin Prock.
So, John Force Racing will be just fine and, by all accounts, Courtney is happy chasing what's next in her life.
If that's the case, how can any of us be upset?
After an incredible run these last 7 yrs in funny car, I've decided it's the right time for me to step away from driving duties. Thank you all for being so supportive in my racing journey & I hope to have your continued support in this new chapter! Info: https://t.co/xAcsu4maQq pic.twitter.com/ujnV9OX0Ej

— Courtney Force (@courtneyforce) January 24, 2019