Ever since door cars were able to run in the three-second zone on the eighth mile, Tony Wilson has fiercely wanted to experience the adrenaline rush of the accomplishment first hand. In fact, it has been a very vocal goal for the 28 year old from Kannapolis, North Carolina, who managed to turn that dream into reality Sept. 11, at Rockingham Dragway.
With friends and family gathered together on the starting line to cheer him on at the PDRA's Dragstock XII event, Wilson made the pass he'd been dreaming of for so long. A 3.97 at 185 mph was even briefly good enough to land him in the number-one Top Sportsman qualifying spot before eventually sliding to third after the final tally.
Wilson began his doorslammer career just over a decade ago while racing in the incredibly tough Big Dog series at Piedmont Dragway when he was just 17 years old, and possibly the youngest competitor ever to do so. "Back then, I would either leave school early or just skip altogether on Big Dog night," he laughs. Always a self-funded family racing operation, Tony's younger sister, Tisha, was his longtime crew chief during his Big Dog years. "The series got so expensive to race; we just couldn't afford to do it any longer, so we took some time off to regroup."
A few years ago, while still in his early 20s, Wilson started a successful concrete company, which now funds his racing operation. "Business is good and I honestly have trouble finding time to race—but I have to do it to keep my sanity," he adds.
Wilson made his career-best lap driving his 2000 Firebird, a former IHRA Pro Stock car built by Jerry Bickel Race Cars. For Wilson's family, clocking a three-second pass was such a big deal that his mother even surprised him with a banner to commemorate the occasion and had it placed in the yard at the shop when he returned from Rockingham.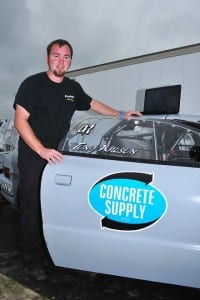 It was an act of adversity-defying resilience that Wilson was even able to attend the event. Six days earlier, he and his Firebird were sitting in the sand trap at Shadyside Dragway after a harrowing experience when the throttle hung open and the Firebird was momentarily traveling at speeds approaching 195 mph before hitting the sand and finally coming to a stop. Remarkably, Wilson had been in this situation before and has always shown an ability to remain calm against adversity. He's also well-versed on how to handle a car with a stuck throttle, but this situation was much different than he's used to.
"This was actually my very first pass with this combination of a 5.3 engine and lock-up transmission, and it's not as simple as running a Powerglide and shifting into neutral and shutting the motor off if you have a problem; this thing wants to keep going!" explains Wilson, as he recounted his scary incident at Shadyside. "We estimate the throttle was hung for two more seconds after I crossed the finish line before the engine lost rpm."
After being dragged out of the sand pit, Wilson and team promptly loaded the car and went home, with little desire to inspect the damage in the moments following the incident. It wasn't until Monday morning that they unloaded the car to assess the damage. Obviously, it could have been much worse, but the Firebird still had a severely damaged front end and a couple of bent wheels. "Keep in mind, this was Labor Day Monday, so our options were pretty limited; especially considering we needed to be at Rockingham on Thursday."
Remarkably, Tony's friends and family rallied together to get the car ready for Dragstock in record time. "We dropped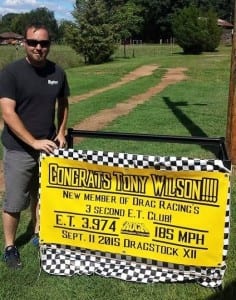 the car off at Gibbs Race Cars in Mooresville (NC) on Wednesday, and Donnie and Jonathan were waiting on us and had everything ready to fix the car," Wilson says. "Bagshaw Metal Fabrication came through for us and Kenny Farrell was able to salvage the front end. It wasn't pretty, but he got us to where we could race."
On Thursday, against all odds, Wilson and team came rolling into "The Rock" for Dragstock. The next day, after two rounds of Top Sportsman qualifying, Wilson was not only the top qualifier; he was the only competitor to clock a three-second run. Understandably, he was greeted with much applause and congratulations by his supporters upon returning to the pits following his historic run.
"It was just incredible to finally run a three-second pass," says Wilson, who won the opening round of eliminations, but dropped a close second-round race against eventual event winner Dane Wood.
Wilson looks forward to racing his Firebird in future PDRA competition, as well as in Extreme Outlaw Pro Mod events and even plans a return to Big Dog competition at Piedmont soon.
This story originally appeared in Drag Illustrated Issue No. 102, the State of Drag Issue, in August of 2015.