LE Tonglet, the 2010 NHRA Pro Stock Motorcycle champion, will return to White Alligator Racing beginning with this weekend's NKG Spark Plugs Four-Wide Nationals at zMAX Dragway.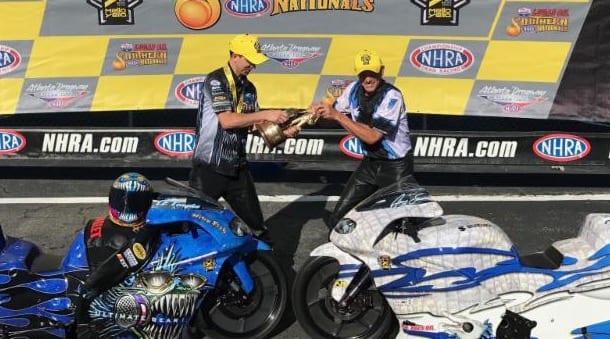 Tonglet, of Metairie, La., will race the KPK/Nitrofish Suzuki as a teammate to WAR team owner and rider Jerry Savoie in all of the remaining NHRA Mello Yello Drag Racing Series events. The championship duo combined for eight wins in 2017, with Tonglet winning six races and finishing third in the Pro Stock Motorcycle points standings.

"I'm thrilled to have a rider the caliber of LE as my teammate," Savoie said. "It's humbling to have sponsors believe in what we're doing enough to support this program. I very much look forward to this weekend and all the other races ahead with LE."
Tonglet added his thoughts: "We're super excited to be back with White Alligator Racing. It's going to be another great year. We had an awesome season in 2017, and we should be able to build on that."
Tim Kulungian, who led Savoie to the 2016 PSM championship, will tune both Suzukis.
"LE is a great rider, a great person and a tremendous asset to this race team," Kulungian said. "He was fast with the team last year, and we expect him to be fast with us again. Having LE on a second bike will help us acquire more data as we work to keep both bikes at the front of the pack. We're happy to have him back with us."
Dean Underwood, a savvy engine builder who currently works with General Motors on its COPO program, will serve as an assistant crew chief for the team. In the past, Underwood has worked with several Pro Stock champions, including Allen Johnson Racing (Pro Stock) and Elite Motorsports.
"The bike's going to be set up just like it was last year," Tonglet said. "We got it all straight towards the end of the season and were running really well. Charlotte should be a great race for us. We came out and won the Four-Wides last year, so I'm looking to do a repeat of that."
Tonglet and Savoie combined for a 64-23 round-win record a season ago.
"It's a huge relief having Tim as a crew chief and Jerry as a teammate," Tonglet said. "We all push each other to be better riders. Tim sets up the bike, and it's always fast. We don't have anything to worry about besides riding, and it's going to be a lot of fun. My dad will be there like last year when he was lining me up, and (brother) G.T. will be coming to a lot of the races also."
Steve Johnson, who started the season with WAR, is pursuing other opportunities.