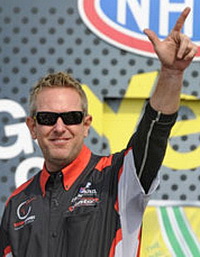 Veteran drag racer Tommy Johnson Jr. (left) will drive the nitro Funny Car currently piloted by Johnny Gray in NHRA's 2014 Mello Yello Drag Racing Series.
Gray has driven the Don Schumacher Racing Funny Car under the Pitch Energy banner in 2013 and has funded the year with his sister, Terry Chandler, who will continue to sponsor the operation for the entire 2014 season as Gray steps back from full-time racing.
"It's been a tough decision, figuring out who will drive the race car. But I think that my sister and Don made a very wise choice with T.J.," said Gray, who won six titles – four in 2013 – with the exceptionally close-knit team.
"He is an excellent driver, and I think he'll do her proud in the driver's seat. Tommy and my crew chief, Rob Wendland, have a relationship that goes back quite a ways, so I think it will be a real good fit for the car. I look for them to do great things next year."
Johnson brings diversity and experience to the table with nine wins in 22 final rounds as a Professional NHRA driver, including seven Funny Car victories and two Top Fuel titles. The Avon, Ind.-based racer made his first start in Phoenix in 1989 and finished a career-best sixth in both 2005 and 2006. Johnson earned a place in NHRA history as the 14th of 16 drivers to gain admittance in the exclusive Cragar 4-Second Club, and he was the 15th member of the elite Slick 50 300-mph Club.
In recent years, Johnson raced on a part-time basis in NHRA and outside of the United States at the Yas Marina Circuit in Abu Dhabi for Don Schumacher Racing, and he was a championship contender on the FIA European tour in 2011. His last full season of NHRA competition was in 2008, and Johnson has driven for several drag racing legends, including Schumacher, Kenny Bernstein, and Don Prudhomme.
"Choosing a driver took a long time, and we interviewed probably 40 to 50 other drivers, but we just feel that T.J. has earned the position," said Schumacher. "He has been part of DSR's family for a number of years, and he deserves the opportunity. We believe that he will come out here and be a championship driver from the first hit.
"Now that the decision has been made, we can focus on what's ahead for this team. Terry and I both look upon it much further than just the team itself – these team members all have families. The team that I have back in Brownsburg, Ind., that does all of the chassis and machines all of the parts, they have families, too. To be able to keep all seven DSR teams out here for next year and keep everybody employed and everything going forward is a great relief. We're thrilled that we're able to do this and that Terry has come on board to take this forward."
Chandler has designated the 2014 season as "A Year of Giving" and plans to utilize the Funny Car to raise awareness for various yet-to-be-named charities throughout the year.
"I never dreamed that I would be blessed in a way that would allow me to help others," said Chandler. "Helping people is one of the most important things in the world to me – my daddy, John R. Gray, was an extremely giving man, and I learned from him how important it was to bless the lives of others. That is why this means so much to me. I feel very fortunate to be in this position.
"It was very important for me to keep the team together," continued Chandler, who has been a regular at the races over the past several years watching her brother compete along with his son [Chandler's nephew], NHRA Pro Stock driver Shane Gray. "I've come to care for everyone on this team, and they've been a big part of making this last year special for my brother.
"Choosing a driver, though, was truly one of the hardest decisions I've ever had to be part of. This is so very new for me, and it was really, really hard. But Tommy and I have always just gotten along great, and I've seen how hard he works and been very impressed by that. I've also seen his heart, and I know what driving means to him – he's a lot like my brother, really.
"Driving is in Johnny Gray's heart, just the same way it is for Tommy. He's going to fit in great with our team, and I really see this as one big family that will be working together. I'm going to miss my brother being out here – I'm going to miss him so bad I can't hardly stand it – but having Tommy as our driver to complete this team is sure going to help."
(Story and photos courtesy NHRA/National Dragster; Click to enlarge)