TJ Zizzo made a dramatic return in May to his hometown track Route 66 Raceway outside of Chicago for the NHRA Camping World Drag Racing Series. While the veteran racer hadn't been on track since late 2021, he took the Rust-Oleum "Rocket" Top Fuel dragster to the semifinals and thrilled thousands of his fans. Zizzo also let his competitors know that the time his team dedicated to improving was going to pay off in 2023. This weekend at the Summit Racing Equipment NHRA Nationals, June 23-25, Zizzo and the Rust-Oleum Top Fuel team will return to America's Racetrack Summit Motorsports Park in Norwalk, Ohio, for the second time in his career.
"We are full speed ahead, but we have had to traverse around a lot of parts that are just not correct in 2023," said TJ Zizzo, following a positive but challenging debut in Chicago. "Our team still has a lot of catching up to do. We will be prepared, but we can never be prepared enough. We just hope to qualify. Just because we ran well at Joliet does not mean we will be able to duplicate that performance at Norwalk. We will continue to put one foot in front of the other until we finally win after $10,000,000 and 10,000,000 hours of trying."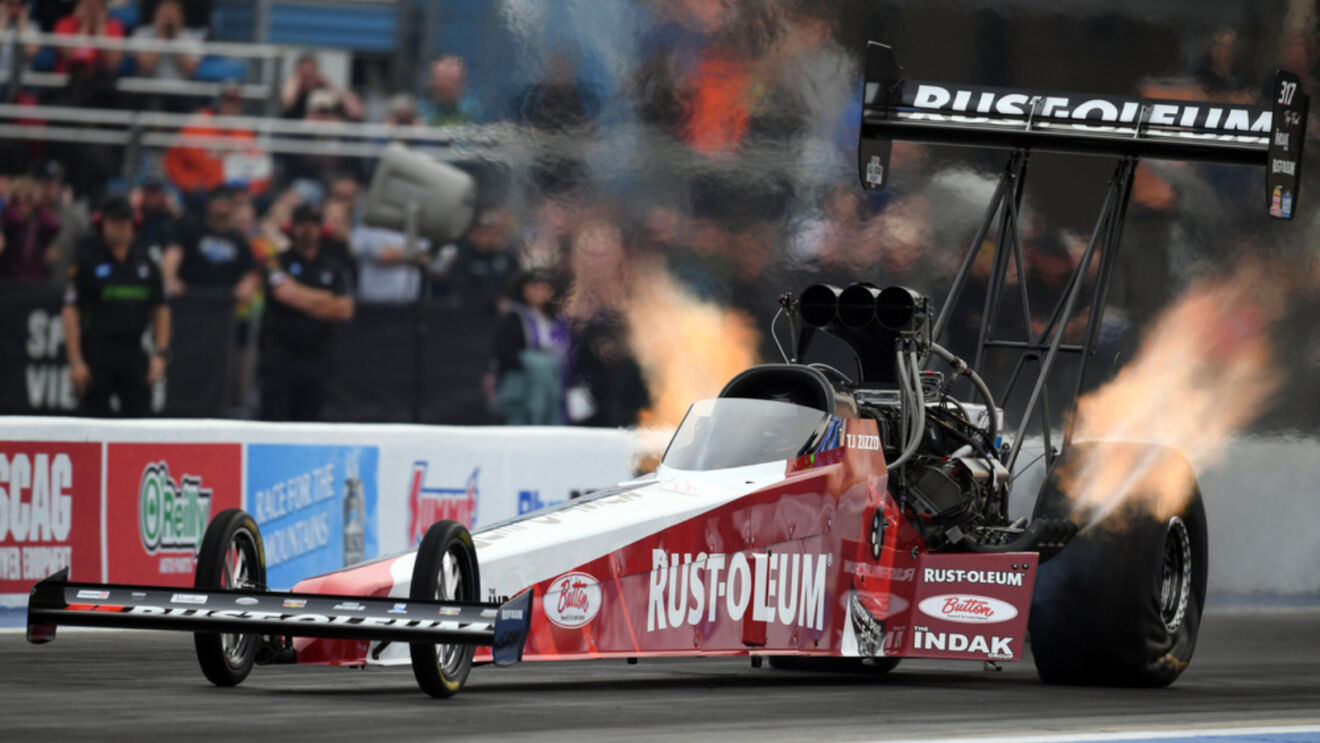 Zizzo's enthusiasm and work ethic have driven his Rust-Oleum team to completely overhaul their operation in the past two years. The team competed in Chicago with a new race car thanks to a generous offer by NHRA Hall of Fame driver and team owner, Don Schumacher. For years, Zizzo and his team competed on a budget repurposing quality parts and chassis to race with the better-funded teams. They made a gallant effort and saw flashes of success. Zizzo feels like his career could now be turning a corner with an updated Top Fuel dragster.
"After St. Louis 2021, we knew we couldn't keep up with the best in the sport anymore," said Zizzo. "We really tried hard with our older equipment and car, but we knew we needed to change. Don reached out to us and offered to build a car that could be competitive. We are still playing catch-up, and Chicago was a great first step, but there are no guarantees in this sport which is what makes it so amazing."
He had been able to keep his quality team of crew members intact but investing even more into a race team was not a decision he took lightly. He has continued to work with crew chief Mike Kern and has had support from crew chief consultant Rahn Tobler but the real key to his success has been the support of his family, his crew and long-time marketing partners like Rust-Oleum.
"I also couldn't have done this without the support and encouragement of my team. Chicago was an emotional and hectic weekend," said Zizzo. "Getting everything right goes beyond the parts when it comes to making a difference. In fact, it took us a solid year to get this car ready to go out and even feel comfortable making runs. We haven't had a chance in my entire 30-plus years of driving to have the same equipment that our competitors have. We've always been a little behind, but we are catching up. It won't happen overnight, but we are going to keep working hard."
Zizzo made his first and only appearance to date in 2012 at the Norwalk NHRA national event. His Rust-Oleum Top Fuel team qualified No. 11 and took out Cory McClenathan in the first round. In the quarterfinals, Zizzo lost a close race to David Grubnic, who is now the world championship Top Fuel crew chief for Brittany Force. Zizzo was first off the line in that race and was leading at half-track before his engine let go, and he lost power allowing Grubnic to drive around him for the win light.
This year in Chicago, Zizzo and the Rust-Oleum team made serviceable passes throughout qualifying with their new racecar and earned their spot in one of the quickest Top Fuel fields in history. They entered race day as the No. 16 qualifier, but Zizzo and his team knew they could win from any spot in the ladder. With only a brief test session before the race and three qualifying runs under his belt, Zizzo was still strong off the line taking a starting line advantage over Mike Salinas. The Rust-Oleum Rocket was on a smooth pass, while Salinas had his hands full on a wild run that saw him cross the centerline for an automatic disqualification.
Zizzo outran Leah Pruett in the quarterfinals, and in the semifinals, his 12,000 horsepower Top Fuel dragster overpowered the track on the starting line, wrapping up a strong debut weekend for the Rust-Oleum Top Fuel team. Zizzo looks to take advantage of four qualifying sessions as he heads to Norwalk for his second race of the year and a good racing surface to make continued improvement with the Rust-Oleum Rocket.
Qualifying begins Friday, June 23, with two runs scheduled for 5:30 p.m. ET and 8:30 p.m. ET and two more qualifying runs on Saturday, June 24, at 2:00 p.m. ET and 5:00 p.m. ET. The quickest 16 Top Fuel competitors will square off on Sunday, June 25 for the coveted NHRA Wally trophy as well as the equally significant Norwalk Ice Cream Scoop presented to each category winner. The race will be televised nationally on FOX.